A Belgian design and research collective is revolutionising demolition through large scale salvage and the sale of building materials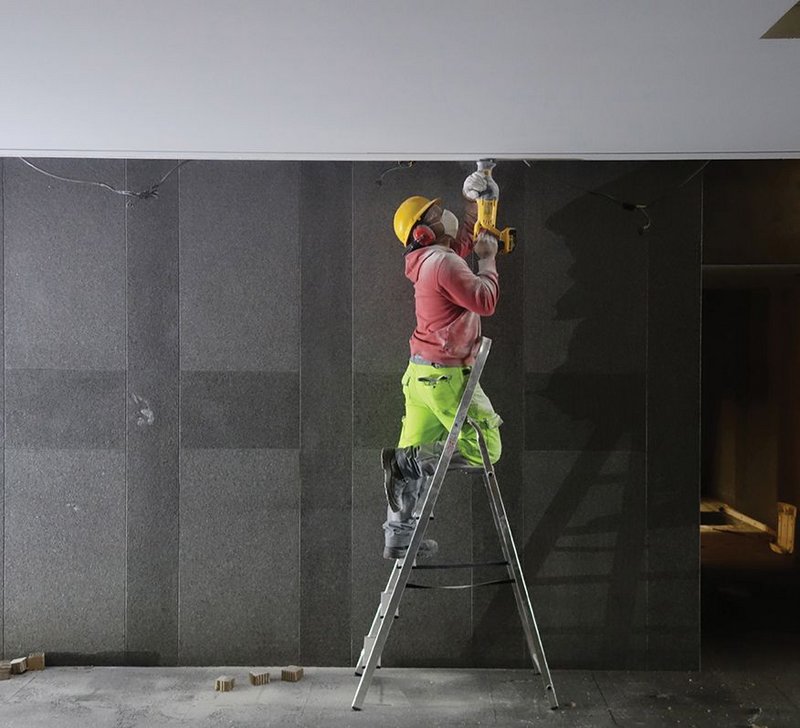 A Rotor operative gets to work.

Credit: Rotor
Construction materials and their impact on society have been a borderline obsession for the Belgian design and research collective Rotor for over a decade. Its research at building sites, waste sorting facilities and secondhand dealers has found expression in art, writings, conferences, and architecture, including the design for the Belgian pavilion at the 2010 Venice Architecture Biennale where materials or products salvaged from Belgian housing were displayed as art. Concerns over the tearing down of large post-war buildings in the region, mostly offices and public service buildings, triggered a more practical application of the collective's ideas and the spin-off business Rotor Deconstruction.
The firm employs a team of skilled craftsmen who go into modern and contemporary buildings before the wrecking balls to strip out any valuable building materials, components and historic items. These are repaired and cleaned for reuse in other buildings, or sold – at auction or on the firm's web store rotordc.com.
Salvaging cuts the volume of demolition waste going to landfill. Diverting antique or iconic design items from the waste stream is a form of historic building preservation, and Rotor generates a healthy income from selling what would otherwise be treated as waste.
Just two years into operation, Rotor has completed around 40 deconstruction jobs, mostly in Belgium, plus a couple in France and the Netherlands. The largest project, on the 95,000m2 BNP Paribas-Fortis bank headquarters in Brussels, yielded 230 tonnes of material, including false ceilings, granite tiles and 130 doors.
A key aim is to professionalise the practice of reusing building components, explains Maarten Gielen, founding member and designer at Rotor: 'As architects and designers we always wanted to work with reclaimed material, but had a hard time obtaining it in a way that was compatible with the role. We found items on websites like Craigslist, but prices tended to change for no reason, there was no service like cutting to measure, no warranty, and by the time we convinced a client of an offer, it was gone.'
Rotor carried out research into the 100 or so dealers of secondhand goods in the region to build a case for setting up the business. It found that most focused on selling rustic antique items to the domestic market, but almost none sold materials salvaged from large modern and contemporary buildings in the services sector – responsible for the bulk of demolition debris in metropolitan areas and one of the most active real estate markets to sell materials into. The large number of post-war buildings being tabled for demolition in Europe gets too little concern, says Gielen: 'In Brussels, buildings as young as 18 years are being bulldozed. At the very least, demolishing responsibly is more appropriate, and salvaging components can be the last opportunity to preserve them.'
Rotor decided that creating an in-house salvage team would reduce its reliance on demolition companies to source materials. Most Belgian demolition firms are reluctant to spend time identifying reusable materials and favour disposal as a simpler option, he adds.
Rotor Deconstruction exploits the varied background of the Rotor collective – some technicians have worked in stage design and are familiar with the practice of dismantling and re-erecting structures, item numbering and labelling etc. One is a legal expert, employed to set up the contracts, insurances and liability statements needed when working on large scale buildings. 'Cut power on one floor and it might affect the sewage pump and the lower five floors will fill up with water, it is important we work in a very rigorous way,' says Gielen.
Recovered items are either sold to dealers in secondhand materials, specialists in one or two products, private individuals, architects, designers or SME contractors. Antique and iconic items comprise less than one per cent of the volume of products salvaged, but generate around 10% of revenue. A look through the company's back catalogue reveals a Pandora's box of design from the 1950s, 60s and 70s.
Work on a 1970s office building in Brussels' Ixelles municipality included the extraction 120m of black 'Noir de Mazy' marble plinths, the same Belgian marble used in the Empire State Building and the Palace of Versailles.
The operation to dismantle the BNP Paribas-Fortis bank HQ, formerly Generale Bank, the last major work by renowned Belgian architect Jules Wabbes, included removing most of the interior decor of the cafeteria, by celebrated post-war designer Christophe Gevers, a gold-plated metal ceiling, and 66 tonnes of granite facing.
Economies of scale have enabled the firm to build its presence. Agreements with several large real estate firms permit it to intervene in prospective renovation or demolition works in Belgium. For example, a partnership with real estate firm Cofinimmo resulted in the recovery of 16.2 tonnes of materials during several redevelopment projects in 2015.
With knowledge of future work pipeline, Rotor can prepare inventories of items suitable for salvage and then search for clients to market them to. 'For the process to work across a city we need a constant flow of new buildings – you can't organise yourself around just one project at a time,' says Gielen. 'If we know clients are going to renew five to ten per cent of their portfolio annually we can rent a warehouse, put in place a team: then the economy of the whole thing starts to stack up.'
Working with Rotor is a no-brainer for real estate firms, he says, because salvage costs relatively little compared with conventional waste removal, and reusing materials scores well for corporate social responsibility and building environmental assessments as required by law.
Although the concept of salvaging materials sounds simple, it can require several months of development to determine whether an item can be transformed into a useful product. Gielen gives the example of timber boards salvaged from parquet floors. Due to complexities of removal and preparation for resale, these are sent to a small timber company to recut and resand the boards in a way that creates a consistent product and authentic patina. 'For reuse to be viable at a large scale you need all sorts of players. We try to rely as much as possible on existing infrastructures and services,' says Gielen.
Having proved the concept works, Rotor is set to open a new office in Paris to exploit a stream of public and private buildings slated for demolition or refurbishment. The service is likely to attract organisations pursuing strict sustainability targets, but there could be more questions around public tendering than there are in Belgium, says Gielen: 'Local municipalities still need to get on board with ideas connected to the circular economy and our way of dealing with demolition.'
Building an international salvage business is serious stuff for a collective that has always resisted conventional structures, preferring instead to straddle the roles of architect, artist, curator and researcher. So is Rotor Deconstruction just another facet of its art, or is it a business?
'What's the difference? Art is being run as a business these days, juxtaposing the two doesn't make much sense. For us, every bit of research leads to more questions, as we pursue our intuitions, we do more and more diverse things,' Gielen concludes.
---