Adam Nathaniel Furman got a dream commission from Tokyo, but even he wasn't quite wacky enough for the client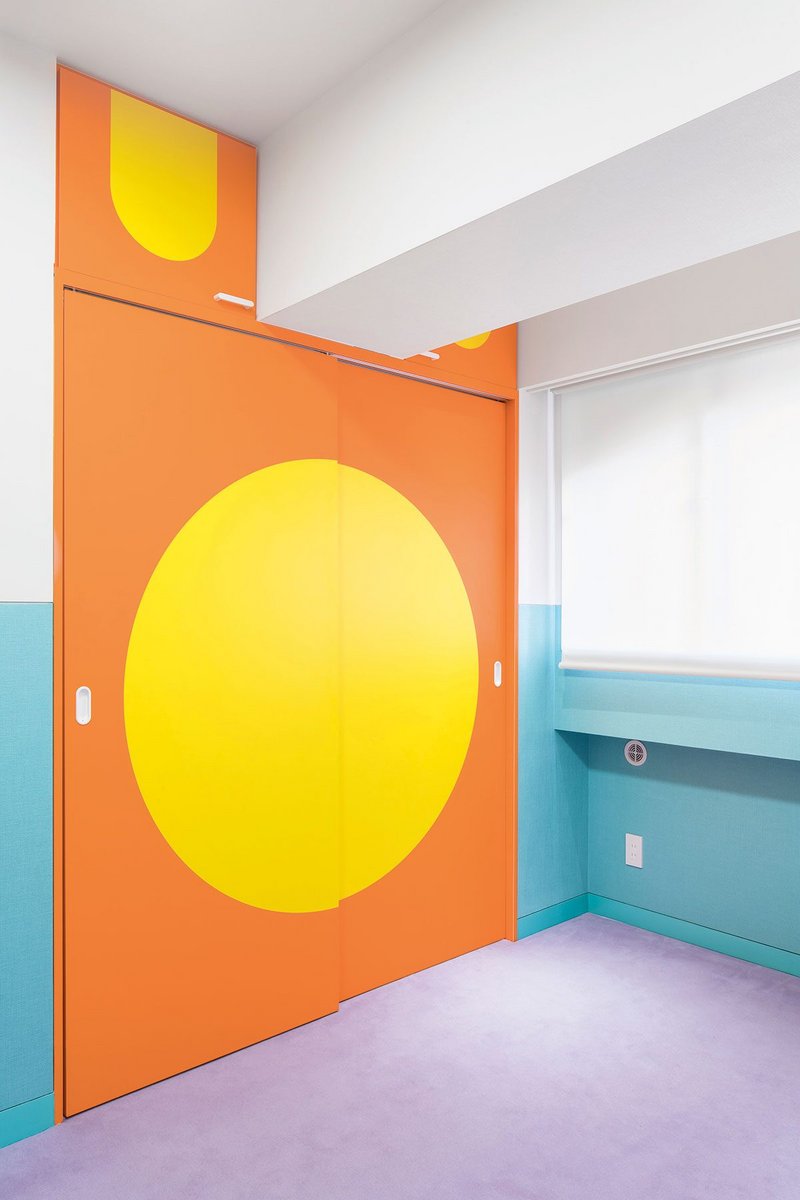 The Japanese 'Hinomaru' flag inspired the brightly coloured sliding screens between rooms.

Credit: Jan Vranovský
When Tokyo-based clients approached designer Adam Nathaniel Furman requesting a fun, 'bubblegum' interior for their flat, naturally, he was delighted. Handed an almost open brief (a light, airy, open layout with certain private areas), and no time constraints (it was not a primary residence and the project took two years), Furman effectively had carte blanche to deliver his trademark vivid styling. But he was in for a surprise: the clients had even more eccentric tastes than he did, and told him to be less conservative. 'I started off rather tentatively' he says, baffled, 'but they told me to really go for it.'
The result of this fearless step into uncharted pastel territory is a 'fruit cocktail' interior (monochrome-lovers shield your eyes now) where orange and baby blue mosaic tiles jostle for bathroom space with a peach-coloured Lixil toilet and yellow Vola taps (Arne Jacobsen,1960s), and the kitchen is a medley of pink cupboards, a green sink and a green and yellow striped floor. The owners refer to this as their 'watermelon room'. A lilac carpet, which looks like icing and feels like sponge, competes for attention with orange, green and blue walls. Textures are equally sumptuous, from the laser-cut melamine doors, fine-textured wallpaper and a wooden sculptural screen. A semi-translucent Hi-Macs surface in the kitchen glows in the sunlight. The decor certainly isn't for the faint-hearted, but it is lush.
Furman's inspiration is partly derived from memories of visiting Japan as a child in the 1980s. At the time, 'kawaii' (cute) culture was emerging, with its pop aesthetic and 'gender-bending colour schemes'. Another memory was the palette of public bathhouses, which he has recreated thanks to the ready availability of inexpensive mosaic tiles. The circles on cupboard doors reference the Japanese flag.
The flat itself dates from the 1980s and was dark and dingy with rooms off a narrow corridor and claustrophobically low ceilings, 'like living in a nightmare' Furman concludes. One of his first actions was to remove the suspended ceiling, creating a more comfortable height but an uneven surface with a mere 3cm cavity for services. To distract from this, walls are papered white at the top, and in bold colours up to a four-foot 'datum line' to divert attention away.
While budget was not an overriding concern, Furman balanced certain expensive purchases (imported Danish taps and a Jasper Morrison table) with off-the-shelf products, such as a Japanese 'unit bath' – an all-in-one prefabricated bathroom with a 50-year warranty.
Working with Japanese suppliers was challenging yet rewarding, even beyond the language barrier. Construction labour here is highly skilled, completed to exacting standards – and costly. So it is unusual to commission bespoke items, if ready-made alternatives, already very high standard, are cheaper. This is especially true when working with the large construction companies that many well-off clients prefer. Such a set-up proved restrictive for Furman ('a crazy English guy asking for complicated weird things') but once a smaller contractor was engaged, commissioning one-of-a-kind items became easier. His two trips to Japan involved day-long meetings, where details were discussed repeatedly and thoroughly – lengthy perhaps, but productive and highly reassuring when managing a project from abroad.
Would he work in Japan again? 'Hell yes! Japanese workmanship is of exceptional quality, and it's been great to work with such eager colour enthusiasts'. Finding such collaborative and encouraging clients was the icing on the cake. As Furman admits: 'Most people take one look at my website and run away screaming!'