Peace and quiet are vital for our health and wellbeing. Creating an isolated, floating ceiling with Oscar Iso-Mount can help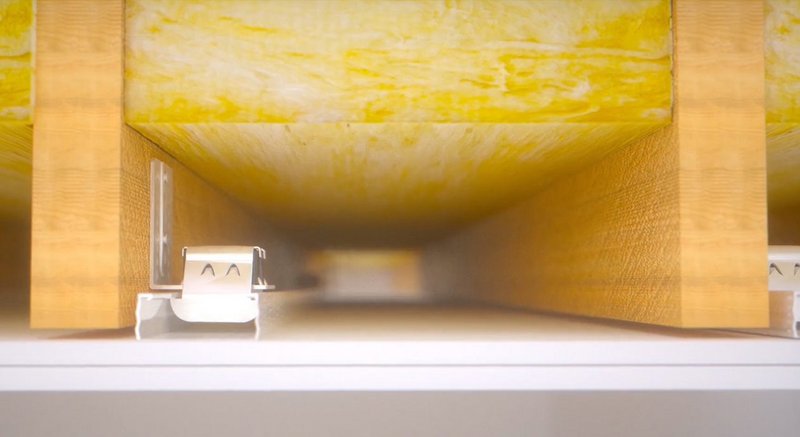 When noise from above is a problem, the simplest solution is to create an isolated, floating ceiling using Oscar Iso-Mount acoustic hangers. Iso-Mount Type1 (shown) is designed to be as non-obtrusive and space-saving as possible with as little as 6mm ceiling height loss.
For countless people around the world, the thumping of footsteps, loud voices and music generated by noisy upstairs neighbours can impact sleep and even lead to physical and mental health issues.
Building Regulations Document E sets minimum standards for soundproofing new residential buildings in England and Wales.
Unfortunately, these standards do not apply to existing builds, leaving millions of properties with inadequate sound insulation.
When noise from above is an issue, the Iso-Mount range from Oscar Acoustics offers class-leading ceiling soundproofing with acoustic performance that exceeds Document E for airborne and impact sound.
7 reasons to specify the Oscar Iso-Mount range:
Exceeds British building regulations Document E for airborne and impact sound.
Oscar Iso-Mount Type1 achieves minimum ceiling height loss (as little as 6mm).
Achieves a fire rating of over 90 minutes where required.
Installation is carried out entirely from the room below with no disruption to the floor above.
Affordable and easy to install.
Height adjustable, allowing for flat ceilings across uneven joists.
Gives the final appearance of a standard plastered ceiling once complete.
From houses, flats, conversions and new-builds to commercial spaces such as hotels, offices, shops and restaurants, Oscar Iso-Mount is the perfect solution for significantly reducing unwanted noise from above.