LG Hausys has extended its HI-MACS Marmo and Concrete acrylic stone collections and introduced new bath and shower tray designs for a fully integrated washroom solution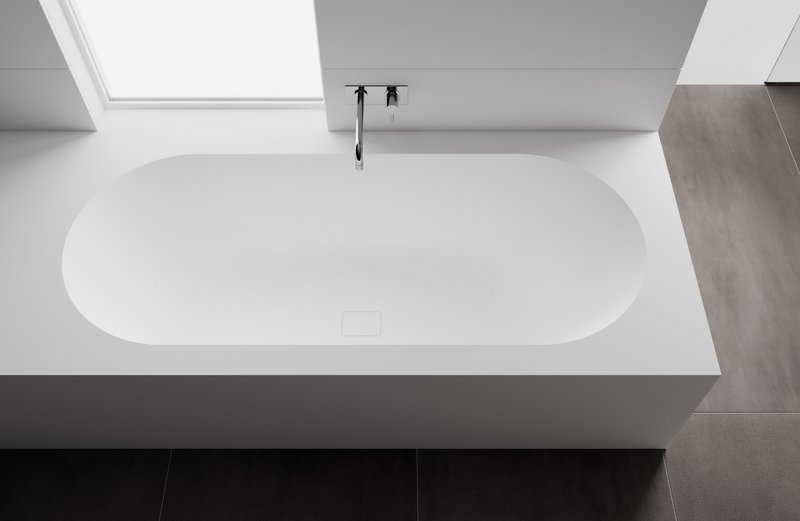 HI-MACS is a solid surface material made from acrylic, minerals and natural pigments that combine to create a smooth, non porous, thermoformable and visually seamless surface.
HI-MACS solid surface material is now available in more colours, with a range of new baths and shower trays joining the brand's collection of washbasins.
The new colours are part of the company's Marmo marble-look and Concrete collections and combine the appearance of the real thing with the benefits of the latest generation solid surface materials. The non-porous material can be thermoformed into curved shapes, producing visually seamless surfaces that are easy to clean. Some colours have a degree of translucency, allowing designers to play with light effects with dramatic results.
The HI-MACS Marmo collection embodies the organic look of marble with veined patterns and translucent chips. Four new colours include Aurora Bianco and Aurora Grey, which reflect the beauty of natural marble pattern. Pavia has a pristine, soft-white marble tone with translucent properties and, whether backlit or simply illuminated, adds an elegant touch. Sanremo introduces contrast with its dramatic black veined pattern.
Two new colours also feature in the Hi-Macs Concrete collection. Concrete is a fashionable look but, as a naturally porous material, the real thing has lots of constraints and is not ideal in many situations. This collection captures the look but with all the advantages of a smooth, easy-to-clean solid surface. Now available in a total of seven shades of concrete inspired by modern industrial architecture, the surfaces can be used in many applications from wall coverings to bathrooms and kitchens, adding a special ambience to a space.
Alongside washbasins, baths and shower trays are now available in HI-MACS. Three new baths have been designed for integrated bathroom installation. The baths are enclosed flush-mounted within the panel, so the product is seamless with no visible joins, providing hygienic surfaces that are easy to maintain. The new HI-MACS collection is composed of three new bath models and three new shower tray designs in iconic Alpine White.
HI-MACS is a mixture of acrylic, minerals and natural pigments and is colour-fast so it looks as good in years to come as it does on installation. It is the perfect material for bathrooms with its hygienic, easy-to-clean surfaces and warm, silky smooth feel. All HI-MACS products are covered by a 15-year limited warranty.
For more information and technical support, visit himacs.eu
Contact:
01732 897820
---