Sound-absorbing sustainable fit-out product for ceilings and walls straddles fashion, art and architecture and comes in four space-defining patterns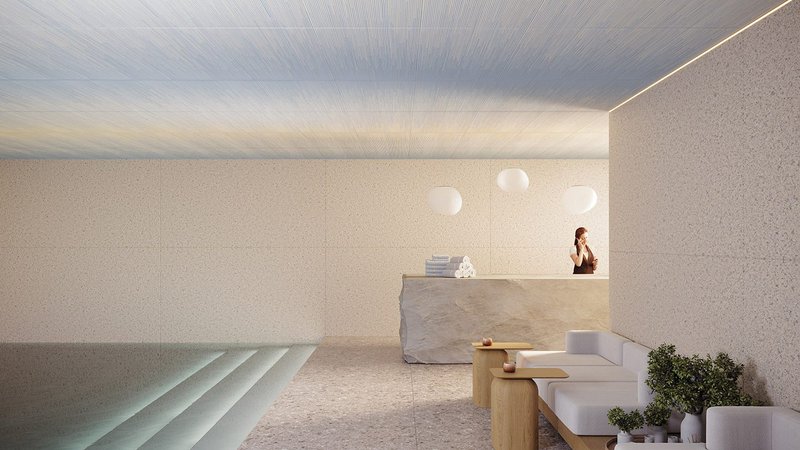 Intricate textures for transformational surfaces: Nown's InfiKnit 3D knitted Gradient ceiling panels.
Dutch manufacturer Nown's InfiKnit 3D knitted panels integrate heirloom knitting techniques and computational design to bring fashion technology to interiors.
The product was inspired by Nike FlyKnit, the revolutionary sneaker design technology introduced in 2012 that evolved from a desire to create a shoe with a snug, sock-like fit while minimising material waste during production.
InfiKnit has a backing made from SoftSound, a versatile material that provides superior acoustic performance, absorbing and diffusing sound waves for a peaceful environment free of noise disturbances.
SoftSound can be installed as wall tiles, ceiling baffles and fins and as an acoustic backer for metal ceiling panels. It is made from 100 per cent-PET plastic, with up to 60 per cent of each sheet of SoftSound made from recycled materials.
InfiKnit knitted panels are easy to install on ceilings and walls using a standard T24 grid system, offering specifiers an economical way to enhance any space.
InfiKnit also sets an industry precedent for sustainability with an innovative manufacturing process that requires minimal post-treatment and almost zero water consumption. It uses 30 per cent less water compared with textile finishing companies - making the product an environmentally responsible choice.
InfiKnit is a harmonious fusion of fashion technology and architecture and its 3D knitted yarns bring innovation, sustainability and thoughtful design to interiors projects.
Four intricate patterns are available - Expansion, Gradient, Oxida and SoftCircuit. They combine industry leading technology with time-tested architectural manufacturing techniques to soften, expand, absorb and transform spaces.
All four offer intricate textures, open-plan access, noise reduction and enhanced acoustics, plus an expansive colour selection.
InfiKnit's 4 pattern options:
Expansion Hints at the effect of expanded metal surfaces through an interplay of translucency, colour and texture. As an acoustic surface, it absorbs; as a lighting element, it diffuses; as a sculptural layer, it transforms. A first-of-its-kind architectural system for walls and ceilings.
Gradient Allows designers to seamlessly transition colours within a textured cable-like pattern. From afar, it looks like a woven image; up close, it has the intricacy of a knitted sweater. Ideal for creating stunning colour transitions in a single space.
Oxida Captivating blend of marble-like elegance and pixelated imagery. Emphasise the highlight textures for a marble look or accentuate the pixels for mesmerising camouflage. Three layers of colour offer endless aesthetic options.
SoftCircuit Exaggerated design with a puffy yarn adding a playful depth to the pattern, which shifts as building users move through the space. Fluffy, abstract and full of layered details, this architectural surface looks as comfortable in a boutique as it does in the boardroom.
For more information and technical support, visit
nown.com
Contact:
00 31 20 2455910
---