Intumescent and fire-stopping products from Nullifire are backed by UV and pigment traceability technologies that ensure what was specified is what has been installed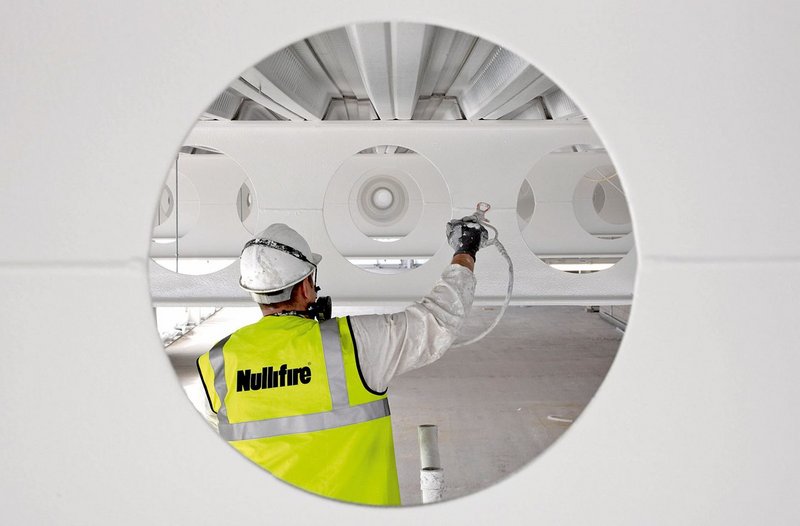 Celebrating 50 years in passive fire protection: Nullifire continually invests in product innovation, expertise, protection and service.
In the complex world of passive fire protection, Nullifire delivers best-in-class intumescent and fire-stopping solutions backed up with the reassurance of technical support and guidance to ensure complete peace of mind throughout the specification process.
Manufactured in the UK, Nullifire's products have a time-proven and trusted track record of performance and compliance, with the range tested extensively by third party associations and fully certified for a range of fire protection needs.
The brand's commitment to innovation includes the development of its pioneering traceability technologies Optifire and Optifire+, which offer guaranteed traceability of the applied Nullifire product installed on site.
Optifire is a unique UV technology, which is activated by exposing the product's surface to a UV light source, to offer easy and instant product identification.
Identification tools held by Nullifire can reveal a specific colour that is unique to the brand's fire-stopping product range.
By simply applying a UV light source, Nullifire can provide the reassurance that the product applied has been through stringent manufacturing processes and testing regimes.
The technology, which can be found within Nullifire's fire-stopping range, also allows for retrospective identification, assuring that during project construction through to project completion, the products can be traced straight back to Nullifire.
The second tracing innovation, Optifire+, offers pigment technology that is impossible to manipulate. Visible only with a specific Nullifre detector, it offers lifetime identification, remaining traceable even after a fire.
This means that at any time during construction, or after project completion, architects can be certain that the product specified is the product applied.
Invisible to the naked eye, Optifire+ does not hinder any aesthetics or final finish of the construction project. It also has no effect or change on the way that Nullifire's intumescent and fire-stopping solutions perform.
Both pigments are added into the product's formulation.
Optifire and Optifire+ are available in all intumescent base coats, with Optifire+ available in the fire-stopping range products FS702, FS709 and FR230, and Optifire in FS702, FS712, FB750, FB770 and FJ220.
Nullifire is a CPG (UK) brand, along with Tremco, Flowcrete, Illbruck, Dryvit and Nudura. These brands cover a wide array of different construction needs and provide a wealth of complex services, support and systems that are rarely found together.
As a CPG UK company, Nullifire has the resources and backing to offer the level of service architects require when making potentially life-saving specification decisions.
For more information and technical support, visit nullifire.com
Contact:
01942 929038
---