Flexibility, wellness and more informal workspaces require a new approach to ceilings. Manufacturers are rising to the challenge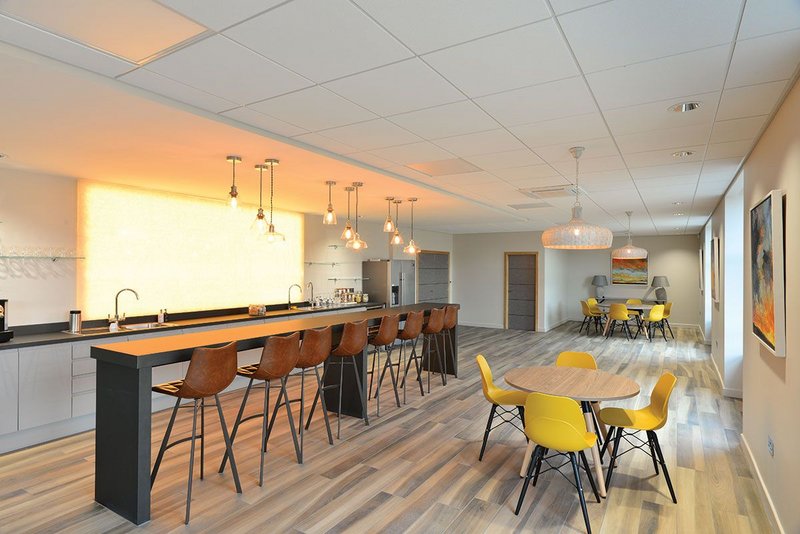 Gone are the days since endless expanses of white ceiling tiles were de rigeur in offices. And in many cases, gone are suspended ceilings altogether as part of the dominant trend for less formal workplaces, which has driven greater variety in ceiling design from the exposed soffit to the statement installation.
'In recent years the appetite of designers and clients has been for "more interesting" ceilings, particularly as different agile work-settings call for distinct aesthetic treatments,' says Julian Sharpe, director of tp bennett, adding that designers are increasingly experimenting with features hung from exposed services and soffits.
Rather than flush ceilings throughout, clients crave variety, according to Helen Berresford, head of Sheppard Robson's interior design group ID: SR. She puts this down to the digital disruption of the workplace led by tech companies looking for less conventional design solutions, resulting in what has become a new corporate of exposed ceilings or services.
'The Big Taylorist office floorplate is moving on a bit. Now, more creativity is required in how you break down your spaces with a greater variety of ceiling types,' she says, adding that this requires careful consideration of the acoustic role of the ceiling in each area.
This trend is increasingly the case in base builds as well as end-user fit-outs, according to Make architect Robert Lunn. The practice has been working with agents and space-planners on creating highly developed ceiling designs with flexibility to allow, for example, coffered areas of enhanced height within the office grid.
'We're trying to develop something a tenant will want to retain,' he says.
The wellness agenda is also driving change. With more emphasis on how a building interior affects its users, the visual role of ceilings is gaining increased attention with the use of warm, cosy materials such as wood and felt, as well as a focus on creating acoustically-pleasant environments. The dual trends of open-soffit/statement ceiling present challenges and opportunities for suspended ceiling manufacturers. Hunter Douglas's Pieter Van Rees, business development manager ceilings, has noticed greater ­demand from architects for bespoke ceiling designs in general.
SAS International is responding by looking at providing standardised modular projects that can be used in a non-standard ­manner to realise the architect's vision. This may include, for example, the flexibility to change profiles or use baffles in an unusual way while retaining acoustic performance.
'It's a very exciting time, with demand for human centric, visually interesting and ­flexible solutions. We have an open book to challenge accepted norms, to innovate and develop the future of the working environment,' says SAS R&D manager Matthew Butchard.
---
MOOD BOARD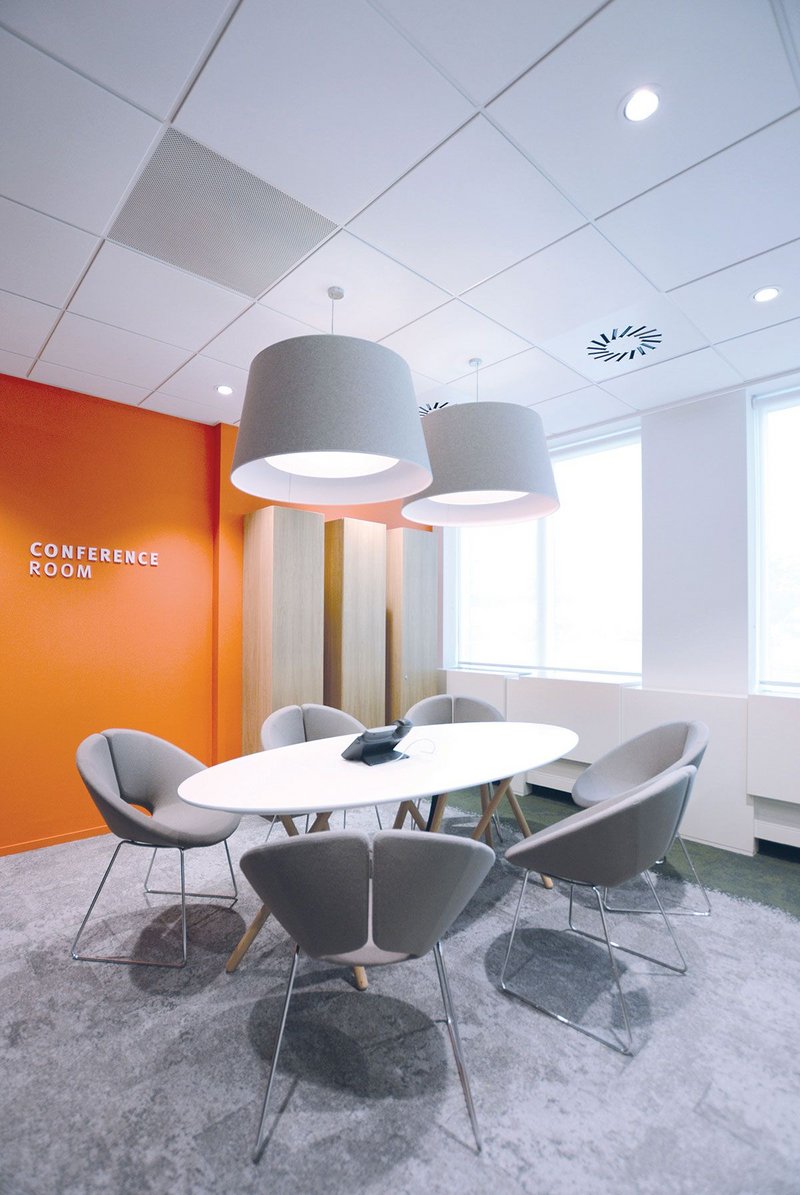 Dune eVo (below) was introduced in 2017 to serve increased interest in wellbeing, sustainability and the circular economy, and designers who want to create not a statement ceiling, but a monolithic uncluttered surface that meets access and acoustic needs.
Dune eVo was the first ceiling system to gain a cradle-to-cradle certification, with the mineral fibre tile sustainable for its use of raw materials and also Armstrong's free recycling service at the end of its life. This latest Dune product features a brighter, smoother white surface with reduced perforations and is available in 600mm by 600mm and 1200mm by 600mm in three edge options. Estimated product-only price is £6/m2.
Growing interest in statement ceilings has also prompted wood variations including a 2400mm by 192mm channelled plank option across its seven organic natural veneers. Typical product-only price is £100/m2.
Hunter Douglas is extending its HeartFelt modular felt ceiling system (above), with products including a baffle option. It says HeartFelt fits with current well-being trends through both its cosy appearance and acoustic performance, which gives a warmer sound due to felt's ability to absorb high frequencies.
'Its selling point is good acoustics, but its aesthetics create a warm feeling just by looking at it,' says Pieter Van Rees, business development manager ceilings.
HeartFelt is designed as cradle-to-cradle with pure polyester felt panels clipped into metal carriers without glue for ease of deconstruction and recycling at the end of its ceiling lifespan. The product comes in seven shades of grey and five earth tones in panels of 40mm width and 55mm height up to a maximum length of 6000mm. Absorption values are 0.45-0.70α depending on the module. Material-only prices start from £53/m2.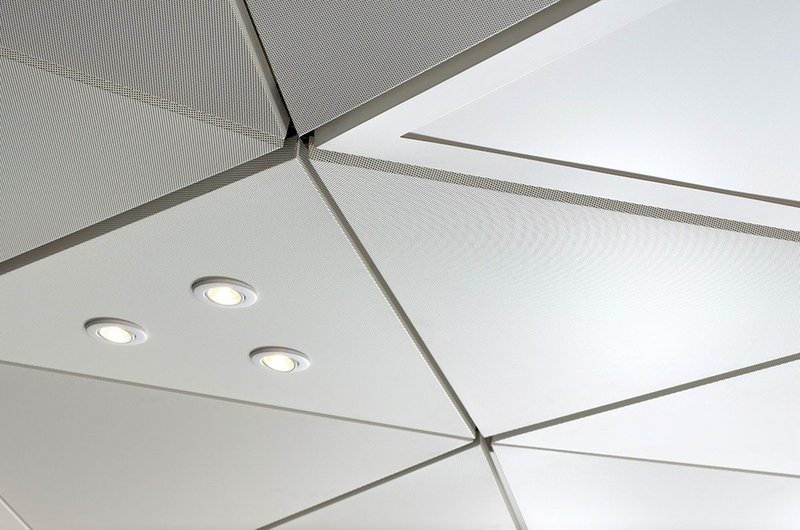 Flexibility is the focus for SAS. As well as increasing the scope for architects to tailor existing products, the metal ceiling specialist has launched Polynode, a feature ceiling installation with adjustable multi-faceted contours designed to meet rising demand for varied ceiling surfaces.
Constructed from nodally-supported, equilateral triangular tiles, Polynode's form can be tailored post-installation by lifting the nodes up or down to create complex geometric forms. Open soffits can be incorporated within the web of tiles for added visual interest as well as luminaires and other M&E services.
The patent-pending nodal system can also be used to transition from wall to ceiling. Standard nodes are mounted every 1000mm and tile dimensions range from 280mm to 1280mm. Prices vary, check with the manufacturer.
Another new launch is the deltawing acoustic raft, a high performance acoustic product.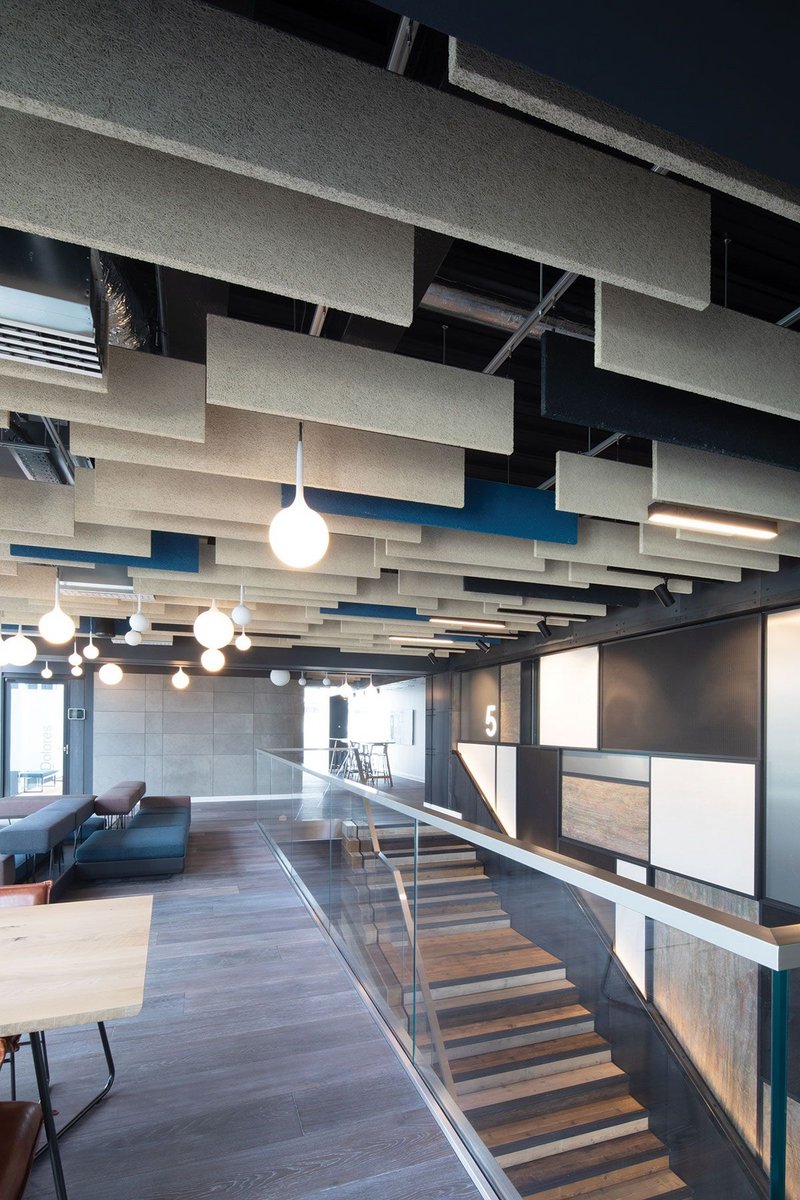 Knauf AMF's latest product is Tacet, a jointless, homogenous suspended ceiling panel with noise-reducing acoustic properties compatible with the burgeoning wellness agenda for comfortable, calm environments.
Sacha Conte, Knauf AMF specification manager for the South East, says the market has found wellness easier to take on board than sustainability: 'It can be grasped better, taking into consideration how you feel in a room and how things sound.'
Tacet consists of substructure, mineral wool base board measuring 580 by 1600 by 24mm and two layers of finish: plaster and an acoustic plaster top-coat. Typical price is £100-£150/m2.
Knauf AMF has also introduced a customised service for its Heradesign range (above) of wood wool acoustic textured panels. With Heradesign Creative designers can specify panels in any size or colour in any of the eight standard shapes, which can be incorporated as enclosed ceiling panels, rafts or baffles. The latter two are compatible with open soffits and exposed services.
As a very white matt tile with high (87%) light reflection and diffusion, Rockfon's Blanka (below) meets market interest in the wellness agenda by contributing to a 'bright and comfortable' interior environment.
'Architects want a nice smooth finish that reflects natural daylight,' says Jenny Brookes, marketing manager for Rockfon UK.
The Blanka tiles can be combined with a recently introduced, matt white, suspended grid designed to blend in with the tile. Price is available on application.
As well as a greater demand for customization of shape and colour, Rockfon has noticed an increased market interest in non-combustible products. The company has also launched Rockfon Metal, which combines its stone wool product with a metal finish to suit certain office applications. This has both an A1 fire-safety rating and Class A sound absorption and is available with two perforation patterns and various sizes and edge details.