Comfortable, calm, collaborative environments are not only productive, they encourage people back to the workplace and help retain staff too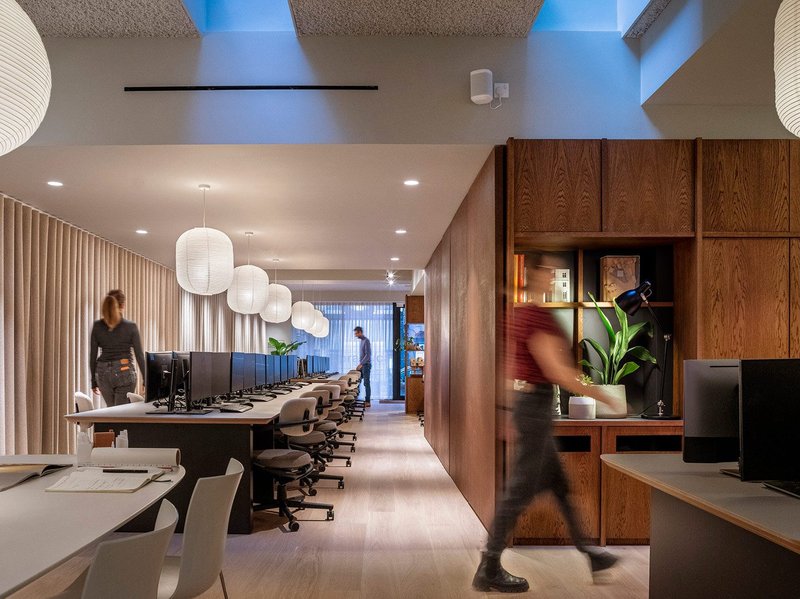 Architects dMFK specfied Oscar Acoustics' SonaSpray K-13 Grey as part of the acoustic design solution for its London office.

Credit: Photo by Killian O'Sullivan
In 2022, award-winning architectural practice dMFK, in collaboration with architects Sher + White, refurbished its central London headquarters.
The plan for the offices at 76 Charlotte Street in Fitzrovia was to create a home-away-from-home environment for its workforce - a​ visually appealing, comfortable and collaborative space.
'It was crucial that the space represented us as a practice in looks and function,' explains Julian de Metz, dMFK director, 'but it also needed to contribute towards staff wellbeing, retention and helping to attract talent.'
From his experience developing commercial office space, de Metz knew that the key to his project was noise control.
'Without the right acoustic solutions, our 45-strong office would remain overly noisy, keeping our workforce at home in quieter surroundings.'
To find a sound solution, dMFK enlisted the help of acoustics experts Oscar Acoustics. The firm has 45 years' experience providing acoustic solutions for busy commercial office spaces.
They recommended SonaSpray K-13 from their acoustic spray range - a premium acoustic spray that reduces noise reverberation by absorbing sound instead of reflecting it.
For Ben Hancock, Oscar Acoustics managing director, 'dMFK's brief was clear. They wanted a solution that would create an acoustically balanced environment while also working with the aesthetics of the interior space.
'We applied the product, in pale grey, to the ceilings of the areas with the greatest potential for excess noise - communal areas, large meeting rooms and co-working spaces - and it has blended seamlessly with the interior decor.'
As an ISO 14001 accredited company, sustainability and the use of healthy materials, along with staff safety, were key components for dMFK.
SonaSpray is made from recycled materials and is M1 Classified as a Low Emitting Building Material.
It contributes towards many sustainable design and health certification systems, including BREEAM, SKA, Living Building Challenge, and adds up to 17 points towards the LEED rating of a project.
One of the few acoustic sprays on the market to offer fire credentials that go above and beyond Approved Document B fire requirements (Class 0 to BS 476 & B-s1, d0 fire rating), Sonaspray produces little to no smoke and virtually no droplets - which can assist in the safe escape of occupants.
'We're thrilled with how the office looks and performs,' says De Metz of the finished project, 'and Oscar Acoustics' solution is integral to that.
'It is the single most noticeable and effective material in our office and directly contributes to day-to-day comfort and the ability to work without bothering others.'
For more information and technical support, visit oscar-acoustics.co.uk
Contact:
01474 854902
mail@oscar-acoustics.co.uk
---