Office designs of the future will need to foster collaboration while controlling noise reverberation and voice projection. They will also require adaptable, easily reconfigured layouts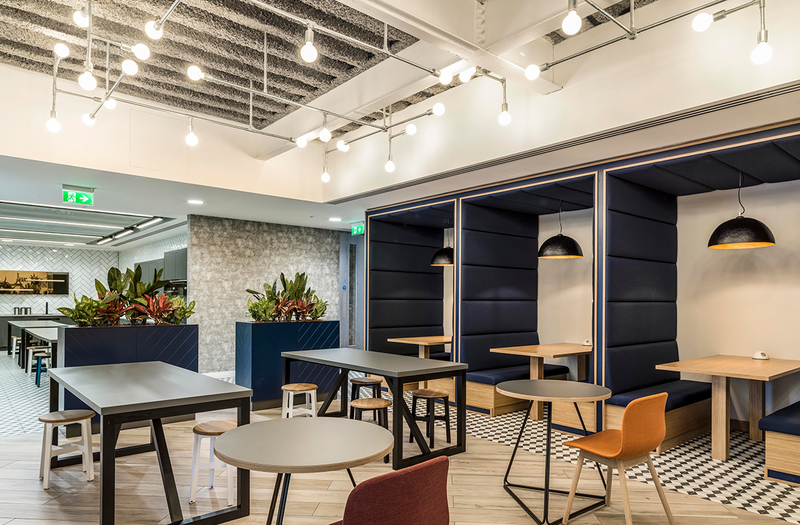 Oscar Acoustics' SonaSpray K-13 grey decorative finish at Radius Payment Solutions' headquarters, Crewe.

Credit: Space Invader Design, Overbury & Andrew Smith / SG Photography
Designers around the world are rethinking office layouts. Factoring in hygiene and social distancing requirements has huge implications on the design of new spaces and reconfiguring existing ones. With a new hybrid model of work emerging, spaces have to reflect this change.
Fewer people will be able to occupy a space at any one time leading to a shift in the role of the workspace. It is likely to become a venue for collaboration, innovation and connecting with colleagues again.
If offices are to become hubs for collaboration, limiting noise will be paramount. Noise has been shown to be a risk factor for both physiological and psychological health and high-quality acoustic environments remain a key health and safety consideration for building owners and architects.
Limiting voice projection
Virus transmission is increased through voice projection in enclosed spaces and protective barriers will be a feature of shared spaces from now on. This spells an overhaul of the open-plan office. While it will remain important, its role will be to host smaller workstations divided by design elements.
Such dividing features will include partitioning screens, cubicles and modular pods, carving larger spaces up into sections that allow individual and group work. These will be accessible through walkways that are large enough to facilitate social distancing and do not require any surfaces to be touched.
Sound solutions
Offering a calm and acoustically comfortable workspace is more important than ever. It is crucial to choose an acoustic system that allows for office configuration and reconfiguration as requirements shift.
SonaSpray is a recycled, fire-rated architectural acoustic finish applied to the ceiling above. It conforms to any surface shape and the high-performance adhesive bonds to virtually all common construction materials, including plaster, wood, metal and concrete, achieving superb acoustics without design compromise.
SonaSpray allows complete flexibility with Cat A and Cat B fit-out configuration and reconfiguration. Dividing structures can be brought in and out without disrupting the seamless acoustic decorative finish above, enabling architects to create adaptable and calm spaces where employees don't need to shout to be heard.
A lasting trend
The merging of the home and workspace is being accelerated due to the pandemic, resulting in hybrid spaces that combine and share elements of both.
It is clear that architects, developers, building owners and employers are all searching for ways to protect the people working in their spaces. By focusing on acoustic design when reconfiguring offices, they can both ramp up productivity and prevent a hidden health crisis. Existing guidelines by acoustics experts will be useful when rethinking the space, including the FIS Guide to Office Acoustics and the WELL Building Standard.
Workspaces need to be adapted so they are not only aesthetically pleasing, but calm and inviting too, enhancing the health and wellbeing of all who enter them.
For more information and technical support, visit oscar-acoustics.co.uk
Contact:
01474 854902
---