Impressed by the variety of contributions at the Venice Biennale 2016, POINTS of Contact, the communication initiative of KEUCO, GIRA and FSB, presents many of the pavilions' exhibitions on its blog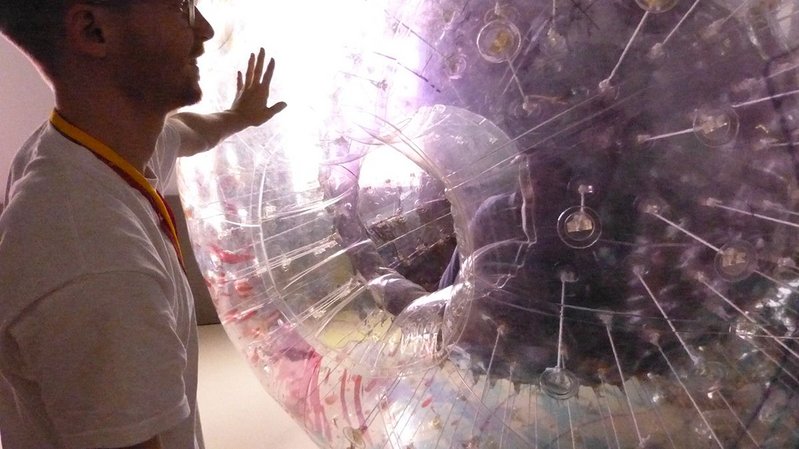 In the 16th century Elizabeth I demanded a front door for every household in Great Britain to avoid shared homes. In the portico of the British Pavilion at the Venice Architecture Biennale 2016, the visitor is welcomed by a black, panelled Georgian front door before entering a world of new forms of housing. Inside, the young team of curators - Shumi Bose, Jack Self and Finn Williams - asked questions of British society and architectural culture regarding the changing rhythms and patterns of life.The team developed a new series of homes designed for different amounts of time and different lifestyles through a series of architectural propositions named Home Economics.
'Home for Hours: Own nothing, share everything' is no ownership model where both the room and transparent wardrobe filled with objects of domestic life are shared. 'Home for Days: Home is where the Wi-Fi is' on the other hand takes homeliness one step further as an inflatable plastic ball with an opening and enough space to lay inside. With just a single selling feature, wireless internet. the cocoon responds to a life constantly on the move. This evolves into the more permanent 'Home for Months: A house without housework' which receives the functions sleeping, eating and bathing in a two level 'totem'. Without any obligation to do housework, this is a new version of the boarding house.
Next up is the shell construction which includes water and electricity supplies, a toilet and sink, the 'Home for Years: Space for living, not speculation'. It reduces the home to a minimum - a kind of naked apartment - where occupiers can start with zero debt, making it affordable. Moving on, the 'Home for Decades: A room without functions' has no functions and is defined by 'atmospheres' such as open and closed, big and small, or light and dark.
The British Pavilion and its content is very direct and haptic as all five models for living are exposed 1:1 and can be touched, tried and used.
The three German brands FSB, Gira and KEUCO – producing premium-quality components for building construction – and their common communication initiative for architects POINTS of contact welcomed almost 3000 international architects to their Meeting Point at the Grand Canal in Venice during the opening week of the Biennale. Guided tours, lectures, an exhibition and several parties on offer both inside the Palazzo Contarini Polignac and in its spacious garden. Now they are publishing reviews and images like this one of many of the country pavilions at the Venice Biennale on their blog. Catch up with it here. The Biennale is open until November 2016.
For more information about POINTS of Contact, order or download the free booklet 'Adding Value', which sums up all the activities of the initiative for architects in a handy format.
Contact: