Rich linings and autumnal fabrics beneath an elegant lumber roof make for a hard-wearing but sumptuous interior at Peter Hall Performing Arts Centre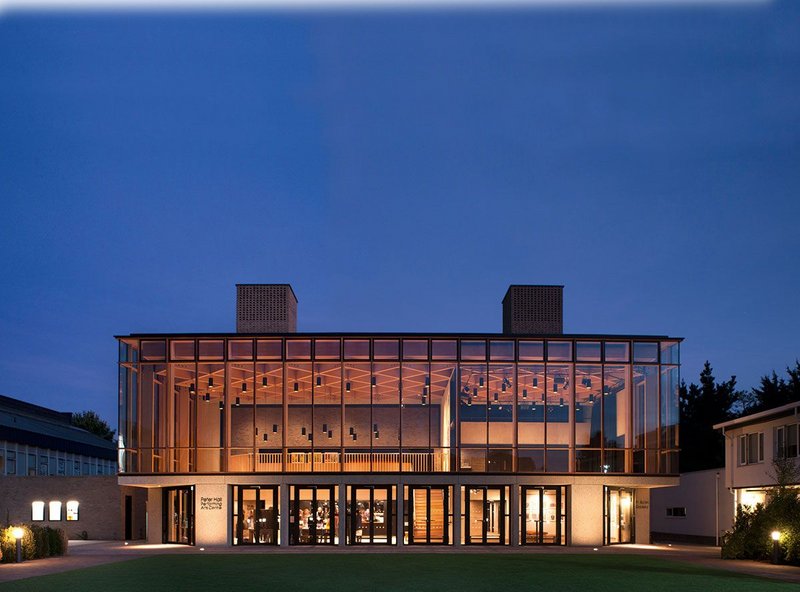 The main elevation of The Perse School showing the timber lattice roof structure.

Credit: Philip Vile
Many of the nation's aspiring actors, dancers and musicians will cut their teeth at Peter Hall Performing Arts Centre, a multi-functional teaching and live entertainment venue on The Perse School campus in Cambridge.
Named after the former director of the National Theatre, who attended the school as a pupil in the 1940s, the building stands at one end of a new landscaped courtyard. It includes a 400-seat auditorium, a triple-height galleried foyer space, a rehearsal and teaching room, an exhibition space, back of house dressing rooms, a workshop and a suite of classrooms.
Architect Haworth Tompkins took design cues for the interiors from local buildings, notably Kettle's Yard art gallery and house (a collection of converted cottages extended in the 1970s) and a 50-year old school hall with timber parquet floors and a structural timber ceiling.
Double-herringbone brickwork on the courtyard floor continues seamlessly into the foyer through a facade lined with double doors. High glazing above the concrete ground floor blurs the boundary between interior and exterior and draws the eye towards an elegant diagrid timber roof that's hung with metallic cylindrical pendant lights by Aether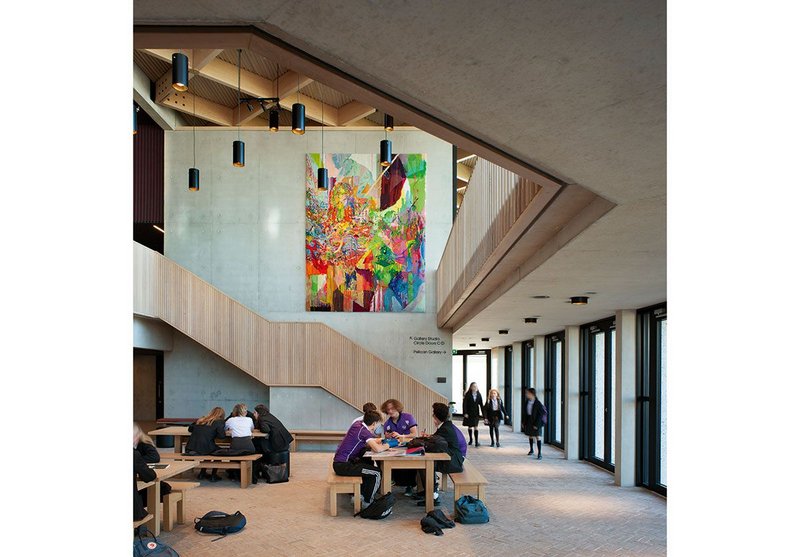 Brick herringbone runs from outside to in, while timber linings complement exposed concrete.

Credit: Philip Vile
This innovative roof structure is a lattice of short lengths of laminated veneer lumber (LVL) bolted into steel connection nodes and supported on timber columns at the perimeter. The 'Babuche' beech LVL, manufactured by Pollmeier, is laminated in 3mm-thick layers to create high-strength, slim-profile beams. Rows of timber slats above the lattice are backed with a light grey fabric acoustic insulation.
Jessica Daly, project architect at Haworth Tompkins, told RIBAJ: 'We are always keen to work in timber construction for environmental reasons and because it is such a beautiful, self-finished material. A similar exposed timber roof structure was developed on our extension to Bristol Old Vic.'
Robust materials able to withstand the toil of a school day yet also convey an opulence befitting of a cultural arts venue were called for. Tough natural materials that mature and patinate over time were specified where possible, including custom made buff bricks, by York Handmade, oak floors, balustrades and loose furniture, and exposed precast concrete.
A triple-height concrete wall divides the foyer from the ground floor exhibition space and first floor studio, hung with a colourful textile artwork, designed by Glasgow-based artist Victoria Morton and made at Dovecot Tapestry Studio in Edinburgh. It is visible from the courtyard through the glazed facade.
Pale timber in the foyer accentuates the large amount of north light coming through the high glazing. This is in contrast with the rich, dark timber-lined auditorium.
Fabric in autumnal colours of red, orange, yellow and green is used on most of the fixed seating and helps to connect the interiors to the landscape. Auditorium seats are covered in a hard-wearing wool tweed by Bute, which also supplied a 5m-high red drape in the gallery studio that can be extended around the entire curtain wall facade.
Perse School's holistic approach to teaching the performing arts is reflected in the large number of technical facilities. The professional standard theatre allows pupils to control lighting and audio visual equipment, while the flexible stage can contract or extend to seat an orchestra. Stage sets designed and built by pupils in the workshop can be rolled down a special corridor direct to the stage. Despite the demands on power and the associated heat, the entire building is naturally ventilated.
It's a high tech, yet architecturally grounded, creative playground poised to nurture future generations of UK talent.
Credits
Client The Perse School
Main contractor RG Carter
Structural engineer Price & Myers
Services engineer Skelly & Couch
Quantity surveyor Aecom
Theatre consultant Charcoalblue
Acoustician Charcoalblue
Plantsman The Plant Specialist