Morris + Company is part of Argentinian offsite manufacturer Phäbb's international architectural team – assembled to develop mass produced housing that the client can customise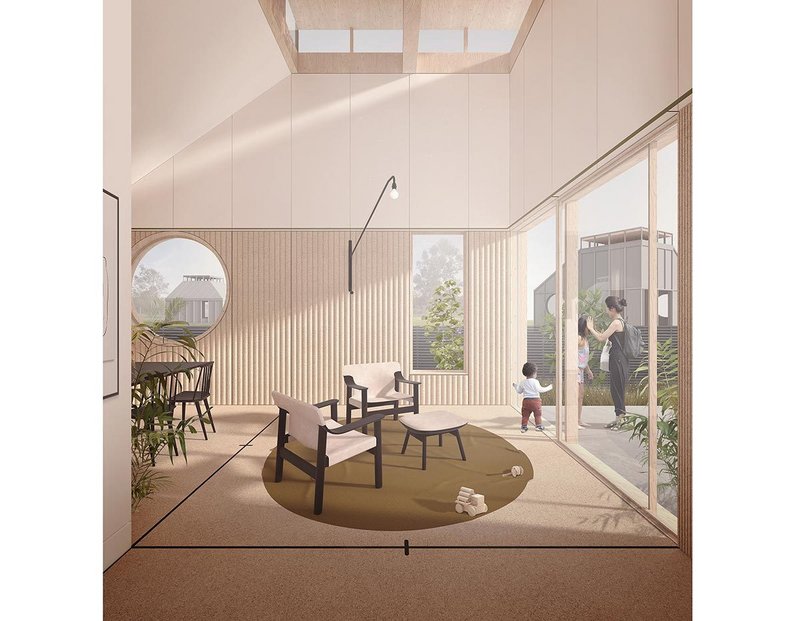 Dadu House is suitable for first-time buyers, new families and young professionals, featuring a steep pitched roof and glazed lantern roof to draw natural light into double height living areas
London studio Morris + Company is developing a customisable modular housing system as part of a joint project with Argentina-based offsite manufacturer Phäbb and a group of eight international architects.
Phäbb Modu is a collection of flexible modular elements that can be configured to create one of four different dwelling types, ranging from homes to apartment blocks and from 18.6m2 to 263m2 in size.
Each building can be adapted to suit customer requirements, budgets, and the local context, produced in material palettes from textured brick and charred timber, to metal panels and shingles.
The system is currently in developmental phase as one of several modular approaches being fined tuned by Phäbb in collaboration with architects from countries including Spain, North America, Brazil, Uruguay, Chile and Argentina.
Joe Morris, founder at Morris + Company told RIBAJ: 'In the conventional housebuilding market, the buyer is completely downstream, but Phäbb Modu gives them an opportunity, through a structured process, to partake in and create site-specific, client-specific housing through a system of mass production. It brings the customer/occupier to the front of the decision making process.'
The plan is to target the system at the South American market, but options to produce it for North America and Europe, including the UK, are also being explored.
The four Modu building types include Suburban House, which comprises three distinct, but linked buildings, each one accommodating either a living area, kitchen/dining or bedrooms. Beach House features three volumes, but set around a central private courtyard garden or pool.
Stack House is an apartment building with duplexes at ground floor and three-bed apartments above, built either as one module or in a terrace formation. Dadu House is a home with six variations, ranging from 18.6sm2 to 86m2, designed for locations where space is an issue, using height to create dynamic interiors. This model is suitable for first-time buyers, new families and young professionals.
According to Morris, Dadu and Stack House are the most obvious options for the UK housing market.
'Dadu is a backland dwelling unit, which you could see being most easily configurable for the UK self-build market, for example using a plot of land at the back of an existing home,' he said. 'Stack lends itself to the mass housing market in the UK where there's a real appetite for investment. The challenge is to work out whether or not we can scale the system to generate market-driven housing with an affordable housing element. The product itself has an inherent affordability, which takes away a lot of the strain in terms of quality, design, detail, and materiality.'
Phäbb's manufacturing process is designed to minimise waste and maximise repetition. Its homes are low carbon and energy efficient.
'There's an ambition to incorporate rapidly renewable materials, like mass lumber, or highly recycled content materials and to design to Passivhaus standard, using ultra insulation, while also including prefabricated panels of brickwork, shiplap timber, or other forms of cladding,' says Morris. 'The challenge is to work out how to incorporate the different systems within the overall structural base system as well as determine just how far adaptability and flexibility can go.'
The eight global practices collaborated physically and virtually through a series of group sessions to discuss and develop designs. It's hoped the involvement of recognised architects will provide a key draw for potential buyers. The prototyping process for Modu, including testing different frames, insulation methods, and cladding, will begin in the new year.