There is still an ambition to make good social housing in the UK. Design, materials and community awareness hold the keys to unlock it
The residential sector ostensibly represents architecture at its most basic – providing for human need of shelter – but it is also immensely challenging, dragging with it a host of social complexities and moral quandaries linked to the motivations of those in power.
What better illustration of these paradoxes is there than the UK social housing system? John Boughton, honorary research fellow at University of Liverpool and author of A History of Council Housing in 100 Estates began this RIBAJ PiP webinar by outlining the history of council homes. His book examines examples from 19th century alms houses to the 2019 Stirling Prize-winning Goldsmith Street in Norwich by Mikhail Riches. He discusses the council house's origins in Victorian tenements, and the political drive in the inter-war and post-war years to increase the scale of these developments. From garden villages and new towns to high-rises and Homes for Heroes, Boughton's examples illustrate the ambition and (in many cases) generosity of architecture created at a time when half the profession worked in the public sector.
'But where did it go wrong?' asked webinar chair Jan-Carlos Kucharek. 'In many ways it didn't,' argued Boughton. 'Millions of people live good and decent lives in good quality council housing', but stereotyping and media coverage has focused on the negative. Yet it would be disingenuous to overlook council housing's many problems. Spending cuts and the reduction of newbuild in the 1980s, coupled with the Right to Buy scheme, lost 1.4 million homes to the private sector. This 'residualised' what was left, leaving council homes to 'cater only to the most disadvantaged...It became seen as a housing of last resort, whereas before it had been aspirational'. Moreover, flawed system building in the 1960s, inadequate maintenance, cultural shifts in attitudes towards the state and a rise in antisocial behaviour sowed the seeds for the Thatcherite death blow.
Bleak stuff. Is there hope? Yes, believes Boughton: 'There is still an ambition to work for the public good' among architects, and sustainability holds the key. Citing schemes such as the Wilmcote House refurbishment, Portsmouth, and Goldsmith Street, he observed: 'It is really encouraging to see some really good architects working on public sector housing now'.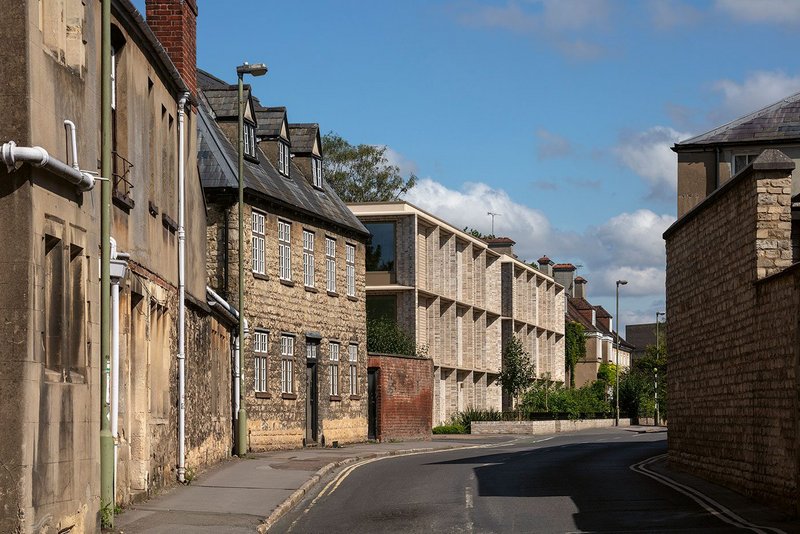 While sizable, Niall McLaughlin Architects' Master's Field development for Balliol College Oxford remained deferential to its context.

Credit: Nick Kane
Regarding high quality materials, Jonathan Lowy from sponsor VM Zinc put the case for the use of this metal. He demonstrated how this malleable material – good for cladding, details, flashings, standing seam roofing and rainscreen systems – can be a sustainable and attractive choice. Although it requires specialist installation and good insulation, it is durable and does not corrode, instead developing an attractive patina. It has a lifespan of 100 years, very low combustibility and is 100% recyclable.
Next, Holly Galbraith, associate at Niall McLaughlin Architects, presented the Master's Field Development, eight purpose-built student apartments for Balliol College, Oxford. Combined with a professorial flat and a sports pavilion, the clusters of buildings – which were conceived as a scaled-up form of the micro social group of a dining table and chairs – frame a new quadrangle in an area of land bordering the civic core of Oxford and its surrounding landscape. Disparate architectural conditions had to be reconciled, Galbraith explains, so the buildings recede and protrude in dialogue with their listed neighbours.
Reducing social isolation was crucial, hence the arrangement of rooms around central gathering areas, and buildings around green spaces. Externally, each bedroom is in a brick-faced precast concrete bay, the windows recessed in the depths of the piers, with a woven motif panel inspired by the facade of the Ashmolean Museum. Many Oxford streets have imposing brick walls hiding internal quadrangles, but this scheme, on the border of the residential district, attempts to give back to the public realm with a visually permeable site boundary. It is a contextual and sympathetic offering.
Moving further south, to Lovedon Fields in Hampshire, by John Pardey Architects, Carl Gulland talked us through this attractive and contextual development of 50 homes inspired by rural vernacular. Landscaping was central to the scheme, which incorporates a green and a chalkland wildflower meadow beyond. Houses sit perpendicular to the streets, creating a 'perforate rural edge', inspired by local typologies. The green is a place for play and wildlife habitat, and is central to the SUDS strategy. Terraces and balconies, oak benches, and hedges rather than fences, encourage neighbourly interaction.
The homes' brick materiality matches the colour of local earth; their masonry accommodates bats and bees. Established trees inspired timber-clad facades, while full-width roof photovoltaics take their aesthetic lead from traditional Hampshire roofs, where a heavier material is often used from eaves-to-eaves leaving a contrasting line of tiles below.
Over in Belfast, Chris McAvoy, project architect at Hall Black Douglas, introduced Gardenmore Green. The scheme – in an established residential estate with difficult ground conditions – comprises 14 dwellings, that embrace their sloping topography through a stepped configuration. The development achieved Secured by Design and Life Time Homes accreditation, with the ethos of 'simple housing done well'. The mix of semi-detached and detached homes with pitched roofs makes a staggered streetscape with pockets of landscaping and interesting projecting header courses of bricks adding complexity in detail.
Simple plans maximise natural light in the interior, and a recessed canopied entrance shields residents from the rainy climate. Throughout, small, considered gestures make for a powerful experience.
The diversity of projects featured in this webinar demonstrate the range of possibilities which can be achieved in residential schemes when context, sustainability and the users are respected. In each case, rounded off Kucharek, they are 'trying to create a village and thinking intelligently about creating a critical mass to development'.
This webinar was produced in association with VM Zinc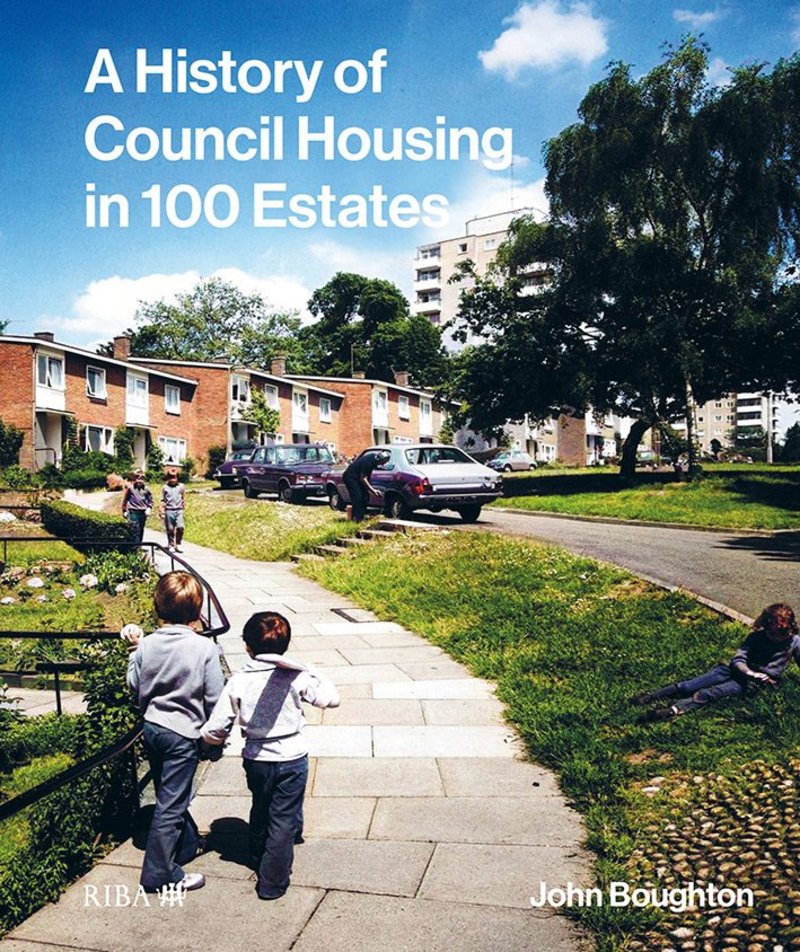 Credit: RIBA Publishing

David Black
Project director
Hall Black and Douglas
David Black is practice director at Hall Black and Douglas and has established a reputation as a design-led practitioner throughout his 25 years experience within the profession. He has been responsible for the design and delivery of high quality award winning schemes in commercial, civic, residential, community and Leisure settings. He has recently completed a number of high profile health care projects including the major extension and refurbishment works at Altnagalvin Acute Hospital, which was nominated for the RIBA National Awards and won the RIBA Northern Ireland Regional Award 2022. He also leads the design and delivery of the practice's successful social housing projects, using his innovative approach to design and close attention to detail.

John Boughton
Honorary research fellow
School of Architecture, University of Liverpool
John Boughton is a social historian. He has written two books, Municipal Dreams: the Rise and Fall of Council Housing (Verso, 2018) and, most recently, A History of Council Housing in 100 Estates (RIBA Books, 2022). He is an honorary senior research fellow at the School of Architecture of the University of Liverpool. Over the last 10 years, his blog has provided a record and history of council housing across the country.

Holly Galbraith
Associate
Niall McLaughlin Architects
Holly Galbraith joined Niall McLaughlin Architects in 2014 and became an associate in 2020. She is actively involved in the practice's higher education, schools, and private residential projects, is responsible for the office resourcing and implements its H&S strategies alongside the practice manager. She leads the professional development working group and contributes to the management of the firm's recruitment, new business and bids. She is part of the IT/BIM implementation working group. Previously she worked at several design-led practices in London and gained experience in the housing, education and cultural sectors. She has been involved in diploma level teaching concurrent to her time in practice and contributes to guest tutoring at various schools of architecture. She studied architecture at the University of Northumbria in Newcastle and completed her Part III studies at The Bartlett School of Architecture, UCL in 2014. She is an ARB registered architect.

Carl Gulland
Project architect
John Pardey Architects
Before joining JPA in 2007 Carl Gulland worked with Feilden Clegg Bradley Studios on projects including Accordia, Cambridge, and Icon, Street. He has been a director at JPA since 2016 leading a team working on larger residential schemes for clients including HAB Housing, Inland Homes and Q-Developments. Key projects include the renovation and re-use of a grade II, 1936 film laboratory building in Denham by the Bauhaus architect Walter Gropius, together with a further 175 new flats and houses on the former film production site; Lawn Road – 72 apartments in Belsize Park adjacent to Isokon; Lovedon Fields – 50 houses and apartments forming a new village edge to Kings Worthy, Hampshire, which won an RIBA National Award and was shortlisted for the RIBA Neave Brown Award for Housing; and Alfold Gardens – 56 dwellings in the village of Alfold which won the Homes England Masterplan Award 2020. He is a panel member for Design South-East which supports local authorities in assessing and shaping development proposals.

Jan-Carlos Kucharek
Deputy editor RIBAJ & editor of PIP
Jan-Carlos Kucharek is an architectural journalist and registered architect. He studied his part 1 at Canterbury College of Art and his architecture diploma at The Bartlett (UCL), and worked for five years at Foster + Partners. He took a part time role at the RIBA Journal in 2004 and continued working freelance at Marks Barfield, Hudson Featherstone, David Morley and Fourthspace architects. He became editor of Products in Practice (PiP) in 2013 and deputy editor of RIBA Journal in 2021.

Jonathan Lowy
Operational marketing manager
VM Zinc
Jonathan Lowy has over 24 years' experience working with VMZinc. Having operated in both technical and sales positions in three different countries, he has an excellent understanding of not only the market needs but also the technical possibilities of zinc as a roofing and cladding material. He has also been involved in technical certifications, whether that be environmental profile declarations or BBA certifications and fire testing. Much of this knowledge has been used to write technical literature aimed both at architects and installers. Before joining VMZinc, he worked as a land surveyor in Paris, ironically spending quite a lot of time on the zinc roof tops of Paris. He graduated from Nottingham Trent University in construction management in 1990.

Chris McAvoy
Project architect
Hall Black and Douglas
Chris McAvoy is a project architect at Hall Black and Douglas with four years' post qualification experience designing and delivering successful schemes across various construction sectors including housing, masterplanning, community and commercial developments. Most notably, he was the project architect for Gardenmore Green, which was awarded the Best Small Residential Housing Development at the 2022 UK Brick Awards. His design skills have been recognised on a number of occasions, including a nomination for the RIBA Silver President's Medal and winning the RSUA's Silver Medal in 2018. He has also been visiting design critic at Ulster University School of Architecture.