Offsite manufacture cuts costs and disruption as curved, timber-clad structure is installed over divisive creek in a few hours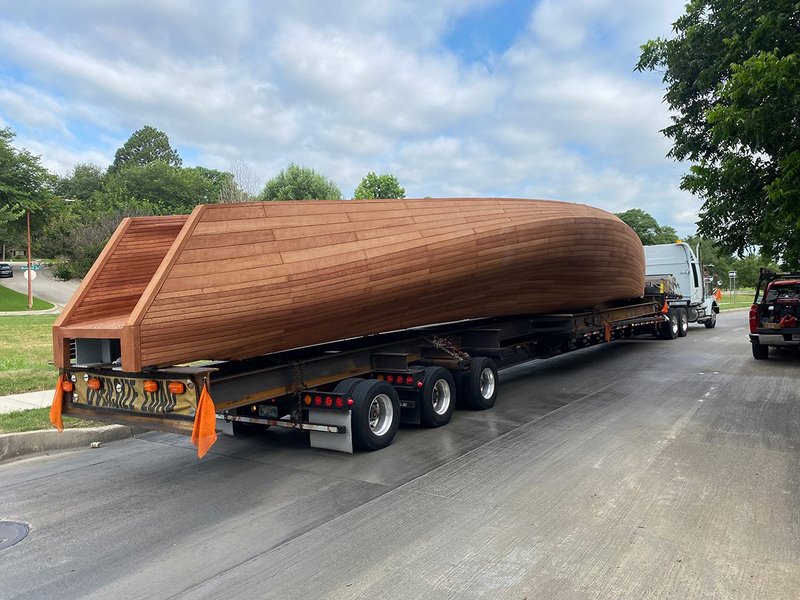 Plug-and-play urbanism structures are built off site then driven to site as a single unit and simply dropped into place.

Credit: VA Design LLC
A hull-shaped timber-and-steel pedestrian bridge, fabricated off-site and installed in just a few hours over a creek in Texas, showcases the cost and sustainability benefits of plug-and-play urbanism.
Drift is a 62ft long structure and artwork, designed by architect Volkan Alkanoglu to span the creek in the South Hills residential neighbourhood of Fort Worth.
Commissioned by the City of Fort Worth's Public Art Program, it connects two halves of a neighbourhood previously separated for seven blocks by the land feature.
With a slim budget of $375,000 for an infrastructure project of this scale, costs were reduced through an innovative plug-and-play urbanism design strategy, in which infrastructure elements are fabricated off site and then simply dropped into place.
'To build a bridge, you would traditionally need a scaffolding system that's removed once the actual bridge is completed,' said Alkanoglu. 'This suggests building effectively two bridges. Instead, we wanted to explore how we could reduce costs and construct the bridge off-site then deliver it to the final location on the back of a truck as a single unit.'
He added: 'Plug-and-play urbanism projects are delivered with less disturbance to the urban context, in terms of construction, noise and road closures, and with minimal impact on nature, while providing a higher degree of design and participation.'
The bridge's material palette and form drew inspiration from the changing state of the creek, which in dry weather is filled with driftwood, and the mid-century modern ranch style homes on either side of it.
The smooth, curving structure contains a pathway, benches, and railings in a single form, its irregular undulations having been engineered for sitting and support. The multi-functional approach was informed by moulded plywood designs, including Ray and Charles Eames' steam formed laminated timber leg splint, which was used in World War II as a more effective method to protect injured soldiers' limbs when stretchered from the battlefield.
'As a mass-customized object the splint's eloquence is remarkable, I was inspired by performance aspects such as the cutout for the straps that simultaneously reduce weight, and the ergonomically-shaped form to fit the human body and enable stacking to support storage and transportation,' said Alkanoglu.
Budget constraints scuppered an initial plan to fabricate the bridge solely from cross-laminated timber. Instead, taking a cue from shipbuilding techniques, a steel armature was engineered and clad with CNC-cut and flip-milled timber planks. Advanced computational design using algorithms helped optimise the form and material usage.
The craned-in bridge was installed on low impact piers on either side of the bank, with a rip-rap drainage system to minimise the footprint of the bridge foundation.
'While cities and communities are strapped for funding, we believe it's economically more feasible to build off site, which minimises the community impact,' said Alkanoglu. 'Plug-and-play urbanism projects can be proto-architectures, infrastructure, or inhabitable objects, they need to bring a quality of life to the neighbourhood, such as connectivity, culture, public areas for gathering or an opportunity for play and communication. They enhance the economic and social conditions of the context,' he concluded.
A previous project by Alkanoglu, Purple Steam, is one of the largest completely 3D-printed public sculptures yet built.