The global quartz surfaces manufacturer's latest launch is a new addition to its award-winning Metropolitan collection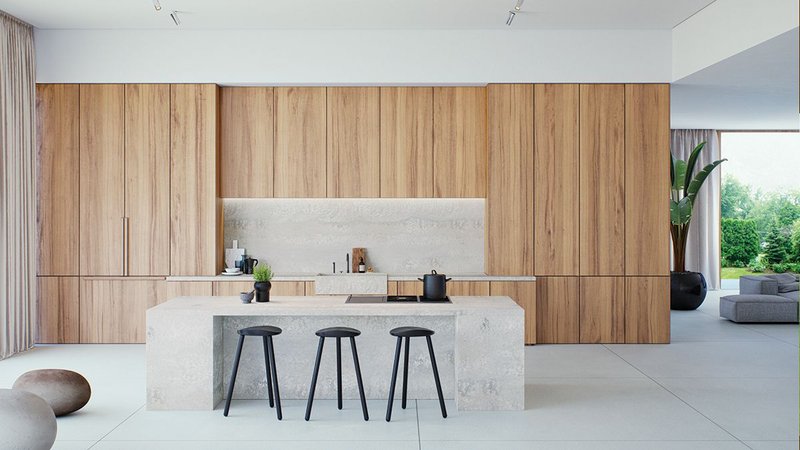 4043 Primordia is inspired by both the rough patina of natural stone and the industrial look and feel of freshly poured concrete. This latest surface design is suited for kitchen worktops and splashbacks, as well as bathroom and wall cladding and other similar applications.
Caesarstone has added a new design called 4043 Primordia to its Metropolitan engineered quartz collection.
The versatile surface design has an industrial look accentuated by its unique imperfections, a theme common to the rest of the collection. Primordia's cool grey complexion echoes the character of concrete, evoking a contemporary feel. Against its light grey base, soft mineral marks in off-whites and greys combine with darker veils of grey and brown to reflect the oxidised rusts found in nature. The effect is completed by subtle traces of yellow and washed green, which give the design depth and body.
'Its imperfections, delicate patinas and rough texture give Primordia its unique beauty,' says Mor Krisher, head of design at Caesarstone. 'It plays in the boundaries between natural and industrial materials: when the natural starts to look industrial and when an industrial object ages and starts to look more organic.'
Caesarstone manufactures premium quartz surfaces that are used in residential and commercial projects as countertops, vanities, wall cladding, floors and other interior surfaces. Quartz is one of nature's hardest minerals and Caesarstone contains approximately 93 per cent natural quartz for surfaces that combine practicality with stunning design.
To request a sample of 4043 Primordia, visit caestarstone.co.uk/request-a-sample
To explore the entire collection, visit caesarstone.co.uk/colours
Contact:
Caesarstone London Studio, Unit 3 Navigation Park, Morson Road, Enfield EN3 4NQ
Caesarstone Manchester Studio, Unit 38 Wheel Forge Way, Ashburton Point, Stretford, Manchester M17 1EH
---