Web giant's Sunroof scheme will help consumers decide whether it's worth harnessing their solar potential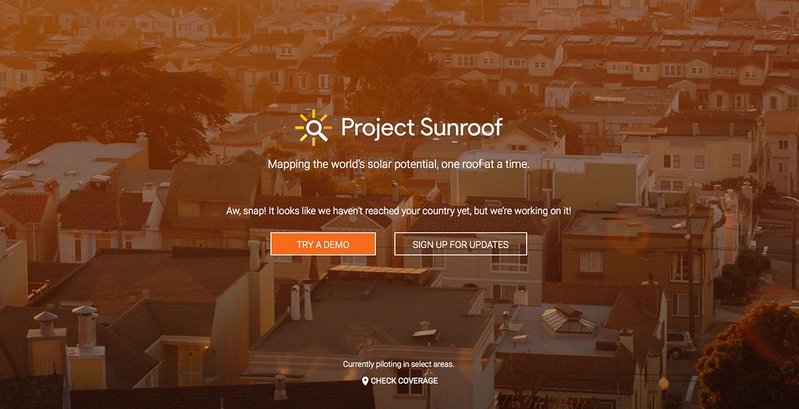 As UK households face a government-imposed 87% cut to solar feed-in tariffs from this month, a Google-led project in the US is helping encourage consumer uptake of photovoltaics by demonstrating the cost savings an installation might achieve.
Project Sunroof is a free-to-use online tool that enables property owners to calculate their rooftop solar energy potential. The software uses a combination of Google Earth's high-resolution aerial mapping technology and information from other databases to provide a personalised rooftop analysis, computing how much sunlight will hit a roof and the resulting reductions in energy use and utility bills.
The tool launched in California last summer, offering coverage to households in Boston, San Francisco and Fresno, and has now been expanded to include eight more solar-friendly US states: Arizona, Colorado, Massachusetts, New Jersey, North Carolina, Connecticut, Nevada, and New York.
Google timed the announcement of Project Sunroof's expansion to coincide with the conclusion of COP21 climate talks in Paris last month, indicating that the corporation feels it can play a role in helping the US meet the new targets.

In a blog post Carl Elkin, engineering lead for Project Sunroof, commented: 'Solar installations today are growing rapidly (a system is installed every 2.5 minutes in the US), but there remains tremendous untapped potential. In fact, only half a per cent of US electricity comes from solar power. According to GTM Research and the Solar Energy Industries Association's US Solar Market Insight Report, the US is set for a record-breaking year, thanks to a booming residential photovoltaics market. By the end of 2016, cumulative solar installations are poised to nearly double.'
He added: 'Solar may help you cut costs while increasing efficiency. With Project Sunroof, you can more easily assess your home's solar energy potential –and help move us all toward a more renewable future.'
Project Sunroof harnesses a varied set of data to assess each roof, drawing from Google's database of aerial imagery and maps, 3D modelling of each roof, shadows cast by nearby structures and trees, all possible sun positions over the course of a year, and historical cloud and temperature patterns that might affect solar energy production.
A 'solar score' is created for every rooftop, then users are asked to input their average electricity costs and compare them which what they would pay using solar.
The tool taps current solar industry pricing data to calculate the cost of leasing, taking a loan, or buying solar panels for a house. It also takes into account incentives such as Federal and state tax credits, utility rebates and renewable energy credits and net metering to determine overall costs.
---