Changing working habits and a shift to adaptive reuse will see more office-to-resi conversions. Responsibility and regulation will be vital
RCKa's Arklow Rd project in Lewisham. A 1920s former commercial block, Astra House, saved for 30 microflats for client Pocket Living.

Credit: Jakob Spriechtersbach
Office-to-resi is the most prosaic of terms. It is perhaps fitting for an activity that has traditionally had a low profile, while providing bread-and-butter work for architects and healthy profit for developers. Now, however, residential conversion is in the spotlight, as property owners consider the future of offices and other buildings. If a shift in the tectonic plates of commercial property takes place, it could unleash a new wave of conversions and redevelopments, some likely to be delivered with the aid of permitted development (PD) rights, which the government has extended from merely converting offices to allow for demolition and redevelopment to higher levels, some upward extension and, potentially, high street conversions.
Every PD extension brings fresh controversy, with the potential conversion of tranches of beleaguered high streets and urban centres prompting particular concern from industry bodies. Oliver du Sautoy, head of research at property consultant Lambert Smith Hampton, sees both the opportunities of PD for investors and developers and the challenges its application at scale could present for places. He says of office-to-resi, 'If the policy isn't delivered sensibly and buildings are cherry picked there is a danger that the core of a central business district will be broken up and lose its critical mass.'
'The high street PD might see a rush of quite poor schemes coming forward. It is hard to think of many uses that couldn't be converted,' says The Bartlett School of Planning's Ben Clifford. Concerns stem from a legacy of bad PD office conversions, their inadequate living spaces crammed with those in greatest housing need. Clifford has charted PD's progress over the past six years, including in a study for the Ministry of Housing, Communities and Local Government (MHCLG). He estimates that around a third of PD office conversions have been of fairly high design quality and reuse town centre buildings well, with the rest poorly designed and/or inappropriately located for residential.
In the face of mounting concern, including calls for architects to boycott PD, housing secretary Robert Jenrick made policy changes, requiring homes created via PD rights to meet Nationally Described Space Standards (NDSS) from this April and to have 'adequate natural light in all habitable rooms'. The introduction of space standards is significant and welcome, says Clifford: 'It will reduce the bad. But on daylight it doesn't say that you have to have a window, and I've already seen plans for upward extension where the top floor residents will have skylights only'. Developers also continue to be free of Section 106 obligations under PD.
These policies and post-pandemic economics will shape developers and investors' decisions on whether to refurbish, redevelop or repurpose. The message from architects is that, however residential conversions are delivered, they and their clients have a part to play in balancing viability with liveability and sustainability.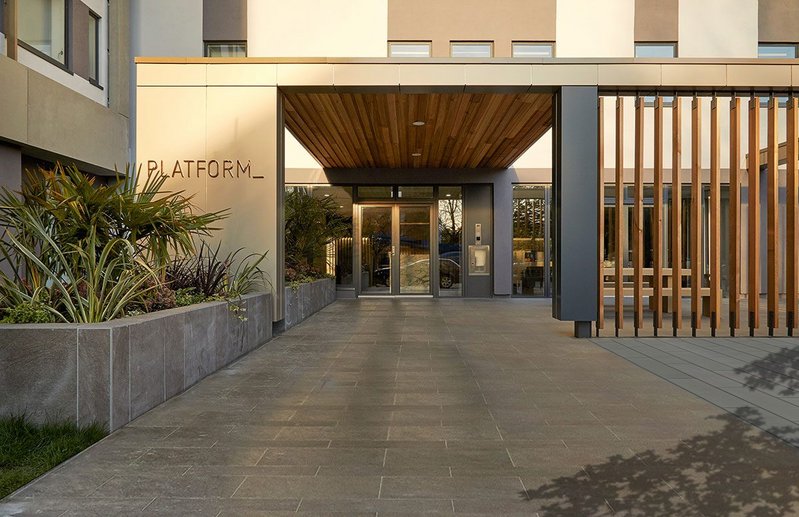 Ayre Chamberlain Gaunt's refurbished nine-storey, 1970s office building into 185 studio- 2-bed apartments for build-to-rent developer PLATFORM_

Credit: Westrock
Refurbish v rebuild
'There is a realisation that refurbishment is preferable to replacement,' says RCKa Architects director Russell Curtis. 'But the economics need to work and it may be necessary to accept fewer homes. The economic framework isn't necessarily in favour of refurbishment.' The architect faced this conundrum when working with developer Pocket Living at Arklow Road in Lewisham, a 1920s former commercial block considered for demolition and rebuild, until the council planners' admiration for it led Pocket Living to apply for full permission to convert.
Pocket's projects are generally new builds, where its formula of compact homes, discounted from full market value, works efficiently. 'It has a well-established and refined layout, which is quite difficult to reconcile to an existing building,' explains Curtis. 'The project was less flexible than a typical conversion because of the rigidity of Pocket's 38m² one-bed flat. We had to bring the two together.' Specifically, standard units had to be combined with 4m floor-to-floor heights and a fixed external window position. 'We couldn't make the units wider so we took out all the windows in the existing elevation and effectively built a new thermal envelope behind them,' he continues. 'The new window positions are disconnected from the existing windows and that allowed us to overlay the openings in an interesting way.'
The existing four storey building contains 30 apartments, but a replacement would have provided more, as modern floor-to-ceiling heights would have allowed for additional storeys. This left the scheme with a viability gap, which was remedied by extending upwards with two new storeys containing 14 larger two bedroom apartments, for market sale. But a solution like this can't always be found, Curtis says, citing his practice's current project to demolish and rebuild a hostel for homeless families in Camden. 'A feasibility study was carried out to see if we could refurbish, but it wasn't viable,' he explains, as the one bedroom studios were unsuitable for families, floor-to-ceiling heights were low and other factors, such as acoustic separation couldn't be resolved.
The architect hasn't used PD for conversions but is now using it for some airspace schemes. 'In change of use it seems to be fairly well established, but in upward extension it still seems to be extremely unpredictable,' says Curtis. 'We've had an upward extension scheme refused at committee, although it was PD.' He has mixed feelings about PD, saying it ought to be 'like any other tool in planning'. Delivering quality projects is not down to PD itself, but to those applying it, he believes: 'It needs a responsible client and a responsible architect.'
The aim of conversion
Around a quarter of D5 Architects' workload is in conversion, with projects ranging from offices to a laboratory-to-residential conversion, and has used PD on a number of schemes where clients found buildings difficult to let. 'PD is an entry level decision on the developability of a building. It helps in getting it to market but the design decisions are still the same,' explains Ian Saunders, partner with the practice.
Part of the speed to market comes from the limited documentation usually required for the prior approval process: drawings plus transport and highway impact survey, contamination and flood risk assessment and an acoustic report. Saunders says, 'The level of design commitment is lower because you're looking at footprint rather than detail, so you can often go in at RIBA stage 2. As there's a 56 day process with only the four reports, the project tiers down very quickly and the developer gets certainty potentially months earlier.'
That helped developer Elevate with its Queensway House scheme, on the edge of Birmingham's Jewellery Quarter conservation area, says Saunders, even though the relatively small scale of the project meant it would have been subject to a minor planning application and was below the Section 106 threshold. The street corner block has been converted to mostly three bedroom apartments for market sale, with one home on each of the five floors of the L-shaped building, the lowest being a ground and below ground duplex. With loft styling, 142-207m² of space and triple aspect, the homes reflect Elevate's aspiration for a design-led scheme of larger scale apartments.
The architect combined the application for prior approval with a minor application for external changes – to add large triangular balconies to the rear of the building and infill a yard to help create the duplex home. 'The hybridised approach is useful to get the conversion in the bag,' says Saunders. 'It allows development certainty to be married with design quality'.
For Saunders, conversion is about tapping into potential, whether of an older building's heavyweight structure or a post-war office's generous ceiling-to-ceiling height. 'Conversion is not about how many units you can get in. It's a question of what you can do with the building – aspects like maximum daylight to habitable rooms and quality of space' he says. 'PD doesn't have a lot to do with that'.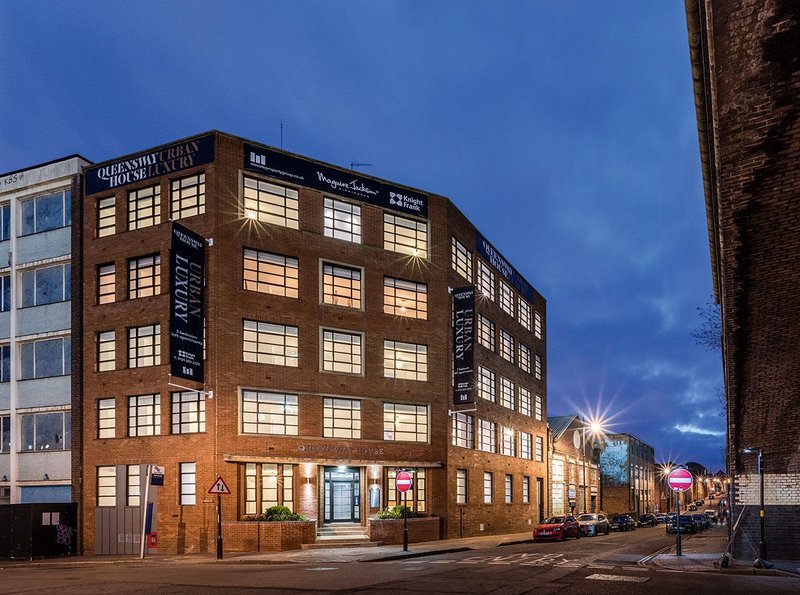 D5 Architects' Queensway House on the edge of Birmingham's Jewellery Quarter for developer Elevate.

Credit: D5 Architects /Tom Bird
A broader perspective
In central Crawley, West Sussex, architect Ayre Chamberlain Gaunt was asked to give a 1970s-built, nine-storey office building with a 110m frontage a residential face as part of its conversion. 'That is the limitation of working with existing buildings and the challenge of re-use,' says Matthew Chamberlain, director at the practice. 'We introduced a rhythm of bays along the facade to break down the overall scale of the building and make homes more identifiable,' he adds, bronze coloured aluminium fins being complemented by light and dark grey render.
The scheme was one of two debut projects by build-to-rent developer PLATFORM_ , both of which were delivered with the help of PD, alongside applications for external changes to improve appearance and thermal performance. Chamberlain says PD's speed helped the developer get off to the right start: 'They were bringing a brand into existence and the alternative would have been purchasing consented schemes'.
The 185 homes in PLATFORM_ Crawley range from a 35m² studio to a 62m² two-bed apartment, which is compact but well designed, says Chamberlain. 'The building floorplates were quite shallow so areas were squeezed but the apartments are incredibly light. They have 10m or 11m frontages, with 6m deep space, so they feel spacious.' Gyms, lounges, storage rooms, roof terraces and other amenities also have to be factored into the space in private rental and co-living developments, he says, and as a build to rent developer PLATFORM_ has a long term interest in keeping tenants happy. 'We work with clients that understand the long term value of the building they're creating,' says Chamberlain. When clients don't, the course of action is clear, he says: 'As we've all seen from Grenfell, architects shouldn't be taking on projects if they are not comfortable with them or they undermine their position.'
While debates about PD often focus on square footage, early PD schemes deserve equal scrutiny for their failure to upgrade thermal performance, argues Chamberlain. 'Regulation wasn't there to require that, so people may have bought apartments with problems that will need to be addressed in future. When we look at projects we look at the whole thermal envelope, the daylighting and how the building operates.'
With their complex mix of environmental, social and economic challenges, the next generation of vacant office and retail buildings will need an all-round sustainable approach to adaptive re-use. 'We believe the most sustainable way ahead is to maximise the potential of the building stock we already have,' says Chamberlain. To that end, the practice is working with developer First Base on new uses for a former Debenhams department store in Swindon, which could include homes and business space.
Chamberlain talks of existing buildings, particularly on the high street, as the building sites of the future. 'After 20 years of pursuing new build, it is going to be an interesting shift in my career,' he adds. Other architects may be making a similar move, and how they address the difficult questions raised by conversion will be crucial for future living and urban centres.