Touchless innovations, restful shades and easy-clean sanitaryware are resetting washroom design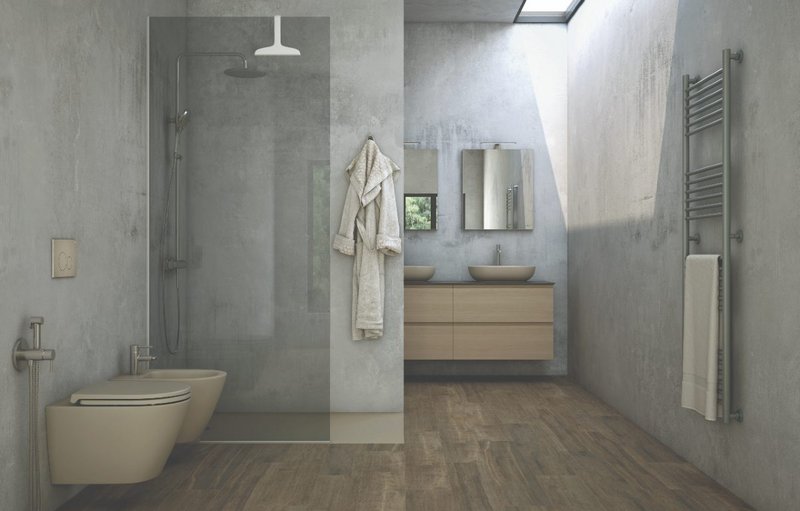 RAK Ceramics' RAK-Feeling bathroom range: Coloured matt-finish sanitaryware shown here in Cappuccino is also available in Black, Grey, Greige and White.
Since the pandemic, hygiene and ease of cleaning have become paramount in the design of safe bathrooms. In hotels and homes alike, clients are looking for touchless solutions, wall-hung sanitaryware, rimless toilets, large format tiling that minimises grout and easy-clean fixtures and fittings.
The latest innovations include sanitaryware coatings with anti-bacterial protection and sensor and infra-red controls on fittings and flushing systems that reduce the amount of touch points in the bathroom, promoting good hand hygiene and creating safer living environments that give clients peace of mind.
The style of a bathroom and the design of its components are now linked to easy cleanability. The bathroom may be one of the smallest rooms in the home, but it is one of the most important when it comes to injecting personality into a property. The stark white sanitaryware of the recent past is now giving way to soft pastels and muted shades. Less clinical than an all-white bathroom, these pops of colour can be scaled up or down to suit individual tastes. Subtle nature-inspired tones are adding character and a relaxed ambience.
Creating a feel-good bathroom is more important than ever. Spa-inspired designs include a contemporary, walk-in, wet room style shower area. Shower trays with a low profile create a feeling of space as the floor area is opened out and access much easier. For baths, think painted exteriors, freestanding tubs offset from other fixtures to make a statement and baths with slim rims. All of these trends help create a post-pandemic haven that leaves users feeling safe and secure.
RAK Ceramics specialises in ceramic and grès porcelain wall and floor tiles and sanitaryware. Its bathroom ranges include RAK-Feeling, which offers colour co-ordinated toilets, bidets, washbasins, shower trays and flush plates, and RAK-Resort, a compact collection that uses space economically to make bathrooms feel extra spacious.
The company is one of the largest ceramics brands in the world and its products feature in some of the most iconic buildings. RAK Ceramics produces bespoke ranges for small and large-scale projects and integrated ceramics solutions that give architects and specifiers the freedom to be creative, enabling clients to bring their ideas to life.
To download RAK Ceramics' Bathroom Book 2021 and tile brochures, visit rakceramics.com/download-area
For more information and technical support, visit rakceramics.com
Contact:
01730 237850
---