Space-saving, dual-function surface heats only the pan and its contents during cooking, leaving the worktop cool afterwards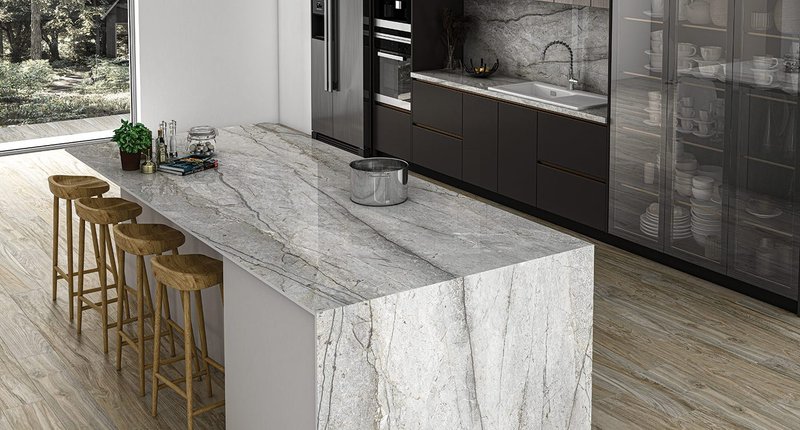 Invisible benefits: RAK Ceramics' CookingRAK provides a hob integrated into a Breccio Adige porcelain worksurface.
CookingRAK from RAK Ceramics is an induction hob concealed in a porcelain kitchen worksurface.
The new invisible induction cooking system offers an innovative integration between surface material and kitchen technology.
Designed to create a multifunctional kitchen space ideal for daily use, the system is integrated into the countertop, allowing users to prepare, cook and dine in the same space; a seamlessly designed kitchen top made for dining and entertaining.
The technology combines the high-performance of RAK Ceramics porcelain slabs with an innovative induction system that operates through a magnetic field.
The induction plate detects a metal container on its surface and, by means of magnetic waves, heats and cooks the contents.The countertop surface does not heat up: the system only heats the cookware placed over the hob.
No heat is transferred to the surface, which makes it safe to use even in a busy family kitchen.
Porcelain has always been the ideal choice for kitchen countertops as it is durable and resistant to heat, stains and scratches. It is also resistant to moisture and does not easily stain, making it easy to clean.
CookingRAK is exclusively produced with RAK Ceramics porcelain slabs in 14.5mm thickness and a 135.5x305cm size. The slabs can withstand high temperatures and are an ideal material for kitchen countertops as they are very hygienic, food-safe and less likely to harbour moulds and bacteria.
To conveniently locate the cooking zones on the countertop, the RAK Ceramics slabs can be customised to add special markings in six modifications that will suit any kitchen style.
Simple to use, the CookingRAK system can be controlled via remote control or a free downloadable app.
The app is the ultimate solution for controlling the hidden induction system, enabling easy management of the Zone Control, Timer, Power Control, Temperature Control and Security Shutdown.
CookingRAK is available in a range of colours designed to meet the latest trends, from the modern and minimalist to the classic and rustic.
For more information and technical support, visit cookingrak.rakceramics.com
Contact:
01730 237850
sales.uk@rakceramics.com
---