Ecocarat wall tiles from Raven Style feature invisible holes that absorb moisture, odours and harmful substances, improving the environmental conditions of indoor spaces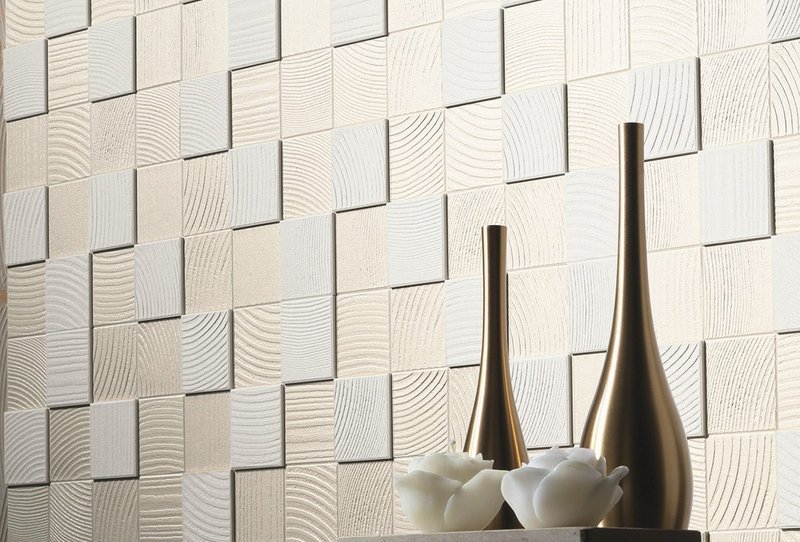 Ecocarat tiles have a surface structure that changes the humidity of indoor environments. Shown here in Pearl Mask 2.
Inspired by the Japanese craft of mud wall construction, Ecocarat ceramic wall tiles are designed to bring clean, fresh air and tactile textured surfaces to interior spaces.
The tiles are made from a natural mineral contained in volcanic ash. Its micro pores and natural ionic properties enable the tiles to absorb moisture and inhibit the spread of mould and mites that cause allergies.
Ecocarat tiles reduce volatile organic compounds and act as a filter, creating improved indoor climates by reducing household odours, such as those from kitchen waste, bathrooms, laundry and pets.
Winner of a RedDot Award in 2019, Ecocarat tiles are available in a range of 18 tactile designs and formats, from stone and wood effects to 3D textures.
They are recommended for use in living areas, bedrooms, laundry rooms and toilets. They can also be used in the non-splash areas of bathrooms, but are not generally specified for kitchens as they tend to remove any pleasant cooking smells.
Raven is the London-based, northern European distributor of ceramics company Inax, which creates tiles founded on Japanese culture and tradition and inspired by nature and seasonal hues.
For more information and technical support, visit raven.style
Contact:
07375 641615
---