Specification is at the heart of building for wellness and, to do it well, designers will need help from their suppliers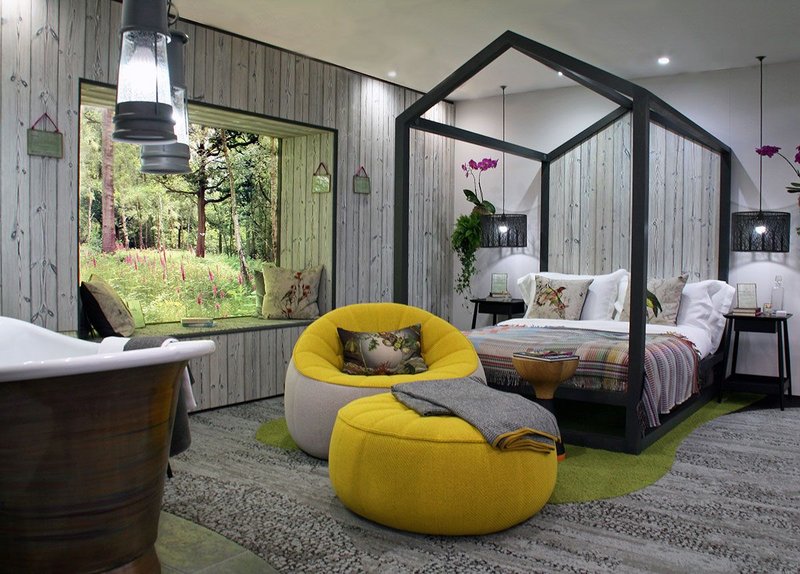 Contrasting textures and colours in Oliver Heath Design's Biophilic Hotel mimic the diversity of the natural world, while the views out create a restorative visual connection to nature.

Credit: Oliver Heath Design
With several human-centred building certification schemes, including the WELL Building Standard, growing in popularity and a developing evidence base for biophilia, there is currently a strong interest in optimising the salutogenic impact of the built environment on human wellbeing. Inevitably, the specification of materials and products is at the heart of this new frontier and, if building designers are to get it right, they will need help from their suppliers and manufacturers.
Wellbeing or, as it is sometimes known, wellness, is a broad and ill-defined term encompassing the interplay between a huge spectrum of factors. It comprises everything from good physical and mental health to self-actualised spiritual or emotional harmony, its ultimate expression culminating in social fulfilment and happiness. It is not just morally desirable, but leads to more productive workforces, better learning outcomes for students and quicker recovery for hospital patients.
Bartlett-trained Oliver Heath is a well-known expert in the field of biophilic design. He likens the current trend for wellbeing to the push for sustainability 20 years ago. 'It used to be about carbon-centred measurement of energy or resource efficiency. Now we're interested in the human-centric metrics as well, mixing quantitative considerations with qualitative ones.'
Designing to achieve human wellbeing is enormously complex for a number of reasons, and it is therefore difficult. First, it is only one of many sometimes clashing objectives for the architect. He or she also has to consider the client's brief, relevant legislation, ambitions for sustainability and any number of other issues. On top of that, humans are all different: our genetic, personality and cultural diversity ensures that one size cannot ever fit all.
Designing for wellbeing seems to fall broadly into two categories: priming spaces to influence healthy occupant behaviour and avoiding or mitigating impacts that can harm good health. Elina Grigoriou, co-founder of Grigoriou Interiors and wellbeing expert explains, 'When you have wellbeing as a KPI, you're designing both comfort and the ability for occupants to choose to be well.'
Nudging healthier, happier behaviour is mostly about the design of systems and strategies. As well as regulated factors such as fire safety, structural stability and energy efficiency, it extends to more rarefied risks in the field of social, cognitive and emotional mental wellbeing. For example, while designing for wellbeing can be about prioritising the use of stairs to encourage fitness, it is also about combatting social isolation by stage-managing circulation spaces to make social encounters more likely or setting aside space for stress-relieving meditation, reflection or worship.
Grigoriou claims that the effect is powerful, pointing out that, without due professional oversight, it could be subverted to unethical ends. While responsibility for these systems is clearly in the hands of designers, manufacturers can go the extra mile by communicating the ways in which their products can help.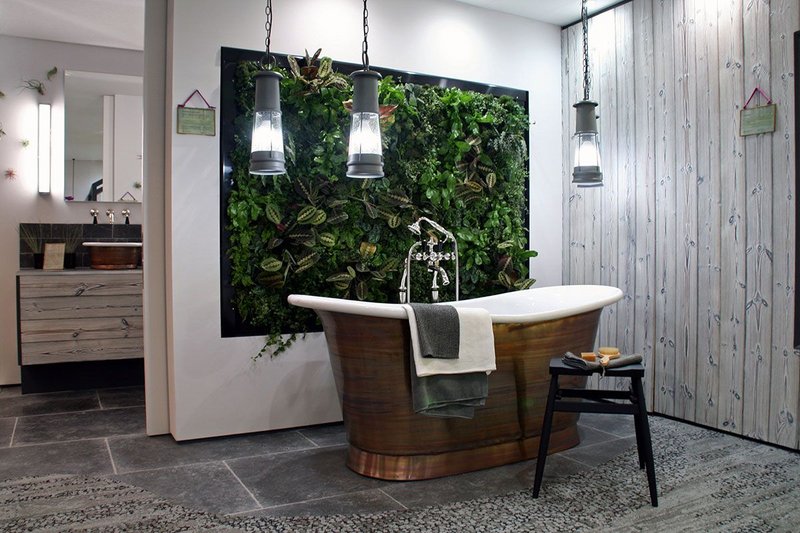 The green walls incorporated into Oliver Heath Design's Biophilic Hotel are not only visually stimulating, they improve air quality too.

Credit: Oliver Heath Design
Ensuring that materials and products do no harm, on the other hand, is much more clearly the responsibility of manufacturers. Here, the risks include the inclusion of toxic substances, harmful chemicals, poor acoustics, slip hazards and any number of other properties that can, in different situations, negatively impact on building users. Many of these properties are regulated. Many others, including the full range of risks to indoor air quality from VOCs and airborne particulates, are not.
The science underpinning the value of all of these design objectives is at different stages of maturity. The case for biophilic design - that is, incorporating nature, natural materials and biomimetic textures and shapes into buildings to support wellbeing - is still developing. Indeed, BRE is currently leading a collaborative research project, 'The Biophilic Office', to learn more.
The WELL Building Standard, a certification scheme founded on evidence-based and technically robust principles, is more established. Now in its second edition, it is divided into 10 'concepts', spanning nuts-and-bolts topics such as air and water quality, acoustics and light, through to less tangible ones, including 'mind', which addresses the factors that influence cognitive and emotional well-being (including biophilia).
The concept that should most interest manufacturers is 'materials'. As a minimum, the standard restricts 'hazardous ingredient components', 'exposure risks to hazardous building materials' and the use of wood preservatives and lead in outdoor structures. Beyond that, extra points are up for grabs for reductions in VOCs, halogenated flame retardants, urea-formaldehyde and select phthalates, all of which are very common in building products. Relevantly, there are also points available for transparent product descriptions.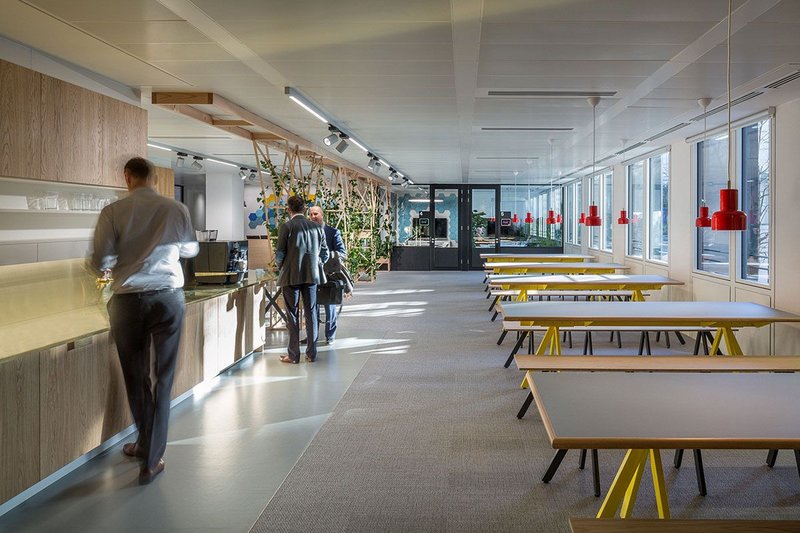 Cundall's London office fit-out designed by Studio Ben Allen architects was one of the first to be certified under the WELL Building Standard. Natural material finishes, plants, plenty of daylight and a sophisticated M&E strategy to keep indoor air quality pure helped them to a Gold rating.

Credit: Dirk Linder
Cundall's associate engineer Kavita Kumari is a seasoned WELL-accredited professional with three Gold and two Platinum WELL-certified buildings under her belt. 'Extracting information from manufacturers is a challenge. The big ones are maturing quickly, but with others there's a bit of to-ing and fro-ing. You've got to show them an example to get what you need.'
She gives the example of Dulux, which used to be unwilling to divulge test certificate data for its paints even though it scored well on VOC and other measures. 'You can understand their reluctance to share secrets, but it is misplaced. Transparency is critical.'
Grigoriou agrees. 'Manufacturers have a responsibility to divulge data openly and improve. We have to question those that keep flogging legacy products known to have problems for human wellbeing.'
Construction clients and their designers are increasingly concerned for the wellbeing of the people who use their buildings. While the standards that organise the topic - not just WELL, but Fitwel, Building Biology and so on - are still in their infancy, the chances are that they will grow in importance in the way that BREEAM and LEED have. With this future speeding towards us, manufacturers that invest now will enjoy short-term premiums and long-term market share.
As Heath says, 'This subject is not going away. While humans can exist in miserable, dark, dungeon-like spaces, it does not mean that they're happy or productive. Manufacturers have to face up to what these stringent standards demand from a specification.'
Grigoriou Interiors' Museum of Happiness features good air quality, points of interest, colour, textural impact and other issues that impact occupant psychology and physical health. They are all at play in every interior and must be considered by professionals in their designs to enable occupant wellbeing and productivity.
7 wellbeing tactics for manufacturers
1. Facilitate design Complying with WELL involves considerable complexity in tying up medical research to compliant outcomes. By doing that legwork for designers, manufacturers will make their lives easier.
2. Phase out harmful ingredients and legacy product ranges Accelerate the wellbeing future by limiting the use of harmful chemicals in new products and phasing out product ranges known to be harmful or to fall short of human-centred standards.
3. Disclose test data Designers need to satisfy themselves and provide evidence to certification auditors that the products they specify will perform as they expect. Help by making all test data available.
4. Be transparent about ingredients The WELL standard has stringent targets for minimising harmful materials. Make robust efforts to secure complete lists of product ingredients from your supply chains and be sure to list them and any that you add transparently for the benefit of designers. If possible, use a standard format such as the Global GreenTag Standard, ecolabels or environmental product declarations for your list.
5. Explain context-dependency Do not mislead designers. A product is rarely 'WELL-compliant' because where and how it is installed and for what purpose varies. If possible, compare your product to relevant benchmarks.
6. Communication Designers waste time to-ing and fro-ing with you in pursuit of critical information, pushing them towards manufacturers that make their lives easier. Organise your marketing materials to make it straightforward for designers to find easy-to-digest information about your products' wellbeing potential without them having to ask.
7. Participate in wellbeing research Add to the public good by participating in research, development and innovation in the field of wellbeing.
Matt Thompson is founder of listenback.co.uk, the architect's client feedback tool.
To receive the latest in marketing intelligence for specifiers and manufacturers, sign up to our curated mailing list.