Good ventilation and indoor airflow are key to student health, wellbeing and engagement at this university accommodation in London's Shoreditch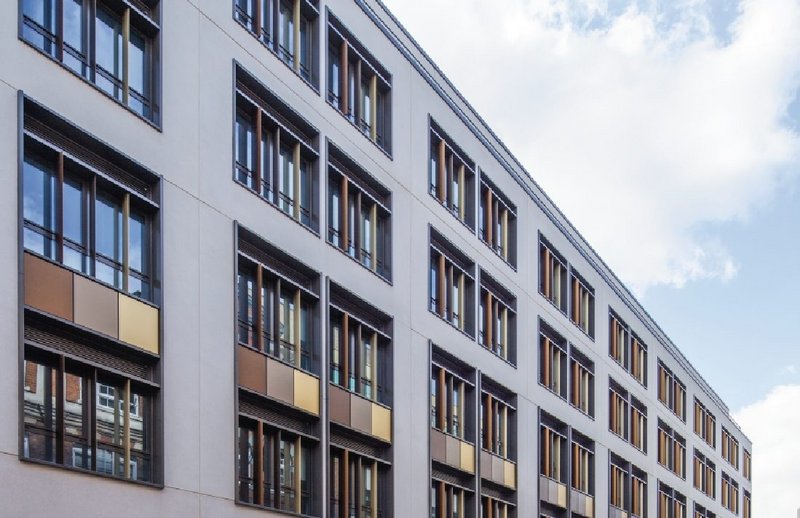 The global pandemic has highlighted the psychological and physiological benefits of healthy indoor air and the need to provide the necessary solutions to effectively deal with air pollution.
In buildings of education, poor indoor air quality can directly hamper the health and academic performance of students, negatively impacting productivity and engagement.
Ventilation and solar shading specialist Renson has been involved with a building that took on these challenges prior to the pandemic and it provides a good example of a healthy building environment.
The 419 rooms at Chapter Old Street student accommodation in Paul Street, Shoreditch required a good supply of clean, healthy fresh air.
The Renson 414 glaze-in louvre (Class A3, 50 per cent free area) was specified to be installed into the top of each window of the building. Then a mixture of active and non-active louvre backing panels were supplied, depending on what was required. The solution has provided an additional aesthetic dimension to the facade.
The active 414 louvres required insulation, a spigot connection and ducting, while the non-active aesthetic louvres had a fully insulated backing panel, providing thermal and acoustic protection.
All the louvres were produced in Renson's factory in Maidstone, Kent to ensure good levels of airtightness and watertightness, critical to the high performance of the 414 louvre panels. The installation was supervised by FK Construction.
Combining a standard louvre panel with additions offers seamless integration with the existing facade and minimises complications on site for construction partners.
Overcoming issues around cold-bridging, thermal and acoustic protection, airtightness and weathering capabilities allows architects and installers to take care of the fresh air coming into a building, ensuring the wellbeing of occupants.
Renson develops and manufactures a wide range of standard products and bespoke solutions for a variety of applications. It has 50 years of experience designing, developing and producing high-performance louvres.
For more information and technical support, visit renson.eu/professionals
Contact:
01622 754123
---