Two Class A3 product upgrades offer specifiers reduced air resistance and top-class watertightness for built-up wall, window and curtain walling applications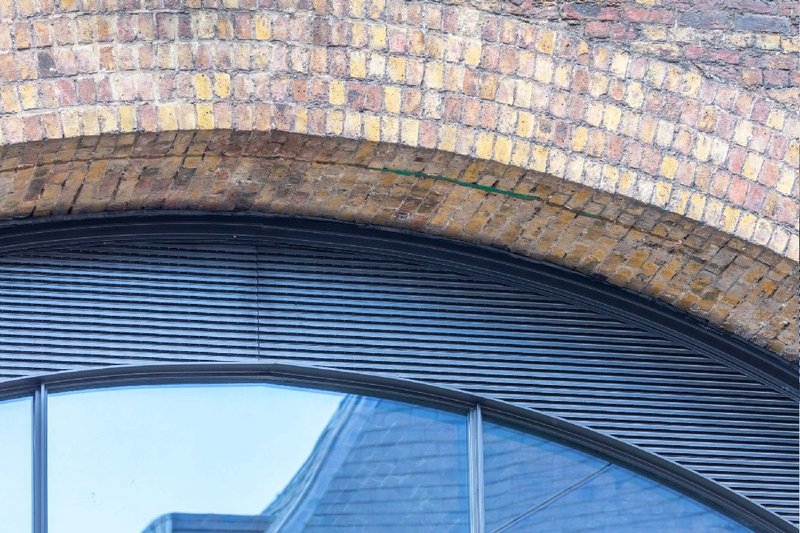 Renson UK ventilation louvres at an office in Borough Market, London.
Ventilation, sun protection and outdoor living solutions specialist Renson UK has upgraded its most widely specified ventilation louvres.
Louvres and ventilation grilles ensure that fresh air can enter a building from outside and polluted or overheated indoor air can be discharged. They also prevent overheating by using night time cooler temperatures to reduce heat and create more comfortable living environments.
Renson's redesigned 33mm pitch 414 (glaze-in) and 411 (built-in) louvres are now the only low profile 50 per cent free area louvres on the market - an increase of 5 per cent free area on previous models.
The additional free area reduces the air resistance while keeping the Class A watertightness, moving the 414/411 to a Class A3 louvre.
An aesthetic 50 per cent free area louvre helps specifiers meet the performance requirements for mechanical extract ventilation (MEV), mechanical ventilation with heat recovery (MVHR) and purge ventilation solutions.
What is free area and why is it used?
Physical free area is the size of the effective opening of a louvre. Typically, 50 per cent is adopted as the standard free area target. This value is calculated by dividing the smallest distance between two ventilation blades by the blade pitch.
As free area is only a guide to overall performance, Renson offers a full product calculation check service for architects and specifiers.
Renson ventilation louvres at Borough Market, London
The 411 is a wall-mounted louvre that can be supplied with or without a flange. It is designed to fix into a typical built-up wall application. The 414 is a glaze-in louvre for window or curtain walling applications.
Last year, Renson supplied louvres for an office building in London's Borough Market. At the start of the project there were concerns about how to meet the airflow targets without compromising the design aesthetics of a prestigious city centre space.
The clients decided that the louvres had to be curved to seamlessly fit into the existing facade. Renson created a bespoke curved solution that met the design and technical brief.
Book a ventilation and solar control CPD now
Renson has 50 years' experience designing, developing and producing louvres for all types of performance requirements and buildings, including residential, education and healthcare settings and data centres.
The company has developed a RIBA-accredited CPD - 'High Level Comfort: Ventilation and solar control in high rise buildings' - that can be delivered online or face-to-face. To book, click here or email cpd@rensonuk.net
For more information and technical support, visit renson.eu/professionals
Contact:
01622 754123
---