With full implementation of the Building Safety Act imminent, fire safety must also take greater precedence in commercial settings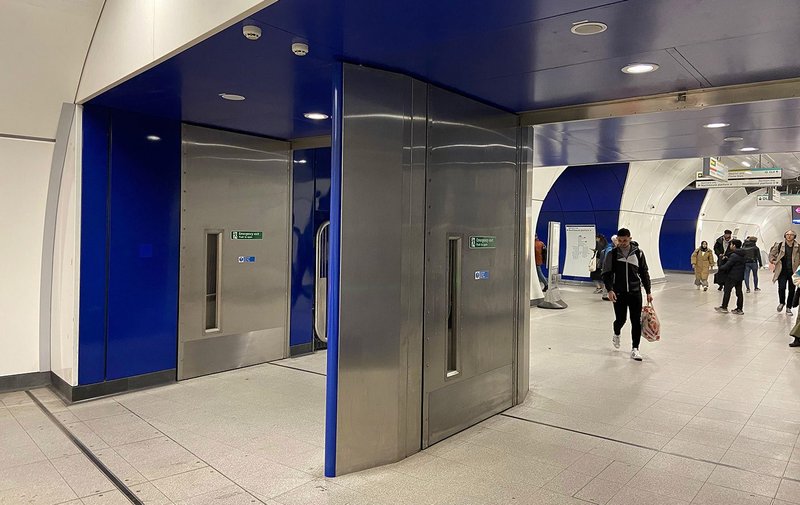 Open and deactivated bespoke Rhino Doors at Bank station, London Underground. The tried-and-tested rail design is well suited to new and existing office buildings.
Fire safety within commercial premises is of the utmost importance but, when it comes to procuring fire doors for the protection of people, there is often a misconception that performance and aesthetic appeal sit at odds with one another.
The common thinking is that fire doors are either technically proficient - capable of withstanding harsh environmental pressures - or architecturally attractive. In truth, it's a balancing act; one that Rhino Doors has spent significant time perfecting.
Over the past 18 months, Rhino Doors has worked on two projects for Transport for London to design, manufacture, supply and install high-performance, stainless steel fire doors in Bank and Moorgate underground stations.
Extensive fire testing took place, which resulted in the double leaf doors far exceeding expectations and achieving a two-hour rating. But it isn't just within a rail setting that these doors find applications.
Integrating fire doors into flexible settings
The architectural appeal of the doors, as well as their oversized build - suitable for clear openings up to 4m wide x 2.6m high, with fire ratings up to two hours - means they're well suited to office buildings with large atriums, in which fire doors might be concealed within a recess and held in the open position until activated.
The result is the creation of a large, open space that preserves interior design while enabling the creation of smaller, segregated safe areas once the doors close in an emergency.
As well as manufacturing integrity-only fire doors, capable of withstanding high-temperature flames, Rhino also has experience in producing architecturally appealing, insulation-rated fire doors (up to 90 minutes) to provide enhanced protection during emergencies.
These doors offer specifiers assurances in terms of strength and performance, minimising the radiation of heat from one side of the door to the other.
Rhino Doors: specifying for safety - and aesthetics
Manufacturing a door with both a fire insulation and integrity rating is a challenge. Sufficient insulation is required within the core of the leaf to limit the transmission of radiated heat to the safe side of the door while ensuring that the temperature differential does not distort the door, resulting in an integrity failure.
Procuring a door with the performance credentials to protect against physical flames and radiated heat, while maintaining the aesthetic of a standard commercial door, is no easy feat. But Rhino Doors, through its three decades of experience and commitment to research and development, has taken a tried-and-tested rail design and produced a product suited to both new and existing office buildings.
Any setting in which a fire door is required to provide a safe haven for people while they await rescue will benefit from a combined integrity and insulation-rated fire door.
Now, architects and specifiers should look to procure doors that offer exceptional performance capabilities, combined with aesthetic appeal - to protect lives and retain the design and character of commercial premises.
For more information and technical support, visit rhinodoors.com
Contact:
01639 888119
enquiries@rhinodoors.com
---