How might practices identify routes to resilience in a challenging economic climate? Expert speakers from the Bank of England, Glenigan and the RIBA provide crucial insights into the current and future economy
Rampant fuel costs, inflation, rising interest rates and imminent recession, labour and materials shortages and industrial action: not the 1970s but 2022, where the UK economy is once again in a fragile state. How this affects the architectural industry is the subject of the RIBA Economics Panel webinar, which, by outlining the UK's economic forecast over the next two years, hopes to steer architects along paths to resilience.
Today's 'anomalous and extraordinary [economic circumstances] make it all the more challenging for practitioners to navigate their businesses through the current climate,' observed RIBA publishing director and panel chair Helen Castle in her opening address. For this reason, RIBA has launched the Business & Career Resilience Hub, with content and resources to help practitioners during these difficult times.
The webinar started from the macro-level vantage point of Lai Wah Co, deputy agent of the Bank of England, who discussed the August 2022 Monetary Policy Report. Then it homed in on sector-specific and practice levels as Allan Wilen, economics director of Glenigan, and Adrian Malleson, RIBA's head of economic research, presented the RIBA's Future Trends and Business Benchmarking surveys.
The UK's economic outlook is, in a word, 'uncertain'. Wah Co reiterated that Consumer Prices Index (CPI) inflation is forecast to peak at 13%, largely due to the energy-related repercussions of the war in Ukraine. Interest rates, which had been rising 'modestly' over the past year also saw a sharp step up by 0.5% this month. 'There is uncertainly around whether these might increase', she continued, 'or if they have already topped out and now warrant cuts, given the recession we are anticipating' – a recession which could go on for five quarters, necessitating a long recovery. Nevertheless, she assured us, 'the Monetary Policy Committee (MPC) will do whatever it takes to bring inflation down to 2.0% – no ifs or buts'.
The critical questions are how rapidly inflation will fall, and to what extent it will impact household spending power. Again, energy prices dictate the answers. Announcements from Ofgem regarding October's energy price cap are due at the end of August, but, according to the ONS Opinions and Lifestyle Survey, consumers are already spending less. Over 60% of respondents said they would reduce non-essentials, and around 25% admitted using their savings.
Unemployment is currently at a historic low of 3.8%. Yet the labour market is surprisingly tight, and companies are struggling to recruit and retain staff, which is feeding through into salary inflation. 'Workers are using their bargaining power to compensate for the squeezes to their working and living conditions by taking industrial action', Wah Co went on. A tight labour market could linger for another year, but unemployment could start to rise in 2024, she warned. 'There are lots of uncertainties in the forecast', Wah Co emphasised. 'It could be better, or it could be much worse'.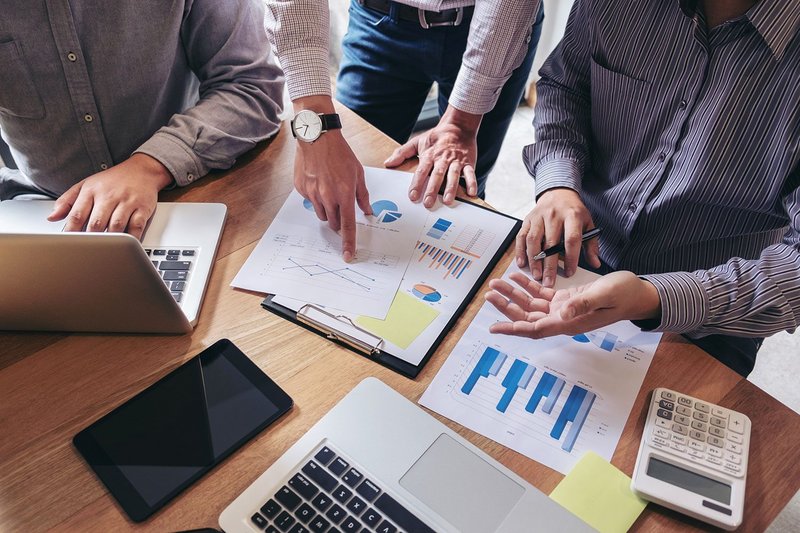 Credit: Shuttershock
Based on Glenigan's UK Construction Industry Forecast 2022-24, Allan Wilen agreed that we are 'looking at a subdued picture for couple of years'.
A survey of the National Federation of Roofing Contractors – 'a good bellwether for other construction sectors' – confirms what many know anecdotally: supply chains are hampered by pace, materials availability and prices. In data from the ONS/BEIS, construction material costs have gone up 25% since 2020. But there are tentative signs that shortages – while still bad (roofing tiles and ready mixed concrete, for instance, are still below pre-pandemic levels) – are improving.
Projects are also taking longer to make it to site. Some were suspended during the Covid pandemic; others are being sent back to the drawing board by pinched clients, affecting lead times. Developers are also reappraising the financial viability of their projects, focusing on the pipeline rather than new ventures.
Adding to this insightful analysis is RIBA's own research (the latest as recently as July) which offers a good dataset from architects specifically – and a glimmer of hope. Since 2015, chartered practices revenue experienced year-on-year growth, reaching a high of £3.16bn in 2019 and falling to £3.02bn in 2021. 'We are now seeing pressure mounting', said Adrian Malleson, although information from the institute reveals that architecture firms have retained their profitability thus far, largely through effective business management, reducing overheads and expenditure to keep profits stable. 'Key to weathering the storm is effective business management,' he said.
The Future Trends survey, which gives a monthly snapshot of attitudes to future work, revealed that, despite 'a really quite terrifying drop in workload' at the beginning of the pandemic, there has been a rapid recovery over the last year which has now plateaued. Moreover, a historically low level of only 8% agreed that 'a lack of work over the past month led you to be personally under-employed', meaning that currently, architectural workload is 'healthy'.
However, The Future Trends Workload Index, which tracks how architects believe their workload will fare over the coming three months, shows a 'softening of optimism'. In July, 18% of practices expected their workloads to decrease, and confidence is likely to deteriorate further. 'If the Bank of England's predictions are correct, we are going to have a long journey back to confidence,' said Malleson, 'and confidence is related to output.'
So where are the silver linings? While the sector has been hit by the same external shocks as everyone else, distribution of the disruptions has not been felt equally across sub-sectors – with cautiously positive implications.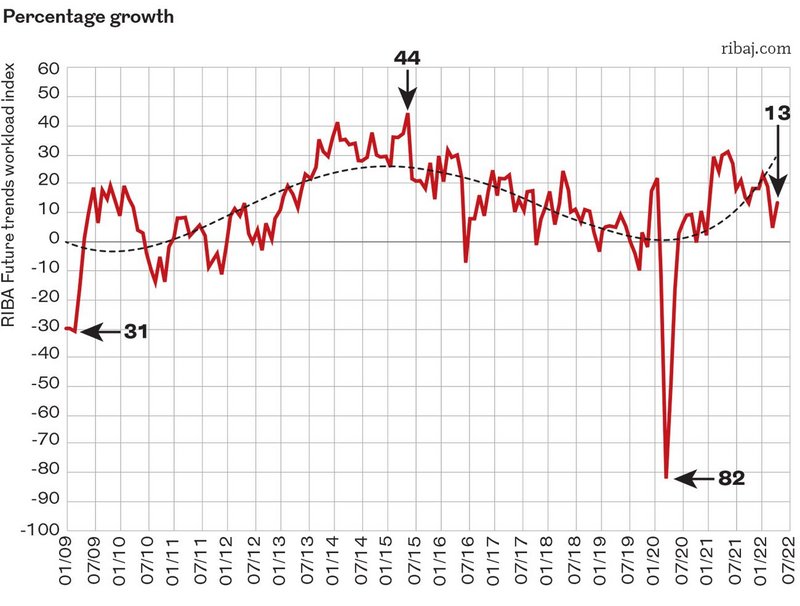 Private housing's 'mini boom' of 2021 (attributed to homeowners' demand for more space, home-working requirements and the benefit of the stamp duty reduction fuelling market activity) is now unwinding. The 'big squeeze on household income is dampening activity,' said Wilen, and planning applications are stalling. But this may not be immediately felt: 'The private housing market sustained many architects through the pandemic,' Malleson observed, and this is the only sector in which, according to the Future Trends survey, architects did not expect a fall in workload over the next three months.
In the health sector, change is slow but positive: 'It takes time for NHS trusts to identify their priorities but they are trickling through', Wilen stated. In education too 'there is a strong underlying need for capacity... [with] tentative signs of government money coming in'. But among the membership there is less optimism so far: 'Despite the "build, build, build" agenda, we failed to see an uptick in confidence in public sector work,' said Malleson.
Offices are in a state of flux due to hybrid working. Over the medium term, the requirement for floor space is diminishing but this creates demand for refurbishment and redesign. 'Can they be reimagined?' asks Wilen. Further opportunities present themselves in technology upgrades and in improving the office experience to maximise collaboration when workers do go in, and even office to residential conversion.
Whereas the leisure and hospitality industry is most adversely affected by the squeeze on household spending, one particular area of strength is industrial buildings. A growth in online retailing, which peaked during the pandemic, has driven the need for logistics hubs and smaller distribution centres. In 2021 this area saw a 55% growth, with a further 11% in 2022.
The architectural market is heavily based in London, with 63% of revenue generated here. But, throughout the pandemic, 'the regions fared better than London', said Malleson. 'The markets were more resilient.' Notable hotspots included the north and west of England, and Wales. Will this lead to a more balanced picture for the architectural industry? Hopefully so. The dispersal of people due to the pandemic, and perhaps some promised 'levelling up' funds from the government, might present growth opportunities.
Finally, sustainability is key area of concern and of possibility. In her presentation, Wah Co shared details from the Bank of England's Network for Greening the Financial System (NGFS) which outlined climate risks to the country's financial system. These risks are of direct relevance to the architectural industry, ranging from remediation of acute crises such as floods and heatwaves, to longer-term social and infrastructural changes. 'The energy crisis we are seeing may be stimulating interest in renewable energy and changing behaviour', she commented, and certainly this is one area in which architects can excel.
Our rising energy costs 'don't reflect the true cost' for the environment, rounded off Malleson. 'The prioritisation must be to meet the 2030 climate challenge... It is already hot, there are fires, we are running out of water – now is the time to act'. Challenging times, but positive action can be taken from these difficult messages.
Four key messages
Prioritise sustainability: the real cost of energy consumption goes beyond the economic. Go in search of solutions to climate challenges and seek to operate within a circular economy.
Be open to sectoral flexibility: look out for growth in offices, infrastructure, warehousing and logistics and in education.
Technology is set to play a wider role: keep abreast and look for opportunities here
Build business resilience: effective business management will help ride out turbulence in the wider economy.
Panel

Lai Wah Co, deputy agent, Bank of England
Allan Wilen, economics director, Glenigan
Adrian Malleson, head of economic research, RIBA
Helen Castle, publishing director, RIBA (chair)