Gundry + Ducker's innovative design for the RIBA Marketplace stand at this year's Futurebuild event is made from Rockwool insulation and Rockpanel cladding for a restful, reading room feel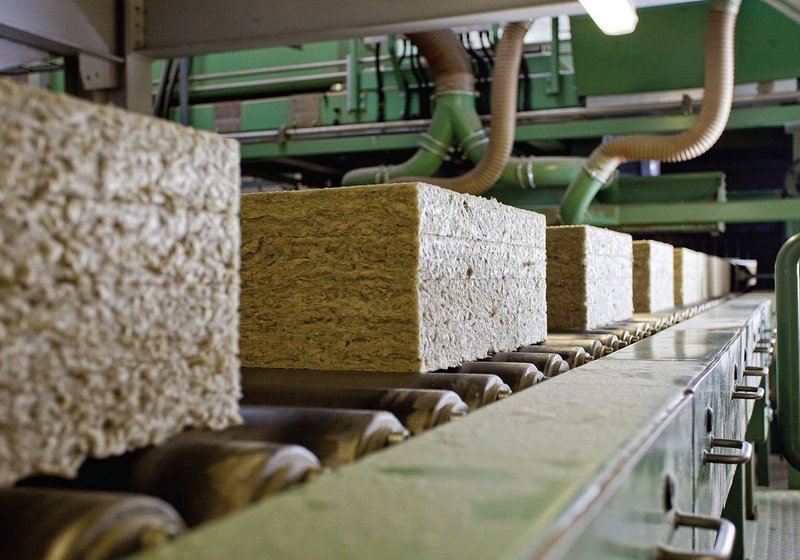 Cut to various lengths and thicknesses, the stone wool is prepared and packaged to form an extensive range of Rockwool and Rockpanel products for a variety of insulation and cladding applications.
The RIBA Marketplace at Futurebuild 2019, incorporating the RIBA Bookshop, will be a dynamic hub for the duration of the built-environment show that not only provides great networking opportunities for architects and building professionals, but also demonstrates design and materials innovation courtesy of London-based firm Gundry + Ducker.
Themed on the concept of a reading room and marketplace within a rotunda, the stand is designed by Gundry + Ducker, after the firm's winning submission to a RIBA competition, sponsored by Rockwool and Rockpanel. The Gundry + Ducker design harnesses the acoustic benefits of Rockwool stone wool insulation and the strength and design versatility of Rockpanel cladding. The result is an imaginative space that works in multiple ways as a marketplace, but also as a space for reading, reflection, meeting and self-contained conversation, away from the outside noise and distractions of the show floor.
The raw material behind the Rockwool and Rockpanel products used in the stand is, perhaps obviously, rock. To be precise, it's 200 million year old, naturally renewable and sustainable basalt.
The manufacturing process takes this base rock, grades and crushes it, along with other carefully selected ingredients such as recycled stone wool, to form a raw material. This charge, as it is known, is then melted in a cupola furnace at a temperature in excess of 1500°C. The liquid rock is directed from this furnace into a chamber where it is spun and transformed into rock strands and stone wool to be, then mixed with a binder. Trillions of these strands are collected to form a mat, which is then cured. Cut to various lengths and thicknesses, it is prepared and packaged to form an extensive range of products for a wide variety of insulation and cladding applications.
With its dense, non-directional fibre structure, the resulting Rockwool stone wool insulation is renowned for its excellent acoustic properties. It effectively traps sound waves and dampens vibration to provide an enhanced noise-reducing solution in many different architectural applications. Each Rockpanel board is also made from the same compressed stone wool where it combines the strength and durability of stone with the workability of wood.
The design for the RIBA Marketplace at Futurebuild takes advantage of these properties. Rockwool Sound Slab insulation is used as packing within the walls and pillars that create the different spaces on the stand, helping to create quiet reading rooms and distinct spaces where visitors can leaf through a book from the RIBA Bookshop, make a phone call or enjoy a conversation, away from other distractions.
The Rockpanel boards bring strength and definition to the RIBA Marketplace. Rather than make a structure and then clad it in Rockpanel board, Gundry + Ducker is building the pavilion in its entirety out of Rockpanel. Selecting a strong blue with a semi-matt finish from the hundreds of colours and finishes that Rockpanel offers, the boards are cut into strips and used to form both the skeleton of the structure and its cladding. This giant jigsaw will be precision cut by CMC machines then assembled off-site. The Rockwool Sound Slab insulation will then be fitted in between the Rockpanel frame and covered with a fabric material.
Futurebuild 2019 is the leading built-environment event for industry professionals. It runs from 5 to 7 March at ExCeL London.
For more information and technical support, visit rockwool.co.uk and rockpanel.co.uk
Contact:
customersupportcentre@rockwool.co.uk
---