Canadian brassware company offers fixtures with bold geometric angles and rounded arcs as part of multi-brand kitchens and bathrooms portfolio the House of Rohl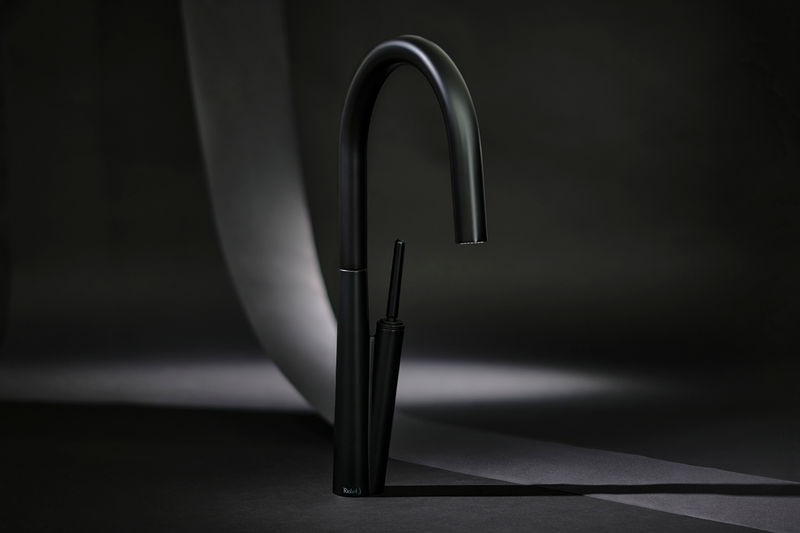 Riobel Solstice kitchen tap in Black: The spray nozzle is hidden so as not to detract from the curving spout and slender handle.
Canadian kitchen and bathroom brassware brand Riobel is launching in the UK this summer.
Riobel is part of the House of Rohl, a new portfolio of brands that includes Victoria + Albert, Perrin & Rowe and Shaws of Darwen. The move is designed to make specification across the portfolio easier for architects.
The company aims to bring its own distinctive style to a crowded UK market. Its kitchen and bathroom fittings are inspired by contemporary architecture and carry a design language Riobel hopes will become instantly recognisable.
The Riobel Solstice kitchen tap is sleek, dramatically different and effortless to use. It is available in Polished Chrome, Stainless Steel, Brushed Gold and also a Black finish, which makes the slim profile stand out.
Riobel's bathroom ranges include Venty, which showcases a mastery of geometric forms. Sharp angles are softened by organic curves and delicate touches, such as the subtle tilt of the tap neck and its finely pointed handle.
The Paradox bathroom range brings two opposing concepts together: linear and circular forms create a dramatic architectural style. Like all Riobel taps, the advanced engineering beneath makes the Paradox a perfect combination of performance and design purity.
Riobel was founded by third-generation plumber Mario Bélisle in Saint-Jérôme near Montreal. Bélisle approached design from a plumber's perspective: how can a tap be easier to fit and last longer without failure? His modelling and testing refined the engineering while his small design team created striking new forms for kitchens and bathrooms.
Riobel's reputation built from the grass roots up; from plumber to plumber. Riobel is now Canada's leading kitchens and bathrooms brassware brand.
The House of Rohl is part of US company Fortune Brands Home & Security's Global Plumbing Group.
For more information and technical support, visit riobel.design
Contact:
01952 221100
---