Should construction change to enable automation? An expert panel at Knauf argues for a new way of working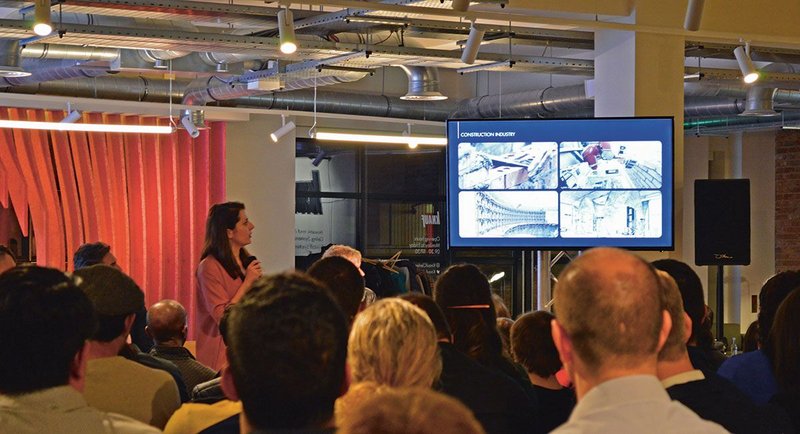 The construction industry must modernise or die. That was the conclusion of Mark Farmer's 2016 review of the UK construction labour model. It is not difficult to understand how he reached that conclusion given the construction industry's ageing workforce, looming skills shortage and its poor levels of productivity.
Farmer said: 'The real ticking "time bomb" is that of the industry's workforce size and demographic.' In the document he warned that the age of the existing workforce and current levels of new entrants could result in 'a 20-25 per cent decline in the available labour force within a decade'.
Construction is a big industry; it is also a very conservative one. While technological change and innovation are proceeding at a phenomenal pace in wider society, there are concerns that, unless the industry starts to embrace innovative ways of working, it will miss the greatest single opportunity to improve productivity and offset the implications of its shrinking workforce.
Failing to embrace change will also further marginalise the industry by making it less attractive to a new generation of workers who will have grown up in a digital world.
Government too is keen for the industry to evolve in order to achieve better value for money and to speed the time taken to deliver its assets. Its strategy was set out in the document Construction 2025, which includes the aims for construction to deliver:
• a 33 per cent reduction in both the initial cost of construction and the whole life cost of assets (from 2010 levels); and
• a 50 per cent reduction in the overall time from inception to completion for new build and refurbished assets (based on 2013 standards).
Future proofing the construction industry is an essential part of business at Knauf. Rather than simply focusing on the here and now, taking a more holistic approach to product design and manufacture could be the catalyst to unlocking technologies that might revolutionise the construction process. This also applies to architecture.
One way to transform the industry could be robotics. Robots have transformed the automotive industry, reforming both quality and productivity; could they hold the key to the transformation of construction? To find out, Knauf, the UK's leading manufacturer of lightweight building materials and systems, hosted a Robotics in Architecture panel event at its Clerkenwell showroom in London.
The event, in January, brought together leaders from the robotics and technology community with experts from architecture and construction to discuss the applications and implications of robotics in the industry. The speakers were Sebastian Andraos, co-founder and vice president of Human-Machine Interactions at HAL Robotics; Eva Magnisali, founding director of DataForm Lab; and Dale Sinclair, director of technical practice at AECOM.
Although there were no definite answers offered at the event a few common themes could be seen throughout. One of these was the way that robotics is currently looked at and utilised in the built environment. Andraos argued that robotics is being used to service out of date methods when really construction should change to meet automation.
This was a belief backed up by Sinclair, who stated: 'We should be reinventing the bricks and materials used in construction and architecture. That's what we should be doing. We shouldn't be using a robot to take a material designed for the human hand and expect it to work. Let's think about how to manufacture and assemble buildings and products in the future that will help to prime the way that we build going forward.'
The subject of offsite was debated and the general agreement was that this is where robotics will come to the forefront; automation can be used to do jobs and tasks deemed monotonous or dangerous for humans. Using robotics in this way is something that Knauf sees in the not so distant future to help alleviate the lack of skilled labour.
'Offsite construction is carried out in a factory environment so there is a greater element of control and the quality of product can be improved,' said Paul Tollervey, head of technical UK & Ireland, Knauf.
'Robotics can have an influence on this as the traditional construction site does not lend itself to an autonomous or robotic way of working. However, looking at offsite there is much more scope for robots to take over monotonous or dangerous tasks that can be carried out with greater consistency, speed and with a greater element of safety.
DataForm's Magnisali raised the point that it is not only at the build level where automation is important, but also at the start of the whole construction process.
'There are several reasons construction is constrained,' she said. 'First of all there are too many people involved in one single project and it can be hard to co-ordinate. But, most importantly, it is down to the fact that data is being lost during this co-ordination. So even if we start with BIM in design, several sub-contractors may not support this data so we end up back at analogue and manual process.'
It was her belief that all systems have to be automated and that the loss of data in projects is more damaging than human error on site, slowing down the process even before ground is broken.
The introduction of new robots in architecture will change the distribution of jobs in the sector, but not necessarily to the detriment of all workers: many jobs in construction are dirty and dangerous and often dull too.
Robots could free up workers to be retrained for more challenging, complex or creative jobs. The design, manufacture and commissioning and supervision and maintenance of robots will create a new industry.