Drones, BIM and 3D printing set to cut 30% from time and cost of building Melike Altınışık Architects' Robot Science Museum in Korea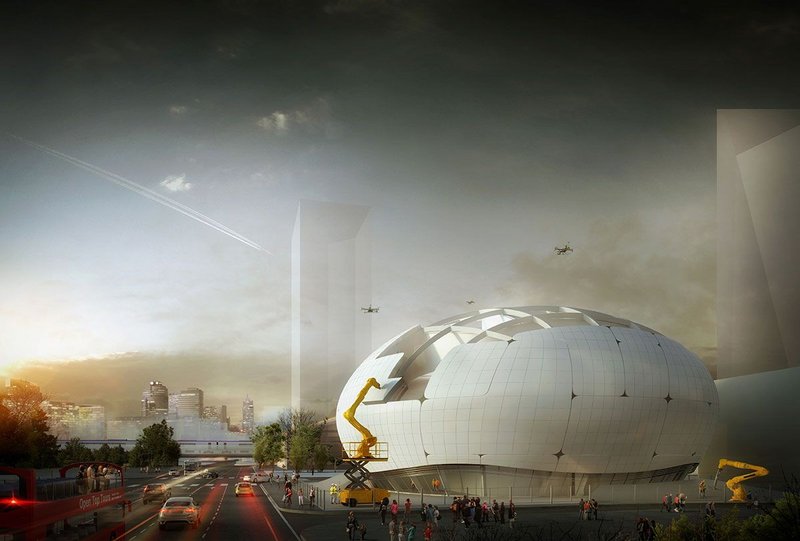 Robots at work putting together at the Robot Science Museum. Seoul, South Korea, 2019 by Melike Altınışık Architects.
Deploying advanced 3D printing, fabrication robots and 'drone project managers' during construction of a Robot Science Museum in Seoul could cut both cost and programme by around a third compared to conventional techniques, its architect claims.
The 22m high spherical building was commissioned by the Seoul Metropolitan Government in South Korea to educate the public about robots. It is due to open in 2022.
Turkish practice Melike Altınışık Architects' competition-winning design proposes using six-axis manufacturing robots to install the white metal cladding, and could also shape and polish the double curved panels. Larger robotic arms will 3D print the concrete landscaping around the museum, and robots may also help build the steel structure. Drones will function as automated project managers, scanning progress on site and reporting back to the main contractor.
Melike Altınışık, founder of the practice and former employee at Zaha Hadid Architects, told RIBAJ: 'The scale of this project made it ideal as a case study for robotic construction. Robots are not affected by weather conditions or health issues, they provide benefits related to organisational process, and taken together we estimate this could save about 30% in terms of time and money during construction.'

The precise construction methodology will be established during detailed design. According to Altınışık, facade robots will probably work from raised platforms on the outside of the structure, either in groups or alone. The 3D printing robots will extrude concrete in layers, but their precise capabilities, for example how finely they can print, requires closer examination because it will affect the design and construction process and therefore the choice of manufacturer.
BIM will underpin design and delivery of the project, providing a single source of information to prefabricate components and control the robots.
MAA is best known for designing the Istanbul Çamlıca TV and Radio Tower, a 369m tall telecoms tower that is under construction in Turkey's capital.
Advanced engineering techniques employed on that project inspired the move towards greater automation and robotics, says Altınışık: 'The 50 floors of the tower are being constructed in four and five floor sections on the ground, then lifted by crane to attach to the concrete core structure. The tower is visible from anywhere in Istanbul and the construction process is like a form of public art – it has gone up so fast,' she concludes.