The natural feel of wood grain patterns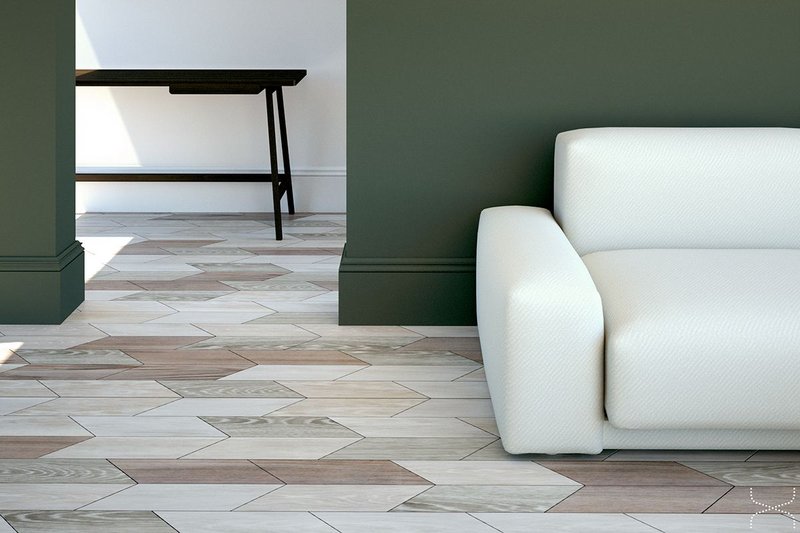 Shale pattern visualised in use.
Moxon Architects took as its starting point the natural feel of wood grain patterns in the Amtico collection and their potential for both subtle colour gradation and contrast. After selecting a number of products, the team explored various combinations in relation to the linear quality of natural landscape formations such as sedimentary striations.
'Derived from characteristic visual qualities of extreme landscapes – canyon, desert, cliff, glacier, dune and crevasse – the collection conveys a sense of pressure and formal development over time,' according to the Moxon presentation boards.
Moxon's three final designs make use of several wood designs, which the designers also felt expressed the linearity they were looking for. The lightest of these, Shale, uses the Arrow laying pattern and combines four grained designs in a pattern of parallelograms with a heavier reddish grain providing the accent notes. This soft, warm design is envisaged for residential or lobby use.
The other two designs are bolder, with both using a gold accent to contrast with darker woods. Vein uses the Pleat laying pattern to generate a broken zig-zag design and is imagined for retail use.
'We wanted something a bit jazzy and funky,' says Moxon architectural assistant Sarah Emilie Vallee.
Aggregate uses the Kite laying pattern which features interlocking rows of kite shapes with a border of narrow parallelograms. Moxon originally envisaged this in darker colours for a formal dining room or gallery setting.