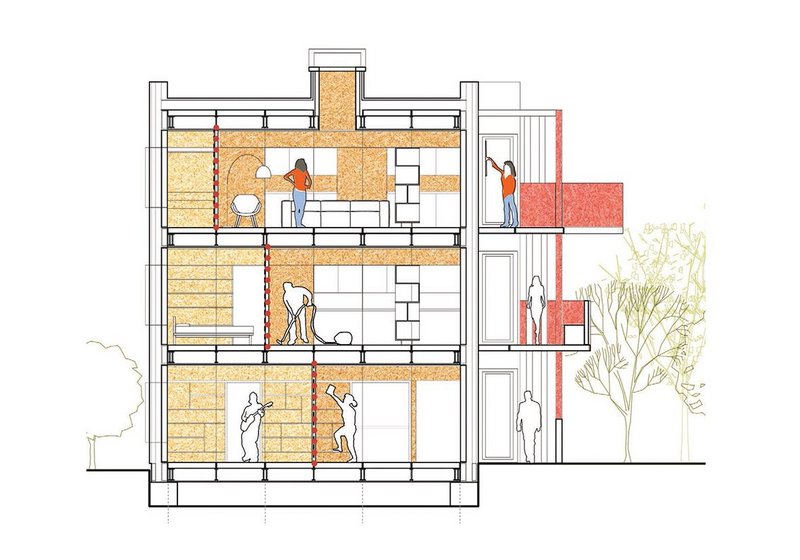 Terrace-like row and long shared garden.
Narrowly edged out by MawsonKerr's proposal, Sarah Wigglesworth Architects' Stepping Stone Home (SSH) would also have been a worthy winner. A 'bold new idea to address the UK's housing crisis' is how the entrant ambitiously describes these flexible, modular, 'low-bills' apartments that are designed to change as the occupant does.
The judges were impressed by the sense of fun that came across in this proposal, which also develops the strengths of SterlingOSB to create a thoughtful solution to a serious issue.
At its heart is a standard 2440mm by 1220mm SterlingOSB board that is used to form SIPs panels. Nine of these panels are combined to create an offsite fabricated module, with three modules forming a housing unit. Three sections fit neatly on the back of a lorry, so that a whole unit can be delivered in one load.
Combined into a block, each unit has a large bay window with outdoor space beyond, projecting into wide common access galleries on the building's main facade. This balcony effect makes each block look exciting, belying the repeatable modular system.
Homeowners can choose one of three layouts: a studio flat where the bed folds into a SterlingOSB storage wall, a studio with a screened sleeping area, or a one-bedroom apartment. The flats are finished with vibrantly painted floors and tactile lacquered storage units, with the minimalistic finishing ideal for showing off SterlingOSB's quality.
The blocks themselves are designed to work in numerous configurations, making them suitable for many different infill sites while creating community space.
'It creates a housing scheme that is well designed, socially aimed and flexible in its interiors,' said Davide Rothe. 'The extensive use of SterlingOSB panels for both building and interior furnishings is intriguing.'
---