Contrast within Bristol's urban grain and the bright colours associated with the city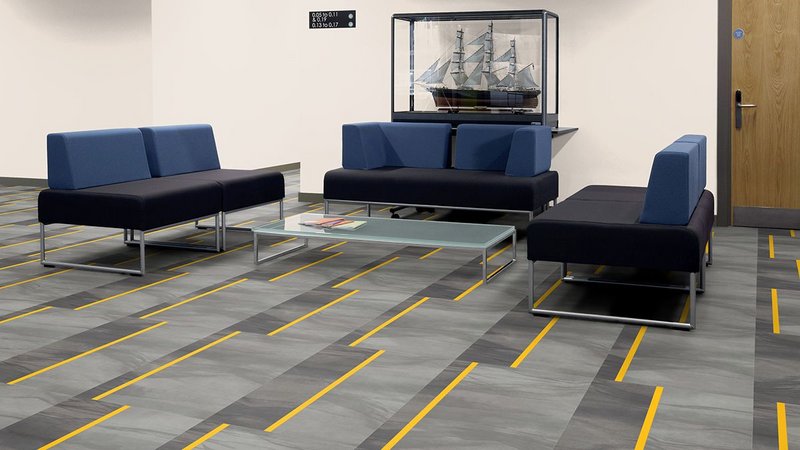 North Street design as visualised in use.
Willmore Iles' home city of Bristol was the key inspiration for the practice's interpretation of Amtico's collection. The practice aimed to reflect the contrasts within the urban grain and in particular the bright colours associated with the vibrant and creative character of the city.
After choosing a selection of laying patterns and colours, Willmore Iles came up with six patterns that could be associated with abstract interpretations of different areas of the city.
The three final designs are completely different in nature. The Varied Block laying pattern was used for a largely monochrome pattern in smoky colours interspersed with stepped highlights of thin yellow strips. Willmore Iles related this to North Street, which is south of the River Avon near the regenerated Tobacco Factory and home to
an annual graffiti festival.
A Basket Weave laying pattern provided the structure for the Queen's Square pattern. Here, rather than use different colours for each tile, Willmore Iles used the same neutral background colour for everything except the punchy highlight of orange.
The third final design, Ashton Court, is named after the park across the Avon Gorge from the Clifton area of the city. This uses the five-colour Pleat laying pattern, with linear parallelograms in bright red and blue against a monochrome background. This can be interpreted as an abstraction of a 'leaves on the ground' concept, says the practice.
All three are imagined as applicable for large social spaces such as the communal areas of a student residence.
'Our big aim was to have a fun project as opposed to something over-serious and commercial,' says Willmore Iles architect Simon Baker.