Post-pandemic pampering is a top priority. Discover the looks, colours and materials you'll be specifying for the coming year's washroom design projects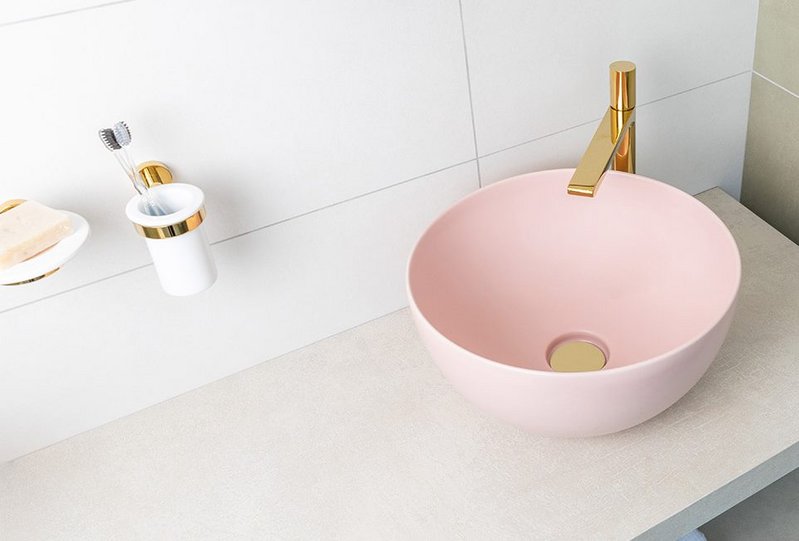 Baby pink ceramics and golden brassware bring colour and warmth to bathrooms. Bagnodesign Koy washbasin with Toko mixer, Sanipex.
The events of the past two years have left many with a strong sense of appreciation for home. It is a place that represents comfort and safety more than ever before and it has had to evolve to meet the needs of increasingly hybrid lifestyles.
Working from home and venturing out less is feeding an urge to improve the looks and livability of domestic environments.
The bathroom, in particular, has begun to evolve from a purely practical room into a space of sanctuary for relaxing, nurturing a sense of wellbeing and washing away the cares of the day.
Bagnodesign, part of the Sanipex Group of bathroom brands, has predicted four key trends that washroom designers and specifiers need to know about for 2022.
Trend 1: Bold colour
In line with a new optimistic outlook, colour will be making a comeback. The options for brighter, bolder bathrooms will increase with cheerful palettes ranging from pastel pink, sweet violet and baby blue to forest green, sunshine yellow and terracotta. Coloured ceramics will also be big. Use them to create focal points that pop against neutral walls or to complement a rainbow of tones and textures in candy-bright, retro-inspired spaces.
Trend 2: Marble
The use of marble will extend beyond tiles and slabs to washbasins and brassware detailing, allowing designers to create opulent and ultra-sophisticated schemes. Thanks to its numerous unique patterns, finishes, shades and textures, marble has always been versatile and its popularity will continue. Look for rich agate-inspired tones and patterns for maximalist bathroom schemes, or pair a black marble washbasin and matt black brassware with fine grey-grained white Carrara marble for a luxurious twist on modern minimalism.
Trend 3: Biophilic design
This nature-inspired trend will come of age in 2022 with an increasingly sleek, more honed approach. In the bathroom this translates as an infusion of organic materials, natural light and layers of tactile texture for understated, stylish interiors. Pair brassware in anthracite or brushed brass with marble or Murano glass shell-finish washbasins and warm wood countertops and furniture.
Trend 4: Spa/sanctuary vibes
Bathrooms will take on the spa-like function of rebalancing and rejuvenating mind and body. Clients will want calm, serene designs that incorporate customisation for a bespoke, mood-enhancing experience. Look for modular collections of spa shower solutions and combine with chromotherapy lighting (coloured light is believed to have therapeutic benefits), steam room technology and whirlpool baths to bring tailored spa experiences into domestic settings.
For more information and technical support, sanipexgroup.com
Contact:
01924 233977
---