A versatile selection of freestanding and wall-mounted sanitaryware, furniture and shelf options in 18 stone slab tile finishes is opening up washroom specification for architects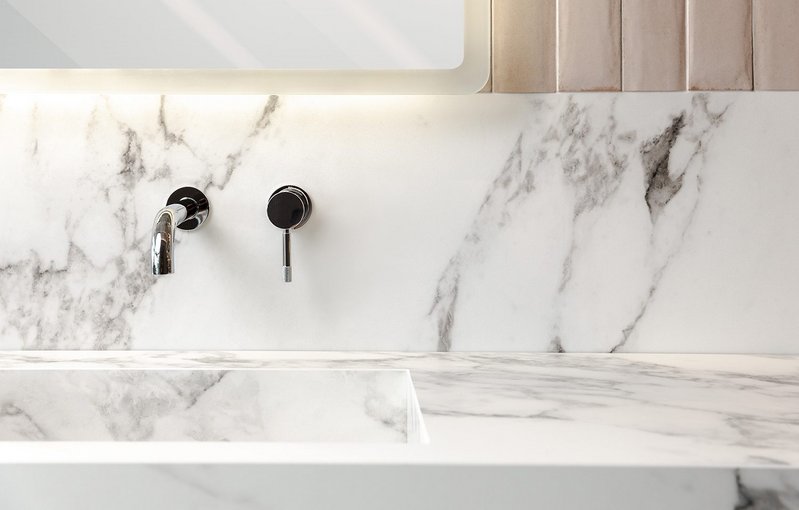 Cool runnings: Sanipex's Bagnodesign Alpine Zermatt wall-mounted basin with Revolution concealed mixer.
Bathroom manufacturer Sanipex has a new addition to its Bagnodesign range of sanitaryware and furniture.
Alpine offers designers a versatile range of freestanding and wall-mounted basin, countertop and shelf options in different slab tile finishes, ideal for achieving the sleek and seamless looks of the boutique hotel trend.
Alpine's 6mm porcelain slab surface covers an innovative foam core, which makes it waterproof, non-porous and resistant to mould and fungus.
This core is made from wedi, a rigid extruded polystyrene foam reinforced by glass fibre, and coated with a polymer-modified cement for a completely secure surface.
Alpine is available in 18 slab stone-design tile finishes, 11 basin styles and four countertop and shelf sizes. The range is easy to personalise to suit individual clients and products can be configured in multiple variations.
It has a superior product lifespan and exceptional durability, making it an optimal solution for both high-traffic commercial and domestic spaces.
Every piece is manufactured in-house and made to order to each client's exact specifications. This ensures the delivery of quality pieces within the shortest possible timeframe.
Installation is simple and efficient with precisely calibrated brackets enabling a 'hand-in-glove' process and tap holes drilled in-house prior to delivery in line with client requirements.
Special reinforcements along the joints of each piece enhance the products' load-bearing properties - Sanipex's in-house bearing test process confirms that just one bracket can hold 75kg.
Sanipex's Bagnodesign products are known for their design innovation and aesthetic appeal and have been specified in some of the world's most prestigious hotels, restaurants, bars and residential developments.
For more information and technical support, visit sanipexgroup.com
Contact:
01924 233977
---