Once the preserve of kitchens, the corrosion-resistant alloy's robust cleanability is now helping to improve hygiene and safety in commercial and workplace bathrooms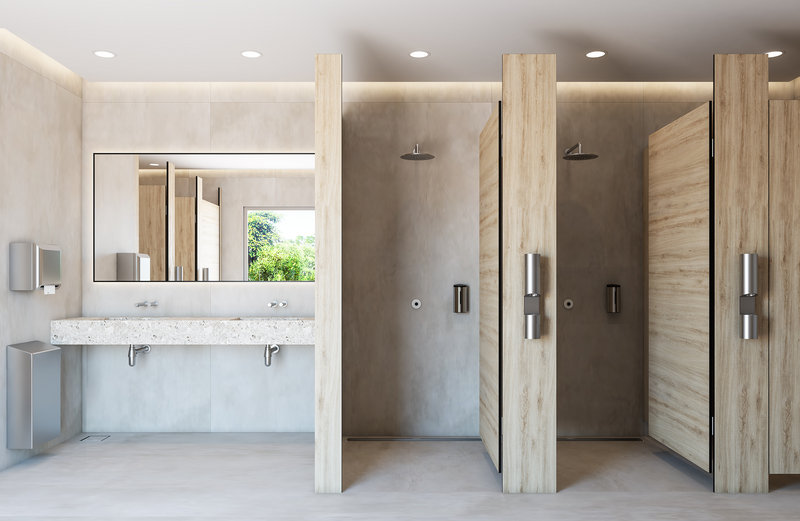 Sanipex offers a range of touchless items from hands-free sanitiser dispensers to touch-free shower mixers for design-led solutions that safeguard hygiene in high traffic environments.
Hygiene requirements in design are set to change in the long term, leading specifiers to seek out increasingly robust materials.
Thanks to its bacteria-resistant properties, stainless steel is a new favourite for commercial and hospitality projects.
It is non-porous and can be cleaned with chemical cleaners without losing any of its benefits. It has high tensile strength, which makes it the most suitable solution for high traffic areas where it can help safeguard health once people return.
Always a commercial choice for kitchens and kitchenware, stainless steel is now being designed into bathrooms partly because of the indoor-outdoor trend, which encouraged continuity of finishes across spaces. When mixed with natural materials such as wood and matt white sanitaryware, stainless steel bathroom fittings and accessories can help create chic contemporary spaces that uphold impressive hygiene levels.
Sanipex Group offers an extensive range of EX316 solutions to deliver full specification: from touchless flush valves and hands-free sanitiser dispensers for public spaces to elegant basin mixers, freestanding bath fillers and a full range of shower wares for bathrooms in hotels and the home.
For more information and technical support, visit sanipexgroup.com
Contact:
01924 233977
---