Schueco takes design to new heights with the launch of a system that makes the exciting possibilities of parametric façades an affordable commercial proposition.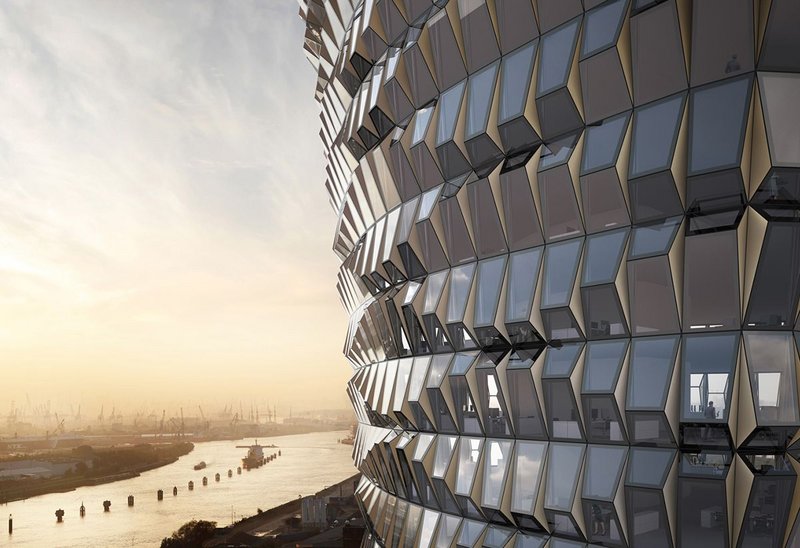 While the design opportunities presented by Parametric 3D Façades have long been seen as excitingly radical, the exorbitant cost of the one-off special solutions required to realise them has prevented their breaking out into the architectural mainstream. The full-scale commercial launch of Schueco's new parametric offering seems set to change all that.
Using Schueco's Parametric System, 3D façades can, for the first time, be designed as straightforward system solutions whose cost can be calculated with the certainty of a series product. Suddenly all the possibilities inherent in the parametric concept become not impossibly expensive dreams, but eminently achievable goals.
Like all Schueco systems, the new Parametric Façade is highly insulated with Uf values up to 0.5 W/m2K; the surface elements are transparent or opaque and sunlight and shading, guided views and daylight optimisation can be used as active design factors. The system can also accommodate solar energy generation by means of BIPV panels.
A central element of the Schueco Parametric solution is the continuous, closed digital process chain that operates in all phases of design, planning and fabrication, with the proven Schueco modular system forming the basis for individual designs of façade modules. The result is that interface problems become a thing of the past and a uniform, consistent data model for everyone involved in the process is guaranteed.
The three-dimensional geometry of the individual parametric modules consists of linear single bars and their connecting node points which can be adjusted dynamically around six basic geometrical shapes, four rectangular and two triangular, with unit dimensions up to 1500 mm x 4000 mm. This arrangement achieves the highest possible level of design flexibility while also delivering planning reliability.
Schueco planning tools mean that geometrically complex shapes are progressively simplified during planning; establishing rules and connections between individual design elements enables changes to be made more swiftly. This is important because a design that includes, for instance, optimised daylight conditions, sound reduction and protection against unwanted sunlight can quickly become exceedingly complex as the number of individual façade elements increase.
The impressive power of Schueco's parametric planning tools is evidenced by the extraordinary amount of detailing time they can save: as an example, instead of the 24 hours per unit that is currently the norm, use of SchüCAD Inventor reduces the time per unit to a scarcely believable 8 minutes!
SchüCAD Inventor is just one of a number of intelligent plug-ins that can be swiftly incorporated into the planning environment of any architectural practice. They can be exchanged and edited allowing individual units, unit groups or even complete façades to be modified manually or automatically, depending on external input values eg from a building simulation.
The module geometries developed during the initial design phase are imported and augmented in a series of steps: first, all the necessary system components, component geometries and processes are generated automatically using defined parametric data models. A systematic plausibility check ensures the quality of the model created, which then forms the basis for further steps including the use of Schueco software components SchüCAL and SchüCAM.
The final step includes the calculation, ordering, fabrication, installation planning and CNC machining: these operations are carried out without any interface problems or loss of data using the familiar, system-optimised Schueco software tools.
The needs of Schueco's fabricator partners are being met through a complete Parametric System support package that includes machine control and installation instructions, as well as access to specialised training courses.
---
For further details on Schueco's Parametric system, email mkinfobox@schueco.com
---