Designer Philippe Starck has joined forces with the sanitaryware company to create sleek bathroom solutions operated via remote control and mobile app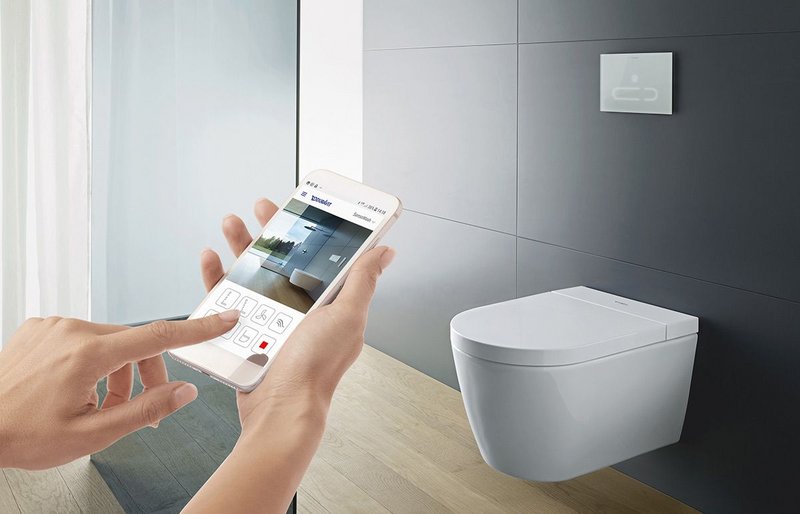 The SensoWash range of shower-toilets offers hygienic cleanliness, convenient operation, sleek sustainable design and individuality.
Duravit and designer Philippe Starck have created a new generation shower-toilet; available in two versions, the SensoWash Starck f Plus and SensoWash Starck f Lite. Both toilets can be operated using a remote control or configured via an app on a mobile phone or tablet.
Technical finishing touches include a user ID in the seat, which can be set for each individual and triggers the motion sensor for automatic cover opening, seat heating, shower flow and a controllable hot air dryer.
The SensoWash app enables individual configuration of the shower-toilet or it can be optionally adjusted with the remote control. The flush function and odour extraction system can also be controlled via the remote or app, but only if the wall-mounted element is combined with the A2 electronic actuator plate.
The technology is housed neatly within the ceramic body. The flat seat has a height of just 40mm and the white cover located behind it forms a flush-mounted unit.
New Rimless technology and optimised basin and siphon geometry ensure the SensoWash Starck f provides improved water flow for perfect flushing results. The flat heated toilet seat is made of an especially rugged material and, as with the cover, is very hygienic thanks to its scratch resistant, pore-free surface. HygieneGlaze 2.0, which kills 99.999 per cent of bacteria in a relatively short time, is standard on both versions of the SensoWash shower-toilet, guaranteeing optimum standards of hygiene.
The new shower-toilet features a pared-down aesthetic making it a perfect match for all Duravit design ranges, with easy installation and an integrated, fully automated descaling function.
For more information and technical support, visit duravit.co.uk
Contact:
020 7253 3559
---