Attractive patterns of any shape can now be incorporated into solar modules for building facades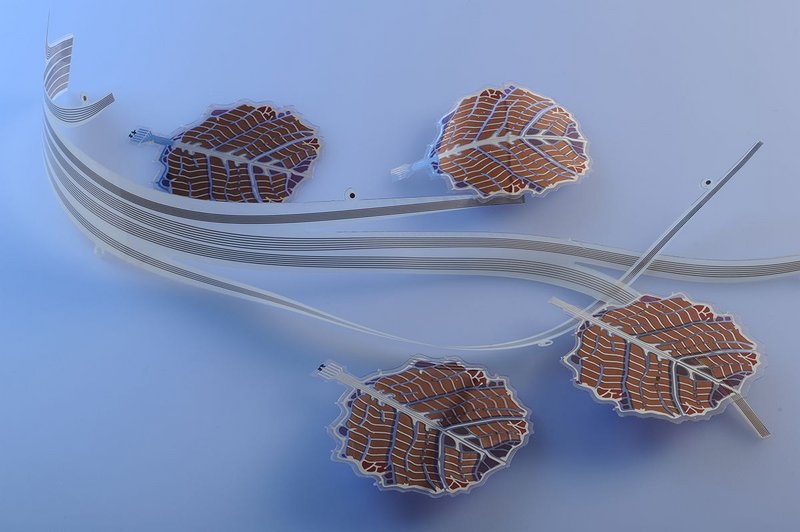 Researchers in Finland have developed a method of mass producing solar cells in any shape and in a variety of colours, using an adapted version of traditional printers.
A team at VTT Technical Research Centre Finland developed the prototype technology as part of the LIWE facades project, which was set up to explore new ways to integrate visually attractive solar modules into building facades.
The system is based around a combination of gravure printing and rotary screen printing, normally used for magazines or packaging, to produce and coat patterned layers of metal, ink and organic photovoltaic material onto a flexible plastic substrate.
The resulting solar modules are thin and flexible enough to be integrated into glass or laid over a curved facade.
Pälvi Apilo, senior scientist at the research centre and coordinator of the project, told RIBAJ: 'There are no other companies currently working with a printing technology in this way, it's really novel. The surfaces of buildings can now be both visually attractive and able to harvest energy, even multicoloured images can be implemented with solar modules. This will enable the wider exploitation of solar modules as a natural component of buildings and open up significant new business opportunities.'
The solar modules are built up in five layers on the transparent substrate: an electrode on the base, then an interlayer, an organic solar photoactive layer able to absorb sunlight and define colour, another interlayer and then an electrode layer on top.
Modules can currently be printed up to 30cm wide, but the technology could be easily scaled up to print over much bigger surfaces, researchers say.
'Solar efficiency is currently around 12%, but when the cells are integrated into various building surfaces there is a greater exposure to different angles, making it more effective than traditional solar cells installed on roofs,' says Dr Apilo, who adds that the printer could be adapted in future to print perovskite thin-film cells that typically absorb light more efficiently than silicon ones.
VTT worked with Finnish practice PES Architects, one of the project partners, to implement the decorative solar cells into the design for the proposed Sino-Finnish Congress Centre in Nanjing, China.
Every other glass sheet of the undulating double skin facade is patterned with a solar-collecting ice crystal design, inspired by Chinese calligraphy and broken ice. The proposal won the design competition and received the Special Award for Innovation of the Architectural Review MIPIM Future Project.
---