LED technology: Huge improvements in LED technology could revolutionise the lighting of public spaces. Belfast City Hall is piloting the lights for an EU initiative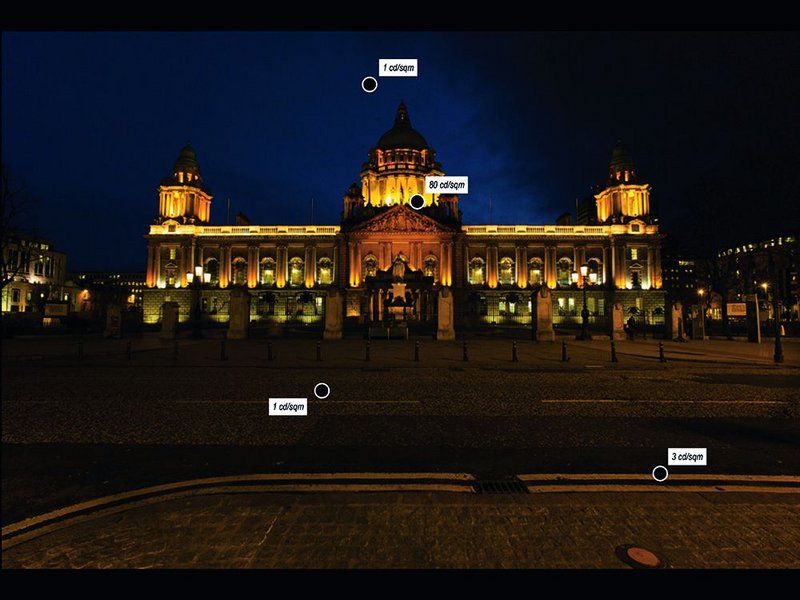 Belfast City Hall as currently illuminated. The frieze is invisible, the balustrade over-lit and the grand copper cupola is lost in darkness. The luminaire meter guns employed can give 'point' values
By next summer, the people of Belfast, if they have an eye for that sort of thing, will notice a change in the nocturnal look of its 1906 neo-baroque City Hall. Dominating the city skyline by day with its 53m high copper dome, the Portland stone building with four corner towers and central pediment cut a less handsome figure by night, the victim of a piecemeal and unco-ordinated floodlighting strategy. By night, the result is a building whose main features are lost completely in darkness, and whose balustrade is over-lit while the restrained frieze below it is lost altogether. When the City Council decided to replace the floodlighting as part of its commitment to reduce the city's carbon footprint, the EU's 'Illuminate' initiative expressed interest in funding a pilot project that would not only improve the luminaires' energy performance, but offered a holistic approach that would light the City Hall beautifully, make it safer to maintain, and would be flexible enough to turn the whole building into a stunning backdrop for outdoor events.

The Illuminate project came about last year, when Genoa in Italy sought EU lighting funding as part of its regeneration of the run-down Molo Vecchio (Old Quay) in the city's port area. The EU, as part of its 'Digital Agenda for Europe', had a policy of increasing energy efficiency by 20% by 2020 and was looking at ways to raise awareness of this among its member states – not by wasteful marketing strategies, but by funding public projects in cities that could showcase the benefits of LED lighting. Instigated in March and projected to complete in June 2013, Genoa's Porto Antico became the first pilot project for the €4m Community Programme Illuminate initiative, taking in seven projects here and in Copenhagen, Heraklion, Klaipeda in Lithuania, Rotterdam and Belfast. The projects comprise the quay district, three aquaria, a zoo, a marine museum and a cultural centre.

To oversee the project the EU commissioned consultant Arup Lighting, with other technical advisors and lighting manufacturer Philips, to see the pilots through to completion, and to monitor client and user satisfaction for a year afterwards. Project associate Giulio Antonutto explains that Illuminate is about not only the carbon footprint of lighting schemes, but factors like economy, maintenance and commercial potential.

'With Belfast, the local authority was thinking purely about the energy efficiency component of the City Hall's lighting,' explains Antonutto, 'But we helped them to realise the potential of a new scheme and how it wasn't just about energy efficiency but better overall performance, flexibility and financial potential.' Discussions threw up the variable of Return on Investment (RoI), which takes in more than merely the carbon footprint. For instance, the switch to organic and polymer LEDs had health and safety implications. With the longer life of Solid State Lighting (SSL) and the fittings needing to be changed less often, there is reduced need for access. The City Hall also acts as a backdrop for outdoor events and concerts, which previously required operatives to get to the floodlights and attach coloured gels. With the LED system they will be specifying, colour changing as an intrinsic feature of their functionality. Connecting these to DMX controls has created an integrated system that can be tapped into by event organisers as needed. This should attract more shows because they are easier to set up, explains Antonutto. So the lighting strategy becomes a mechanism not only for increased energy and visual performance, but to facilitate potential revenue streams, increasing overall RoI.
'Problems most associated with LED lighting – colour rendering and batch conformity – have been ironed out over the last two years, putting them on a par with tungsten lamp performance'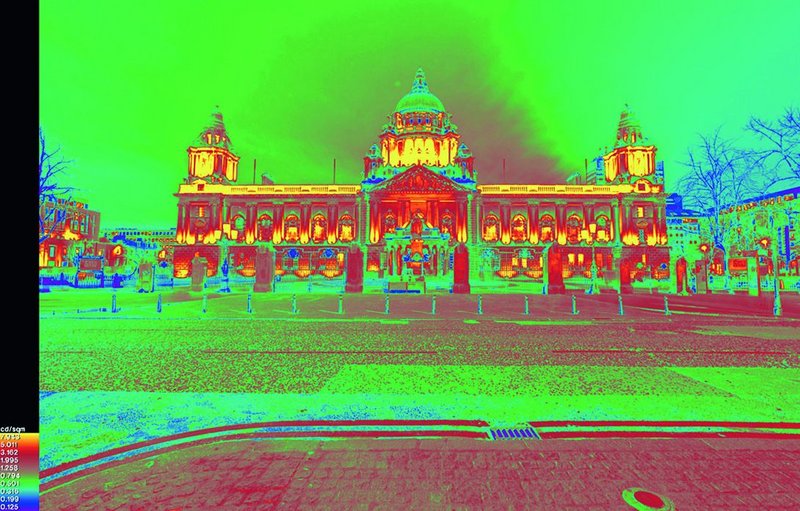 Chronometer visualisation using the same scene showing High Dynamic Range imaging, which gives the full range of luminance across a whole view
The initiative is also about encouraging LED lighting and laying to rest former performance problems. According to Antonutto, those most associated with LED lighting – colour rendering and batch conformity – have been ironed out over the last two years, putting them on a par with tungsten lamp performance. Phosphors can now be activated at certain wavelengths over the full spectrum to achieve naturalistic colours. He says although two years ago he wouldn't have considered LEDs for stadia, its recent specification at the ratiopharm Arena in Ulm, Germany, has put paid to any reservations, with Osram's 350 2000-lux luminaires producing good colour rendering, high homogeneity and flicker-free HD match transmissions, even at 70% power levels, for those 1000 frame/sec super slow-motion replays. And compared to the metal halide lamp life of 5,000-8,000 hours, the new LED luminaires are designed with a life of up to 50,000 hours. Organic LED lighting is also progressing well, with small solid state glass units now in development, and the intention to create 1m2 embedded glass OLEDs, with solid, consistent light quality across the whole panel, next year. This could revolutionise the lighting world, with OLED ceilings, walls, floors, and even windows becoming actual luminaires. Illuminate then is as much about driving commercial innovation as energy saving, ensuring that European lighting firms, unable to compete with companies in the Far East on price, at least maintain a technological edge.
---
ILLUMINATE PILOT PROJECTS
Genoa, Italy: Porto Antico Area (Molo Vecchio)
3.7m visitors a year
The site: After a scheme by Renzo Piano that involved the construction of a new conference centre and open air pool/ theatre, original warehouse buildings lining the quay have been converted to museum and other cultural activities.
The scheme: To increase a sense of public safety, 220 Mercury vapour lamps will be replaced with LED luminaires with intelligent night/day dimming control systems.
The Lithuanian Sea Museum
400,000 visitors a year
The site: The 19th century fort in Klaipeda was a functioning military installation before being converted in 1979 to display collections of marine fauna, seabirds and mammals.
The scheme: Incandescent and halogen lamps have been replaced by LEDs for increased public safety, specimen conservation, and to optimise maintenance and reduce carbon. Importantly, LED produces no ultraviolet rays and little heat, which can damage the objects on display.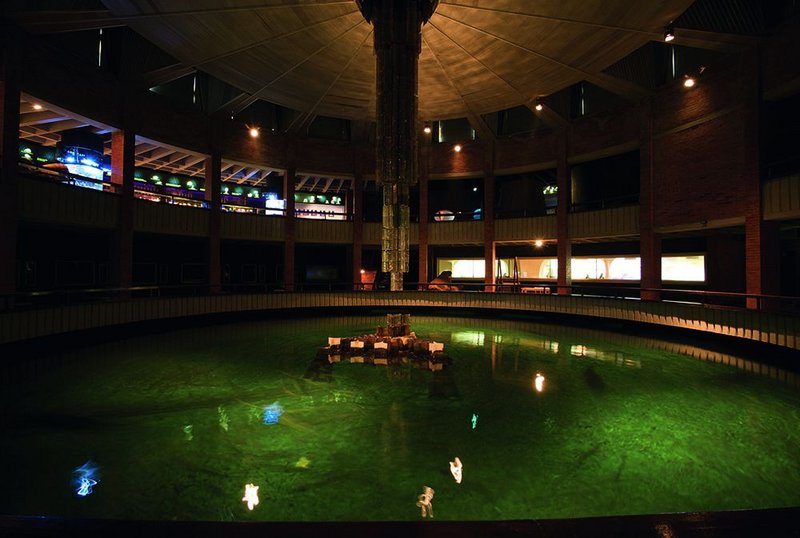 The Lithuanian Sea Museum
The Experimentium, Copenhagen
350,000 visitors a year
The site: Located in the city's Tuborg Harbour, which has been undergoing regeneration for 15 years. The EXPO building is to be refurbished during 2013 to make it a prime cultural attraction.
The scheme: Construction of a complete new exhibition area will also see LED replace existing PAR halogen fittings. An intelligent central control system will monitor function and energy consumption.
Belfast City Hall, N. Ireland
1m visitors a year
The site: Completed in 1906, the handsome neo-classical City Hall on Donegal Square with impressive cupola is badly illuminated.
The scheme: Replacement of incandescent floodlighting of the facade with dimmable and colour changing LED luminaires will enhance its look and role as a backdrop for the city's civic events.
Rotterdam Zoo, The Netherlands
1.5m visitors a year
The site: A mixture of its original 1939 and modern buildings, Rotterdam Zoo is a National Monument. It typically uses 9.8M kW/h and 1.2Mm3 of gas annually. Reducing this energy consumption has been made an imperative.
The scheme: Aiming for 15% energy reduction in three years. Lighting proposal will replace 2235 incandescent lamps used in zoo exhibits to LEDs to create a habitat immersed in light and consistent with that found in nature.
CRETAquarium, Heraklion, Greece
300,000 visitors a year
The site: Opened in 2005, the centre contains 60 different tanks varying from 125 to 600,000 litres, with 100 observation points to monitor 2,500 Mediterranean sea organisms. It is high maintenance from a facilities management angle.
The scheme: Replacing existing systems with LEDs, incorporating a new centralised lighting BMS. Assessment of possibility of new lighting to consider the specific needs of hosted organisms.
Aquarium, Genoa
1.2m visitors per year
The site: Lit with incandescent, halogen and compact fluorescent lighting. The 300 lamps lighting the exhibition walkway areas alone use approx 30,000kWh of energy a year.
The scheme: In two areas of the aquarium, 450 existing lamps will be replaced with LEDs to reduce energy consumption by 50% and create more flexible lighting with dimming and light colour control.
---
Artistic license

Meanwhile, Illuminate sister project LED4ART is looking at very high specification scenarios in which to test the efficacy and colour rendering properties of SSL technology. Due to complete next year, with a budget of nearly €1m, a consortium of six partners from five countries aims to light Michelangelo's Sistine Chapel at the Vatican, which turned 500 years old last month. While the team is at an advanced level of specification, the problem here is access to the artwork itself. A logistics strategy is still in development to minimise disruption and downtime for the 5m visitors a year milling past beneath it. For lack of opportunity to work on the actual artwork, luminaires on recently revealed Botticelli frescoes in a chapel in Hungary's Esztrgom Castle are now acting as crash test dummies to check LED performance. Despite differences in the level of final specification between LED4ART and Illuminate, it was agreed that shared measurement tools be employed to allow cross-project data to inform reciprocally with photometry and colour rendering characteristics ascertained using a common data platform.

Not that precision colour rendering is likely to be a top priority for the punters who'll come to live events outside Belfast's City Hall once the scheme is completed next March. 'The LED lighting is there to enhance the civic presence of one of our most beautiful city buildings, and will reduce costs by 60%,' says Gerry McFall, property maintenance manager at Belfast City Council. 'But if needed, events logistics will be able to merely plug into its new DMX controls and turn the building any colour they want.' This spectral shift points to the wider scope of the Illuminate project. 'Belfast had a historic building and just wanted to change the fittings to make them more energy efficient,' says Antonutto. 'What they'll get won't only save energy but will generate significantly better performance and revenue for the city.'
---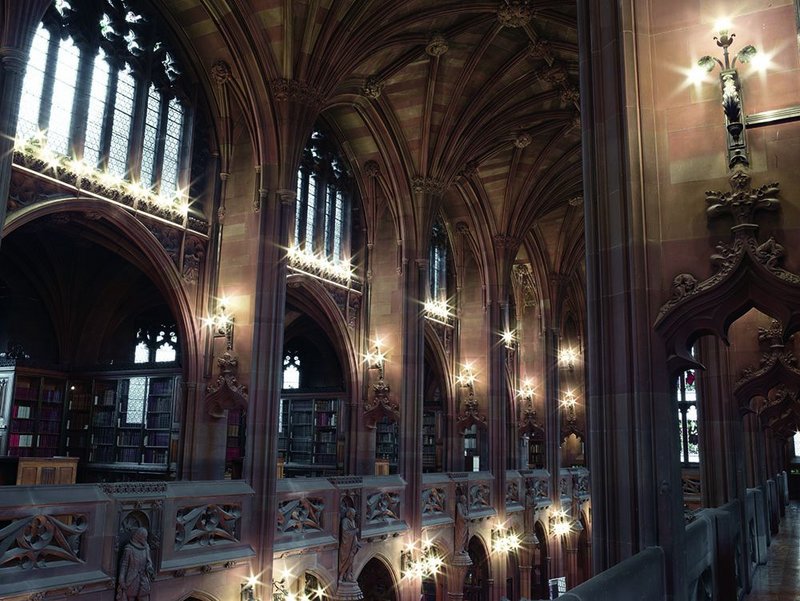 UK ANGLE

Credit: John Rylands library | chicc
Salix Finance

The UK also funds low energy lighting projects in the public sector through Salix Finance, a not-for-profit company funded by the DECC and the Scottish and Welsh governments offering interest-free loans as match funding. The energy savings made usually mean projects pay for themselves within five years. Since being set up in 2004, Salix Finance has funded 10,000 projects, with a total funding of over £220m.
'The conversion from conventional to LED lighting is by far the biggest spend, with the client having to match any funding to qualify for the loan' says Craig Mellis, technical services manager for Salix Finance. 'Last year we financed £7.8m in LED lighting upgrades for local authority, education and police projects across 328 projects across the UK – usually fluorescent lighting retrofits,' he adds. The money saved is reinvested in new projects, the funding facilitating ongoing LED lighting conversion programmes.

On average, Salix funded projects pay for themselves within three and a half years, and have a lifespan of 13 years, providing 10 years of energy savings at no cost. Overall this saves £56m annually and £750m over project lifetimes and will reduce public sector CO2 emissions by 340,000 tonnes annually – almost 4.5m tonnes over the lifetime of the projects.

Mellis says that at a strategic level Salix is most involved with local authority energy managers. 'We'll work with architects on specific projects where they might identify lighting strategies and how the Salix loans might increase overall energy efficiency. Generally we are dealing with the lighting suppliers who provide us with the calculations of energy efficiency for the various fixtures. Projects have nine months to complete. To date Manchester University, with a spend of over £1.4m across its campus, has been Salix Finance's biggest client: with Higher Education Funding Council for England it put in £1.1m – most recently relamping its 19th century grade 1-listed John Ryland Library (above) – the city's first building to be lit by electricity.

'The whole building was fitted out with 40W incandescent. Any higher wattage would have had negative effects, both in heat and UV output, on the libraries' ancient manuscripts,' says M&E engineer Damian Oatway of the University's Estates Directorate. 'Compact fluorescents would have exacerbated that so LEDs were a godsend,' he adds. In all, over 1,200 lamps were replaced with 8W dimmable Philips MasterLED, saving 32W per lamp. The saving has reduced the library's lighting energy demand by 80%. 'Total energy cost has fallen by 17%, saving over £10,000 a year in bills and nearly 56 tonnes in CO2 emissions,' says Oatway. 'The lamps cost only £18K in total, so we'll have payback in less than two years.'