The speciality chemical manufacturer's sealants, collars, coatings and more meet the highest fire resistance requirements for high-rise buildings and public-use projects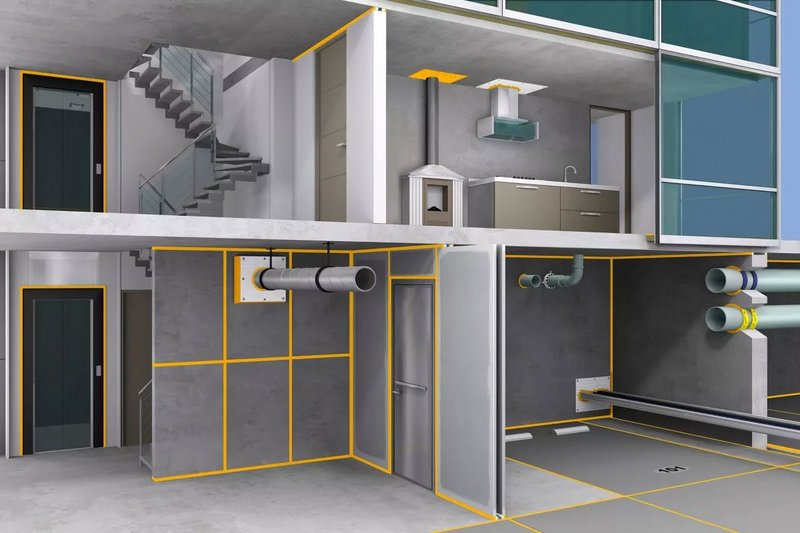 Danger zones: Yellow areas indicate application zones for Sika's linear and penetration seal passive fire protection products.
Speciality chemical manufacturer Sika is helping specifiers contain and control the spread of fire with its high-performance passive fire protection products for linear and penetration seals.
The range has been specifically developed to restore the fire resistance of walls and floors disrupted by linear seals, cavity barriers or penetration services.
The products work to contain fire and smoke in defined compartments and help control and delay its spread to allow more time for occupants to safely evacuate.
Fully compliant with national and international standards, including EN 1366-5:2021 and EN 13501-1:2018, Sika's range comprises fire-resistant sealants, coatings, wraps, collars, fire boards, compounds and ablative pads for linear and penetration seals.
Sika's passive fire protection solutions have been created to meet the highest fire-resistance requirements and are suitable for use across a number of sectors, including high-rise residential buildings and public-use projects such as hotels, schools and hospitals.
Sika's technical team are on hand to help specifiers and specialist installers identify a clear and compliant passive firestopping strategy, including offering detailed technical evaluations for more complicated joint specifications.
These technical evaluations are offered free of charge and can usually be completed within a working week, providing all the necessary information is supplied.
The legal documents can then provide building owners with the reassurance that the specified passive fire protection products are fit for purpose and fully compliant with relevant building regulations.
The evaluations cover the classification of the passive fire protection system in terms of its integrity (E) and insulation (I) and the duration of fire and heat resistance it can offer.
To support its product range, Sika's in-house team offers specifiers full technical evaluations, working with them throughout the duration of a project.
For more information and technical support, visit sika.co.uk/passivefire
Contact:
01707 394444
---