Firm offers one-stop-shop solution for nature-based roof build ups in three options: extensive, intensive and biodiverse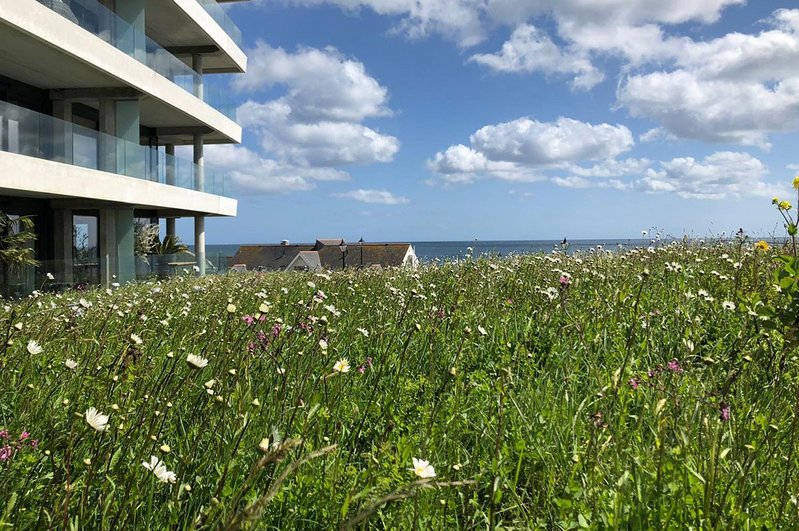 Swiss speciality chemicals company Sika has launched a complete sustainable green roofing system in the UK.
Comprising several layers, the system can help manage storm water, improve a building's thermal performance and enhance biodiversity in nature.
The company believes green buildings can deliver eco-friendly infrastructure that counterbalances the negative effects of commercial and residential construction.
Amidst an industry-wide drive to build more sustainability, a number of government policies, such as the release of British Standard BSI 8616 on substrates, have helped grow the number of green roofs being specified.
The global green buildings market is forecast to achieve a 14.3 per cent compound annual growth rate by 2027, according to market research company Market Research Future.
'Green roofs are simple and effective,' says Richard Aldred, Sika UK roofing market manager. 'They have become a key element of sustainable design for clients, customers and local authorities striving to create sustainable environments.'
What's included in a Sika green roof solution?
Sika offers three of the most common green roof build-ups:
Extensive - lightweight and easy to maintain.
Intensive - thick coverage for when deep growth is required.
Biodiverse - most environmentally beneficial.
As each of Sika's roofing technologies - single ply, reinforced bituminous membranes, hot-melt solutions and cold-applied liquid membranes - are compatible with each green roof system, Sika can provide a one-stop-shop solution incorporating all necessary waterproofing elements and green components.
Sika offers a single point of contact for any design, specification, post-installation and aftercare needs.
Sika is a founding member of the Green Roof Organisation (GRO), an association established to represent all elements of the UK's green roof industry, including ecology, design, specification, installation and maintenance.
GRO's mission is to support the delivery of high quality, self-sustaining green roofs while informing the UK's legislators, building developers, occupiers and educators about the wide range of environmental, social, health and curriculum benefits. Its mantra is that no roof goes unused.
Whether for amenity, biodiversity gain, rainfall management or aesthetics, Sika's vision is for every city and town in the UK to have a nature-based solution for every roof.
For more information and technical support, visit sika.co.uk/greenroof
Contact:
01707 394444
---