High Performance timber windows by manufacturer Hugo Carter are helping to reduce the transmission of traffic noise at the Radisson Blu Edwardian Grafton Hotel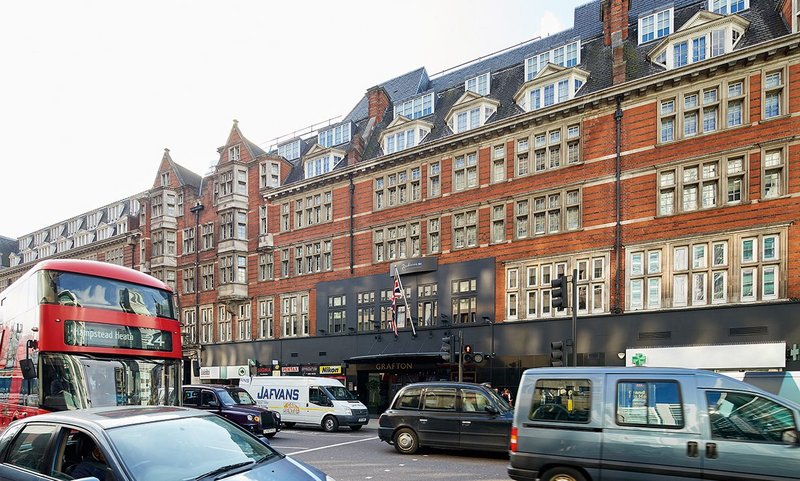 Silent Windows by Hugo Carter on the first floor of the Radisson Blu Edwardian Grafton Hotel, Tottenham Court Road.
Silent Windows by Hugo Carter have been specified at the Radisson Blu Edwardian Grafton Hotel, Tottenham Court Road in central London.
The five-star hotel had an ongoing problem with traffic noise. Noise can have a negative impact in all kinds of environments, but for hotels it is the number one cause of complaints.
At the Tottenham Court Road Radisson noise was particularly an issue for guests staying on the first floor. One room in particular received more complaints than any other: Room 109 is located immediately above a set of traffic lights and opposite an ambulance station exit. The hotel called Hugo Carter to find out about its pioneering noise-reduction solutions.
Hugo Carter's engineers carried out an initial site analysis to measure Room 109's 'noise signature'. The hotel had secondary glazing and double glazing in place, a poor-performing combination that was leaking noise.
The engineers suggested replacing the existing glazing with Hugo Carter's High Performance Silent Windows. The windows combine thick acoustic triple glazing with engineered timber frames and are designed specifically to mitigate the noise from lower frequency, heavy road traffic.
'The difference was unbelievable,' says Steve Holmes, the Radisson Blu's chief engineer. 'For the first time I could hear the air conditioning.'
Following the successful installation, Hugo Carter was asked to fit its High Performance designs across the entire first floor - 145 windows in all. The company has since gone on to fit out two more hotels in the Radisson Blu Edwardian chain - both in busy city-centre settings - including the Hampshire in Leicester Square.
Award-winning timber window manufacturer Hugo Carter understands 'the science of silence', an expertise that underpins all its products. The company's engineers are trained by experts from the Institute of Acoustics and, because the firm never outsources, that expertise permeates every stage of its process.
Hugo Carter's market-leading Silent Windows noise-reduction solutions have been applied to a wide range of commercial and residential developments. In 2019, Silent Windows by Hugo Carter won two UK Enterprise Awards: Best Window and Door Manufacturer and Most Innovative Noise Reduction Product.
To receive a copy of Hugo Carter's guide 'The Science of Silence', email the address in the Contact section below.
For more information and technical support, visit silentwindows.co.uk
Contact:
020 3993 7562
---