The 'Chairless Chair' offers a bold vision of the future where robotic-style limbs replace the need for conventional seating. Just don't lean backwards…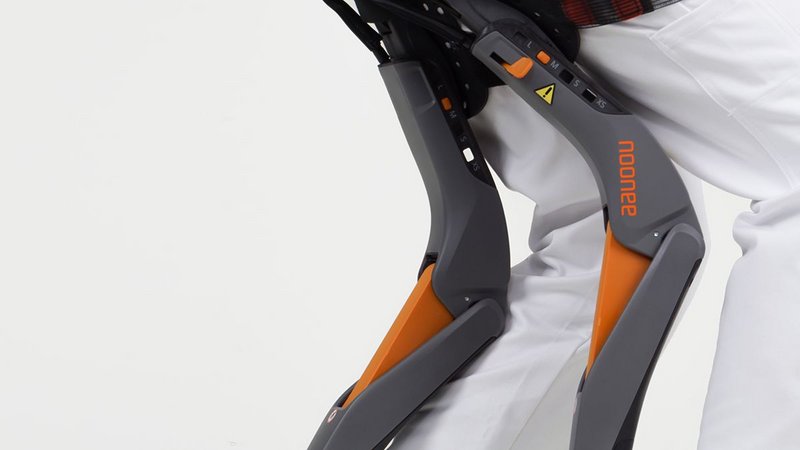 A wearable exo-skeleton that enables users to pull up a seat wherever they choose has been rolled out to factory workers at car makers including Audi, BMW and Renault in an effort to prevent accidents and muscle strain.
The Chairless Chair, designed by Swiss architect Studio Sapetti for product manufacturer Noonee, is a flexible plastic structure attached to the back of the legs. It enables users to walk around freely, then swiftly move into a fixed squatting, crouching or seated position.
The product is made of lightweight and durable engineering plastics such as polyamide, and was developed specifically for workers at automotive factories who are required to carry out repetitive tasks, including the assembly of small parts into a car chassis.
The device does away with the need for chairs, which are considered a dangerous trip hazard on a factory floor, and provides an ergonomic alternative to long periods of standing and frequent bending down. The seat incorporates a suspension mechanism that forces the user's hips into an inward-facing position that pushes the spine into the correct posture to reduce muscle stresses.
Marc Sapetti, founder of Studio Sapetti, tells RIBAJ: 'The chairless chairs are working almost 24 hours a day. Each one is shared by four or five workers doing four-hour shifts. The device doesn't make the user stronger and is not powered, which is the conventional definition of an exo-skeleton; rather it reduces muscle tiredness, so we refer to it as a wearable ergonomic device or a passive exoskeleton.'
Workers must go through training to understand how to balance and adjust the 'chair' to different heights.
'The only thing you can't do is lean backwards,' says Sapetti. 'All the rest comes very naturally, finding a comfortable posture is very easy.'
There are a few other 'do nots' in terms of safety: it's not advised to run and walking up or downstairs is not possible because that requires the knees to bend more than the device is capable of.
Sapetti is now keen to take the Chairless Chair from industry into the public sphere, though this may take several years due to stricter regulation and other factors.
'It's going to require a bit of a fight,' he says. 'The product has been certified for factory environments, but as soon as you make it available for the public the legislation gets a lot more complex. I have received emails from people with disabilities or knee problems who would like to buy one, but its use as a medical device raises other issues. For example, if someone experiences a drop in blood pressure and becomes dizzy, they can fall backwards, which is very dangerous.'