Built environment could slash environmental emissions by harnessing the solar cell technology, which also promises cable free products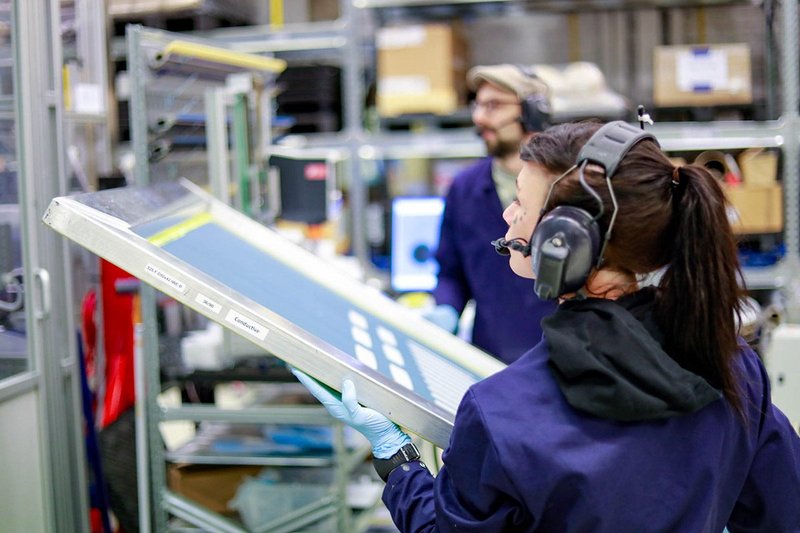 The first products run using Powerfoyle will be a pair of headphones and a smart safety helmet.
An award-winning solar cell technology that uses artificial photosynthesis to extract power from indoor or outdoor light, could have applications in the built environment and cable-free products for homes and offices.
Powerfoyle, by Swedish firm Exeger, is a pliable and flexible nanomaterial that can be bent into different shapes or applied to surfaces to create a clean source of power, day or night.
Potential applications are focussing on the portable electronics market, and the firm has partnered with manufacturers to develop self-charging headphones and a smart safety helmet, but there are potential uses for buildings and street infrastructure.
Giovanni Fili, CEO and founder of Exeger, told RIBAJ: 'Powerfoyle will enhance traditional solar markets and work under all lighting conditions from all angles. Rooftop and building integration could fulfil the needs of architectural design while enhancing our cities. Smart transportation will see self-driving, self-powered cars and smart cities with traffic signs, street lights and communication devices all enabled by ambient light charging.'
Powerfoyle harvests light based on the natural principle of photosynthesis; the dye-sensitised monolithic solar cell material converts ambient light into usable electricity. The amount of power generated depends on the product, the level of use, and the amount of time spent in light.
Under 'optimal light conditions', Fili claims the material can generate up to twice as much power as conventional flexible amorphous silicon.
The ability to convert artificial and ambient light into electricity could permit the development of new cable-free products for homes and offices, with corresponding benefits for the environment.
'Cables and transformers are a major environmental hazard; by integrating Powerfoyle into consumer electronics products, manufacturers no longer need to produce and distribute power cords for their goods,' says Fili. 'Consumers need never worry about a battery running out because the product is charged by both indoor and outdoor light. In 2017, US households alone disposed of 143 TWh to charge and operate consumer electronics. In view of those numbers, the environmental impact will be great.'
Powerfoyle material can be bent into different shapes or applied to surfaces, making it relatively unobtrusive. Graphics such as photos, artwork, patterns, or textures can also be applied without affecting performance.
The product won the Grand Award for Design 2020, presented by the Association of Swedish Engineering Industries in collaboration with the Swedish Industrial Design Foundation (SVID) and Swedish Form.