Educational buildings pose their own special requirements, ROCKFON stonewool sound absorbing ceiling and wall solutions fulfil one of them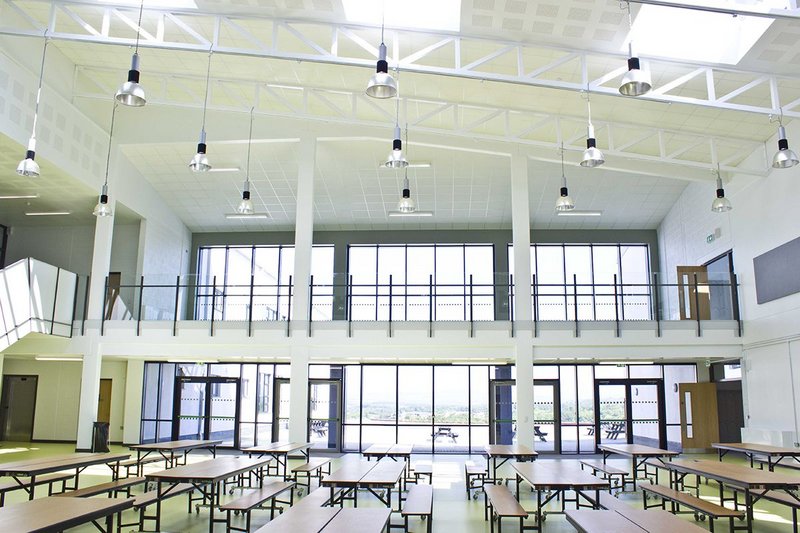 St Joseph's Secondary School, Skibbereen: ROCKFON Artic offers optimum light reflection
ROCKFON has an unrivalled level of experience in the education sector. It understands that for education buildings to be successful they need to provide both functional and pleasant spaces. A major contributor to this is sound control. All the company's ceiling systems are manufactured from stone wool, a natural sound absorber, enabling products to either meet or exceed the acoustic requirements set out by the Department of Education.
Architects BDP specified ROCKFON ceilings to ensure the reverberation times for all teaching spaces complied with Building Bulletin BB93. Acoustic modelling identified the extent of acoustic absorption required to ensure speech can be heard and understood. ROCKFON products delivered the required acoustic performance for all the different areas and provided a suitable quality of finish for a further education building.
ROCKFON Tropic ceiling tiles were installed at a special needs unit at Skibbereen Community School in Ireland. ROCKFON Tropic provides Class A sound absorption helping to create a learning environment that offers optimum speech intelligibility, which is essential for all children.
For areas built with hard surfaces, installing wall absorbers is an excellent way of controlling reverberation. ROCKFON Samson wall absorbers were chosen for the sports hall at Corelli College in London. Their Class A sound absorbent surface helps create a comfortable space where staff and pupils can work productively. Samson wall absorbers are durable and can withstand impact from ball sports and tough daily use.
Fire safety is also paramount in schools and ROCKFON ceiling systems conform to the safest fire classification, Class A1 fire resistance.
For more information and technical support visit: www.rockfon.co.uk
Contact:
0208 222 7457
---