In the age of sit-stand desks and break-out areas, office design is becoming ever more user conscious but will it really improve user productivity?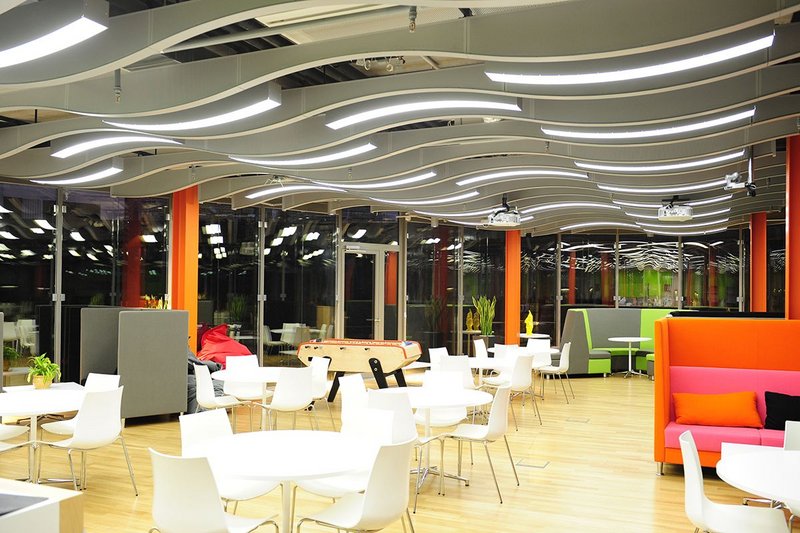 AS510 Waveform Baffles at Skype, Luxembourg
Over the last thirty years workplace design has given rise to open offices that maximise the use of floor space. This change positively affects the look and feel of offices, offers more natural light and promotes cross-functional collaboration. A trend for open soffit, semi-industrial aesthetic finishes have also become popular, particularly within the TMT sector.
Open plan designs have plenty to offer the modern day office, but they also come with some drawbacks. In open offices, unwanted ringing of phones or colleagues chatting nearby cannot be easily ignored. Psycho-acoustic research has concluded that introvert personality types have difficulty blocking out noise in order to undertake almost any complexity of task. Even extroverts, normally thriving in an energised atmosphere have difficulty concentrating on challenging tasks. Sound with information (e.g. speech) or that which cannot be controlled are found to affect productivity the most.
As part of a holistic approach to user comfort and productivity, acoustic design must be considered alongside aesthetics. Floating ceilings, acoustic baffles and rafts offer an excellent solution to invasive noise in keeping with the TMT aesthetic trends. Baffle and raft designs in modular, continuous and waveform options are available in a variety of finishes, classic or industrial.
On average, 80% of operational spend within an organisation can be attributed to staff-related costs. It pays to make sure they not only like their environment, but that they can work in it too.