Lightweight, recyclable ceramic tile cladding can improve acoustic and thermal comfort and minimise energy costs in construction and in use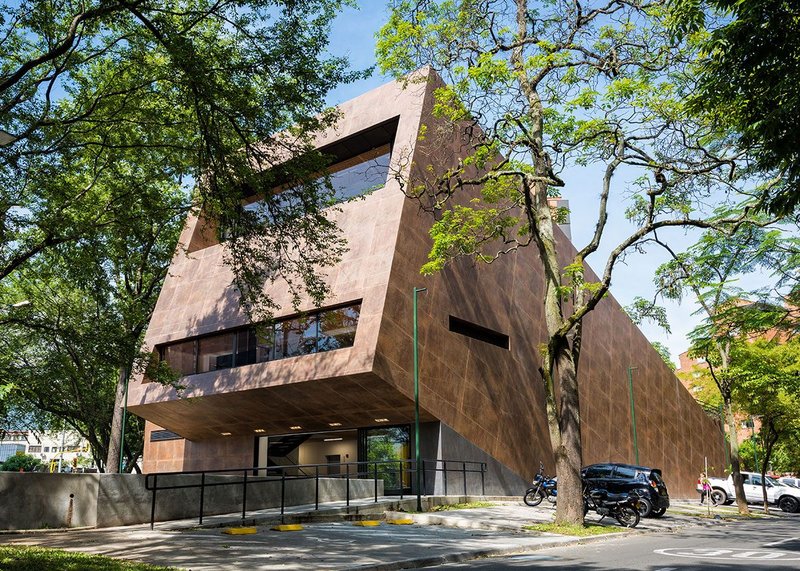 Facade in Coverlam Lava Corten ceramic tile by Grespania at Otraparte House Museum, Envigado, Columbia.
Ceramics are an ideal material for architectural projects where sustainability and energy efficiency are key.
Spanish producers offer large and lightweight slabs for cladding and a wide variety of pieces for ventilated facades.
Why ceramic tiles are a sustainable solution
Ceramics are a safe choice for the environment. Made by combining fire, clay and water, tiles are a natural material and do not give off harmful emissions.
Exteriors covered in technological ceramics are highly resistant to UV radiation, rain, hail, frost and sudden temperature changes.
They are easy to install and maintain and are a sustainable solution because of their lengthy lifecycle and ability to be recycled. Many of the tiles contain significant recycled content.
The ecological benefits of ceramic tiles
As environmental concerns move up the agenda, ventilated facades must be considered if creating an energy-efficient structure.
Not only do ceramic tiles increase both acoustic and thermal comfort, they minimise costs in construction (due to their light weight) and ultimately in their use (due to the air flow around them).
Energy costs in a building can therefore be significantly reduced; one manufacturer's data suggests by 25 to 40 per cent.
The beauty of Spanish ceramic tiles
A design that considers the environment need not impact on aesthetic appeal. Ceramics allow an architect to make a mark with individualistic elements that distinguish a building.
Tiles can be understated, too. If a project needs to blend with its environment or nod at tradition, it is possible for ceramics to mimic raw materials such as wood, stone or brick.
Whatever the brief, ceramics provide choice: they come in infinite colours, finishes and styles. Many ranges are in production, though special pieces can be commissioned.
Custom-made tile designs
Spanish manufacturers often work with architects and designers to create bespoke surfaces for a specific project.
Popular are porcelain pieces in sculptural shapes that can be used either for refurbishment or new construction.
For a sleek contemporary look, large slabs in impressively thin formats are an efficient way to cover a building and are available in a range of sizes.
When it comes to interpreting a client's brief and producing a strong, winning concept, a knowledge of what ceramics can offer will increase the possibilities for innovation.
Tile of Spain is the voice of the Spanish tile industry, encompassing more than 120 tile manufacturers who can provide architects with high-performance flooring, wallcovering, furnishing and external paving and cladding solutions.
For more information and technical support, visit tileofspain.com
Contact:
020 7776 7785
---