Glass, ceramic, brick slips and whole systems for your building's outer layer
MX curtain wall system
Technal
'Now, pay attention Bond. This is the Schuster Annexe STEM hub, codename M13. It has a package of Technal systems, including MX grid and FXi65 aluminium punched hole windows. Here: the 18mm argon-filled cavity. Here: a 10.8mm laminated inner leaf. External digitally-printed 8mm SGG Cool-Lite SKN 14 bears what appears to be a simple artwork, but attach this cufflink, and the whole thing becomes a powerful electronic messaging system.'
'Electronic messaging system, Q? You must be joking.'
'I'm not, 007. And just make sure it comes back intact.'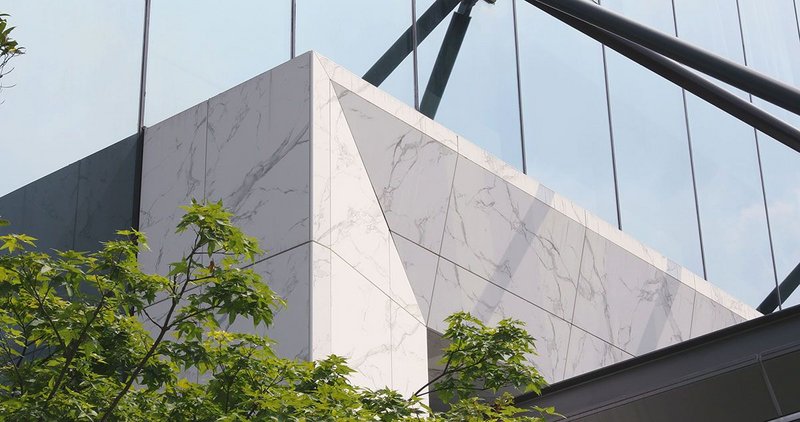 Dekton cladding
Cosentino
Nude modelling icon 'Michelangelo' has admitted to faking his own death in 1564, having shocked the world when he returned to public life with a fragrance line and MAC lipstick collaboration late last year. He has decided to open up about his journey as he becomes the face of Cosentino's 'Dekton' zero-porosity sintered-particle ceramic slabs, a highly durable high street interpretation of his favoured Carrara marble. He hopes to become a role model to young specifiers who may be experiencing cladding problems and need someone to talk to.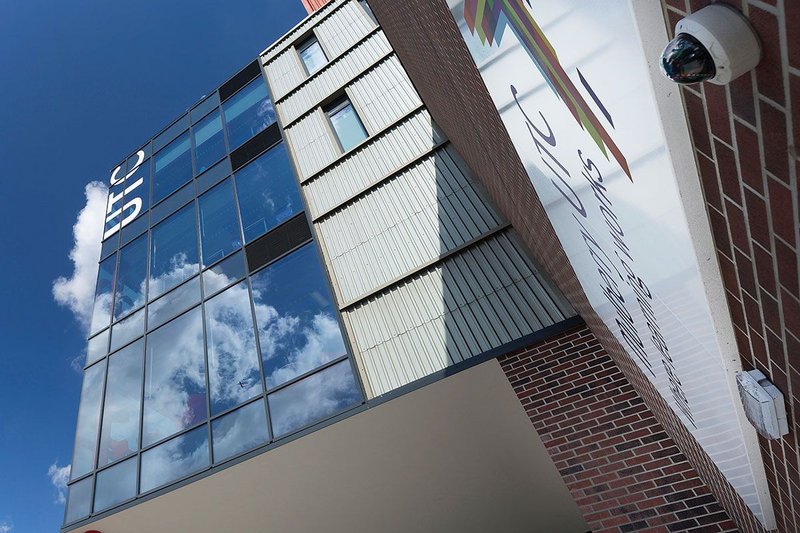 Elegance 52 Curtain Walling
SAPA Systems
I gaze down through the bright walls at the city as it teems below at Mulberry UTC in Bow. I bless SAPA for the 100% recycled aluminium of its frames.I am warmed by the 1.4 W/m2K U-value of the glass. I recall the lost Jamaican B&Bs of my travelling youth. I wish for the day when the bauxite mines are gone, and I may return at last to the quiet verandahs where my dreaming heart once lay. I resign, sell my shoes, and take up the handpan.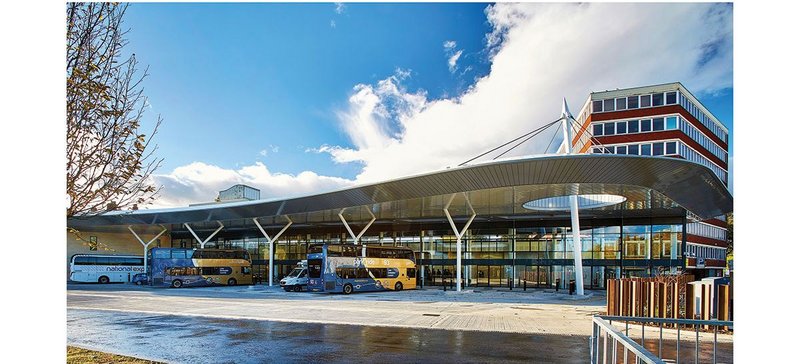 Glazing systems
Kawneer
Kawneer's zone-drained curtain walling, fixed and sliding windows and automatic thermal doors at the new Gloucester bus station development met an exacting brief on aesthetics, performance, and budget. We discern a strange synchronicity, then, with the only other exciting thing that's ever happened on this site.
That's right: the thing with the aesthetically-pleasing Peter Wyngarde, the high-performance crane driver, and the affordable (if red-faced) seventy-five pound fine.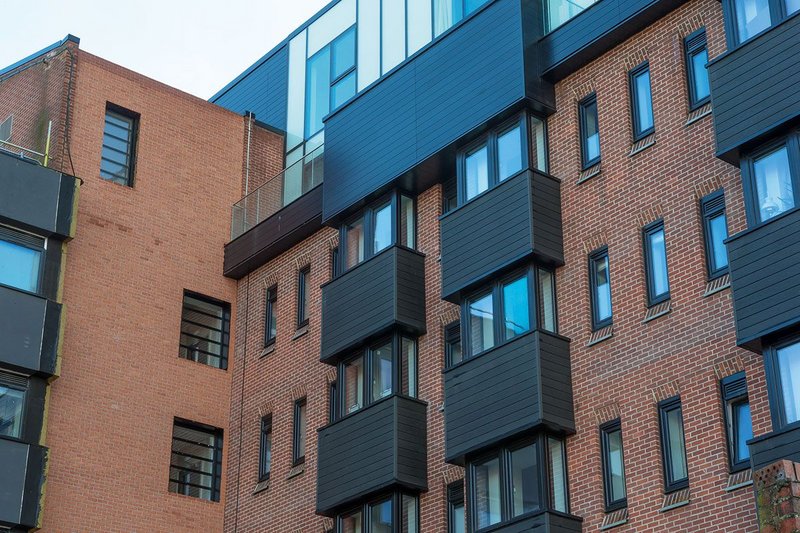 MechSlip fixing system
Ash & Lacy with Ibstock Kevington
HM Govt. has progressed Brexit preparations with an innovative scheme to combat threatened skills shortages. Schoolchildren are to be issued with Spears Brickplayer and (proper) Meccano sets, while Ibstock Kevington and Ash & Lacy are to develop this cross-disciplinary facing system, where a variety of brick slips are slotted into an adjustable metal grid and then mortared by gun. The high-speed, high accuracy and low-skill plan ensures that, post March 29, expert Polish brickies can be easily replaced with British under-12s, thus guaranteeing our children's futures.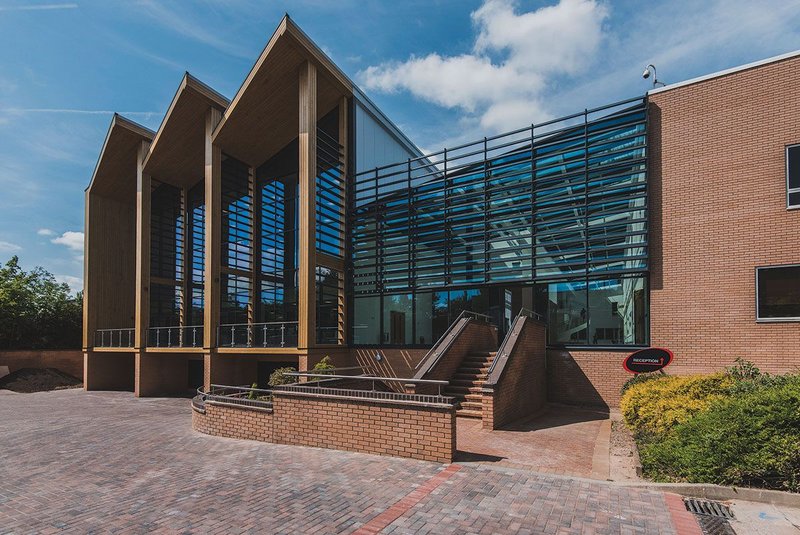 Suncool and Optitherm glass
Pilkington
Forget Keto, here's ARSI! The hot new 'Argon-Silica Diet' has top-flight celebs like Kim Cardigan-Vest crunching their slabs for the 'gleam eating' trend. Taking a lead from Slimming World's new British HQ, fans are using a blend of Pilkington Suncool 60/31 T solar-control glass and Pilkington Optitherm thermally-insulating S1 Plus to get lighter and stay hotter – fast! Kendal Mintcake's Insta post, minutes before achingly glamorous stomach surgery at Cedars-Sinai, read: 'Loving my daily bullit-blast of energy-efficient glass- I'm smashing it at the office gym! #light #warmth #EATGLEAM'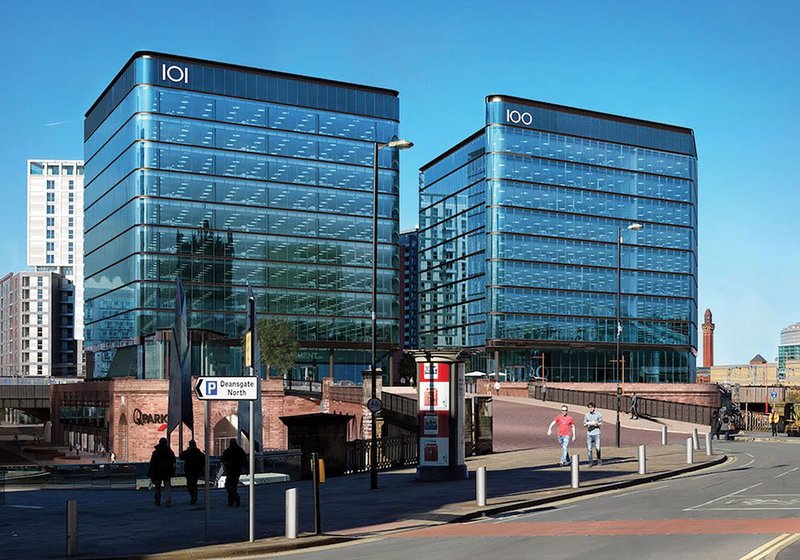 Mixed envelope package
Prater

'You asked me once, what was in Building 101. I told you that you knew the answer already. Everyone knows it. The thing that is in Building 101 is the worst thing in the world.'
Winston winced, and thought to himself, 'Thank heavens then that the thing that is outside Building 101 is Prater's envelope package, featuring unitised curtain walling, rainscreen cladding and glass reinforced concrete (GRC) feature panels. It's lovely. And Building 100, next door, has a gym and vegan doughnuts. Maybe they'll send me there instead.'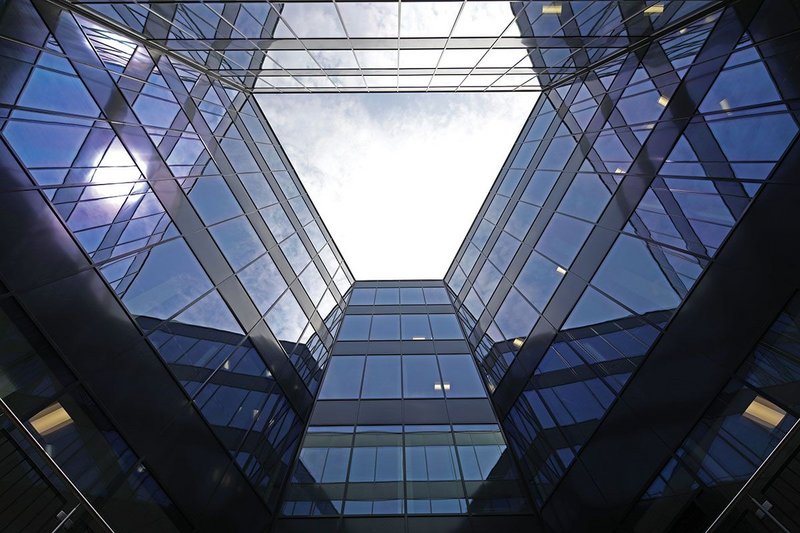 SF52 aluminium curtain walling
Senior Architectural Systems
Hand-drawn members, eh? Artisan-made to fit irregular mullions and transoms, indeed! This was the evidence we needed.
It's not well known that William Morris' fantasy writing career was based on carefully-guarded private experiments in time travel, whereby he visited this mixed-use development and was wowed by the main building's SF52 facetted facade. 'SF52', you see. SCIENCE FICTION. We can now say with certainty that The Glittering Plain (1890) was inspired by municipal development in 21st century Leicester. Oh yes. It's all there.
seniorarchitectural.co.uk