1. Timber floooring, Junckers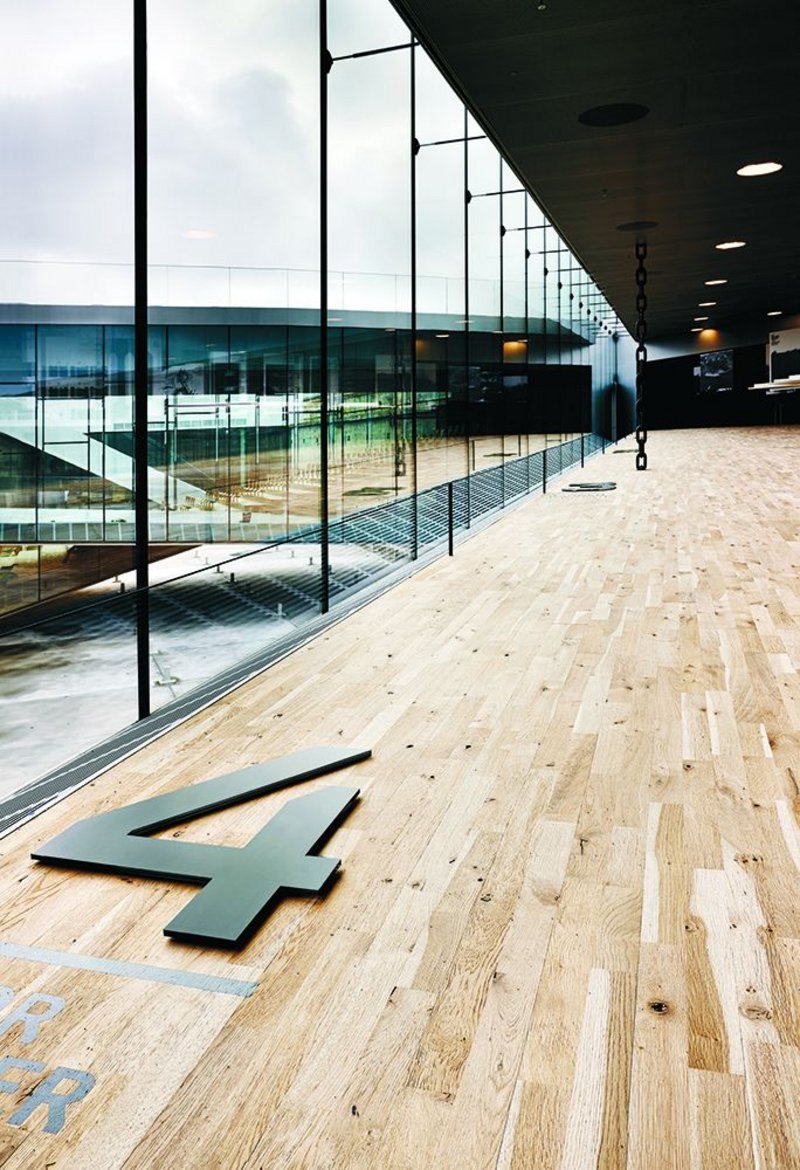 Seeking a flooring material that would soften and link the glass and steel section of Denmark's Maritime Museum with the old concrete dock that houses its bulk, architect BIG plumped for timber. Junckers' rough, mainly untreated surface must give visitors a marked feeling of walking the plank, or at least original ship's boards. Located in Elsinore, home of the tortured Prince Hamlet and so symbolic of the ties of fate, the intriguing thing about this image is the huge floor numbers, counting down into the distance. What happens at 1? Answers on a postcard...
2. Skyfold partitioning, Style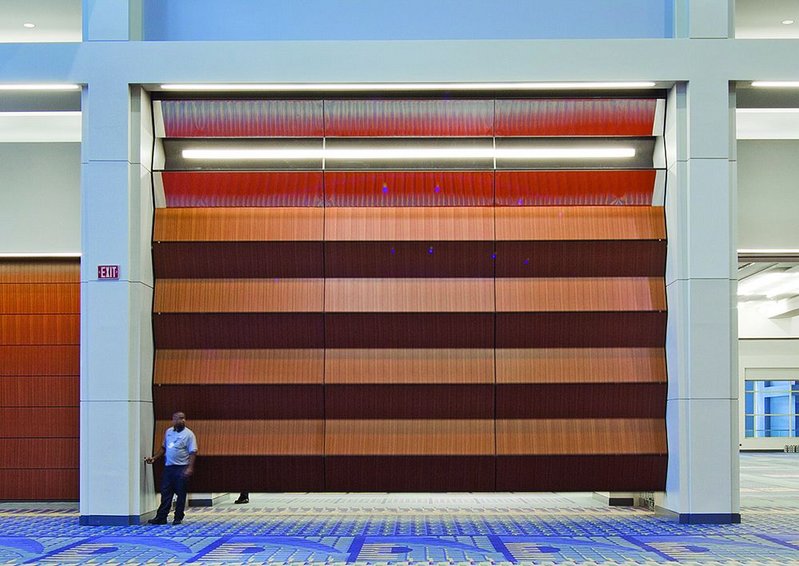 Skyfold is where we start, a thousand miles and poles apart... well, okay, perhaps not quite that far, but this vertical-rising partitioning system is designed for some pretty big spaces. In fact, thinking about it, with Skyfold you could be stood virtually shoulder to shoulder, with only the 59dB Rw model between you, and be quite unaware of each other, such is the system's acoustic performance. It's a pity 007 didn't have one at his family seat – even the magnificently villainous Javier Bardem might have had trouble up against that. Cocktails all round!
3. Tarasafe vinyl flooring, Gerfloor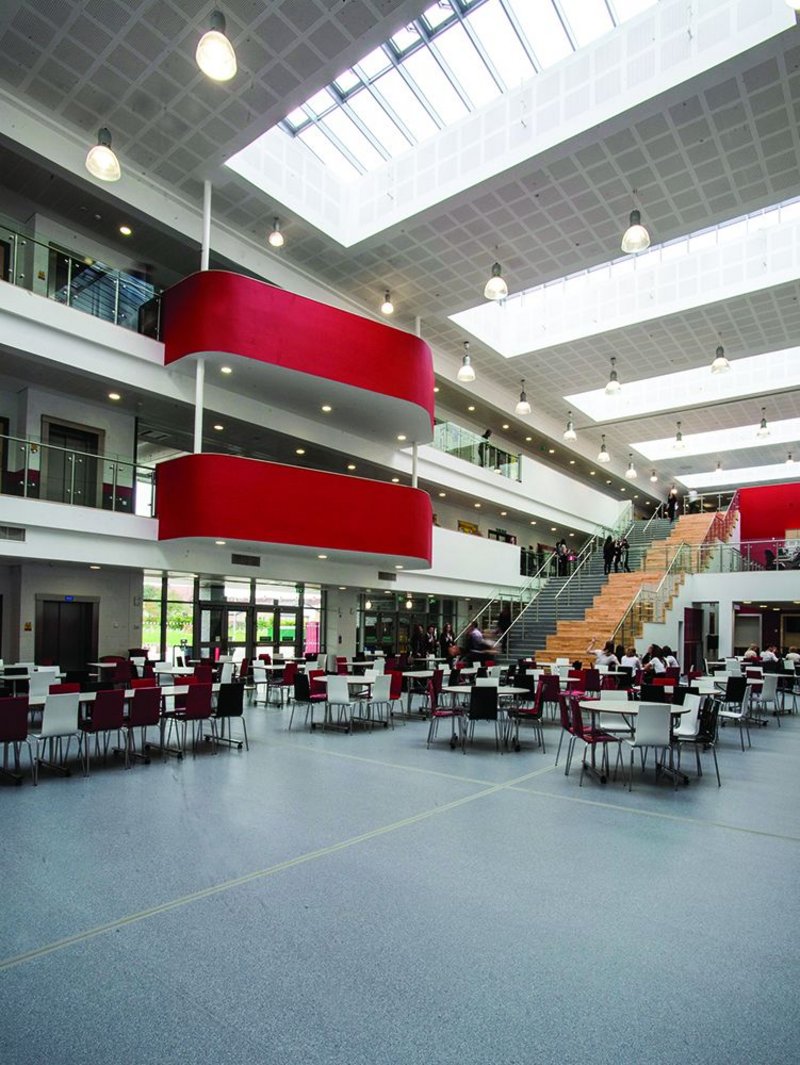 Just think of the fun your average 14 year old could have on this expanse of shiny floor, skidding and sliding away the school break and working off lots of pent-up energy before the sedentary boredom of double maths. Sadly for boys (and it will be boys) schooled at the Lasswade Centre in Bonnyrigg, Scotland, some killjoy specified Gerflor's Tarasafe slip resistent vinyl safety flooring – although on the plus side it does mean accidents and collisions should be kept to a minimum. Which is good news all round – unless you were looking to get out of maths of course.
4. iD Inspiration vinyl tiles, Tarkett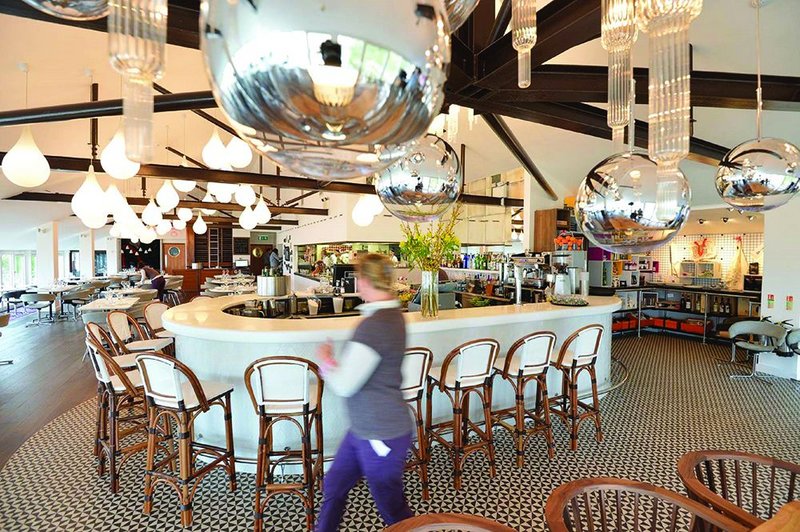 Cheeky chappie and good food crusader Jamie Oliver is reknowned as much for being down with the kids (unless they're hangin out with a KFC, obvs) as for his culinary showmanship. Like any chef worth his TV salt he has a place in the south west and Fifteen Cornwall, his pukka eatery on the beachery, now sports a floor laid in Tarkett's luxury iD Inspiration 70 vinyl tiles. Robust enough to withstand the surfer dudes' sandy feet, yet suitably stylish for any passing yacht passengers, it's well set to attract holidaymakers looking for a night on the tiles.