SSQ's Riverstone and Del Carmen natural stone brands might be best known as roofing products, but they can excel for facade projects too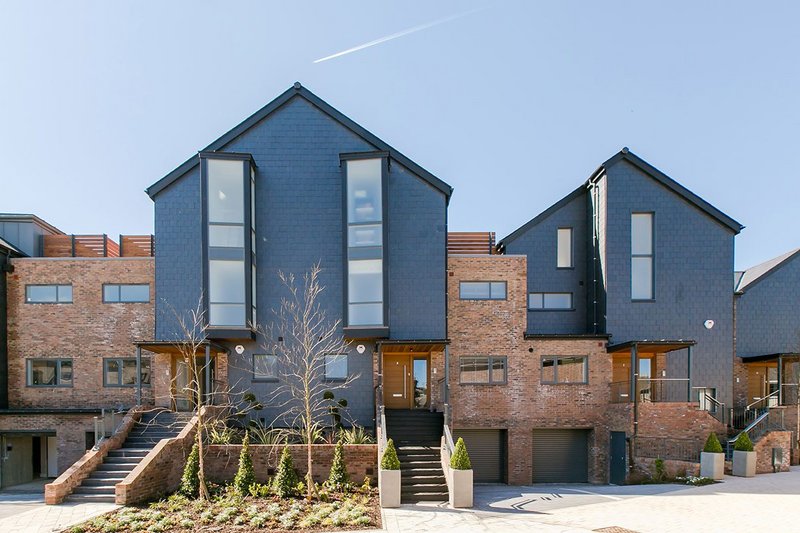 SSQ natural slate cladding at Chandlers Wharf, Lewes. The distinctive faintly rippled riven texture, deep blue-black colour and longitudinal grain make for distinctive buildings.
SSQ sources its Riverstone phyllite from its own Argentinian quarry. The 640 million-year-old natural stone has a high density that makes it extremely hardwearing and resistant to acid rain, freeze-thaw erosion and other weather conditions that would damage a lesser material.
Riverstone doesn't fade, is non-combustible and its high flexural strength means it remains durable even when meeting varied thickness requirements.
SSQ's Del Carmen natural slate is another outstanding product that's used to clad architecturally striking buildings all over the world.
Del Carmen comes from the natural slate heartlands of north-west Spain. It has a rippled, riven texture and longitudinal grain that makes it a specification favourite for luxurious developments on several continents.
Del Carmen's distinctive blue-black colour isn't affected by even the strongest sunlight, a characteristic that has made it popular in places such as Australia and California, where temperatures soar in the summertime.
Natural materials such as phyllite and slate are much more sustainable than synthetic alternatives, delivering much less embodied carbon. This makes them more relevant and desirable than ever as countries around the world strive for net-zero carbon emissions.
For more information and technical support, visit ssqgroup.com
Contact:
020 8961 7725
---